Over my desk hangs an oil portrait of President John F. Kennedy. The painting attracts many comments from visitors to my office who admire its strong resemblance to the late president. Like all good works of art, this one has a story associated with it, and it involves Governor Nelson Rockefeller.
In the 1960s, one of the annual events that took place in Albany was the Prison Art Show, where the works of inmates were exhibited for purchase by the public. The proceeds went to the artists. So, by buying a work of art, you were contributing to a prisoner's therapy.
One snowy evening in January 1967, I stopped by the Art Show, hoping to find a work that I liked that might also increase in value someday. After more than an hour studying statues, posters, oils, and watercolors, I settled on the Kennedy portrait. It cost thirty dollars, a very reasonable sum for an oil painting.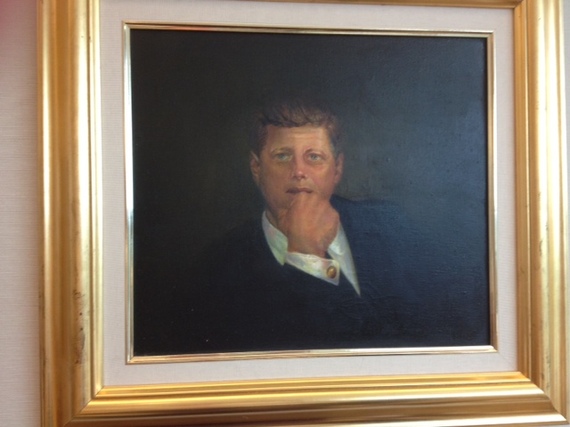 The artist was serving a life sentence at Attica Prison on a murder charge. Attica was one of the state's deadliest institutions, well known for housing violent inmates. There was no other information about the artist, but it was a pretty good likeness of JFK. Thrilled with my purchase, I picked it up the next afternoon. The frame was made from an orange crate and was held together by a woman's gold shoe strap. It was crude, but impressive. I was excited about the portrait and showed it to everyone. It elicited many favorable comments. As I was preparing to make my weekly trek back to Long Island, my secretary, Mrs. Tinkle (yes, that was her real name), buzzed me to say that Governor Rockefeller was on the phone.
Thinking she must be joking, I took the call and, lo and behold, it was the man himself. The conversation was brief. "Assemblyman, did you buy the Kennedy painting at the Prison Art Show?" he asked. "Yes," I responded. He continued: "I would really like to have it and I'd be happy to give you a hundred dollars for your inconvenience." A hundred bucks was a lot of money for a legislator earning $7,500 a year. However, I found myself responding: "Respectfully, I like it and will keep it."
He upped the offer to two hundred dollars. At the end of the day, the governor was willing to part with three hundred and fifty dollars. And still I declined. He told me to call him back if I changed my mind. The members of the Rockefeller family were major art collectors. Their Pocantico Hills home is graced with the works of Dali, Rothko, Degas, and dozens of other world-famous artists. The offer was tempting, I admit; besides, how many people would say no to Nelson Rockefeller?
However, I kept my portrait of Kennedy. I had it reframed, and for more than three decades it has hung behind my desk for all to see. But the story doesn't end there. Fast forward to 1974, when Nelson Rockefeller was chosen by then President Gerald Ford to be his vice president.
Rockefeller had always harbored presidential ambitions, so being a heartbeat away from the White House was close to a dream come true. To celebrate the occasion, Governor Rockefeller held a reception in Washington, D.C., and state legislative leaders were invited to attend. As a member of the team, I went to congratulate the new Veep. The event was held in an ornate room at the State Department, and the reception line greeters were a very impressive group.
I worked my way down the line and eventually got to see Vice President Rockefeller face-to-face. I received a warm greeting, and in true Rockefeller style, he said, "Aren't you the guy who wouldn't sell me that Kennedy painting?" Startled, I replied, "Yes." He looked me in the eye and said, "But I really wanted it."
As adapted from Kremer's book, "Winning Albany" about his 23 years in the New York State legislature.
REAL LIFE. REAL NEWS. REAL VOICES.
Help us tell more of the stories that matter from voices that too often remain unheard.