In a single, medium-sized room, Amsterdam's magisterial Rijksmuseum currently has on display an exhibition of less than two dozen works in total, all small in size: two paintings by Rembrandt, four by Degas, the remainder etchings by the two artists. But although the exhibition is small, its theme is large--no less than the means of artistic influence--and its effectiveness is remarkable.
In 1856, 22-year-old Edgar Degas left the prestigious Ecole des Beaux Arts in Paris just a year after he had enrolled. He travelled to Italy, and remained there for three years, effectively studying on his own. What he learned during this time had a profound and lasting impact on his art.
In Rome, Degas became friendly with the engraver Joseph Tourny. Under Tourny's influence, he became interested in etching in general, and in Rembrandt's etchings in particular. During the next few years, Degas studied Rembrandt's art carefully: he copied one of Rembrandt's etchings precisely, he made a number of other etchings, inspired by Rembrandt's, and he painted a series of self-portraits that were inspired by Rembrandt's own early self-portraits. During his time in Italy, Degas learned a number of lessons from Rembrandt that he would never forget. Several of these emerge very clearly from the works on display.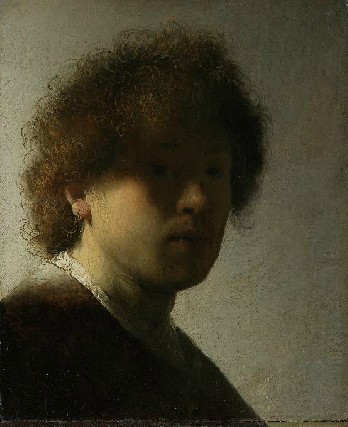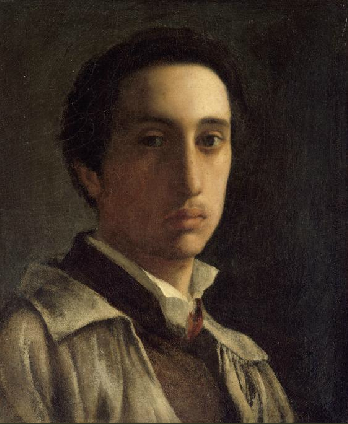 One of those was the power of a sketchy line. Nineteenth-century academic art privileged Raphael's ideal line; in Paris this was exemplified by Ingres. In contrast, Rembrandt's etchings showed Degas the expressive potential of a looser, more spontaneous line.
Two others, often used in tandem, were the power of light and the power of the unfinished. Degas learned from Rembrandt how to give differential emphasis to different areas of a painting. Rembrandt famously used chiaroscuro to create a focus on the faces of key figures in his paintings, and he often heightened this effect by leaving other parts of his compositions unfinished, or only vaguely sketched. For Degas, who wanted to emphasize the individuality of his subjects, these were valuable techniques.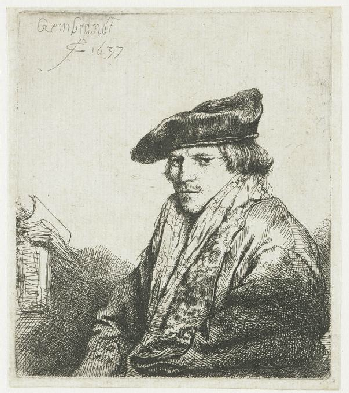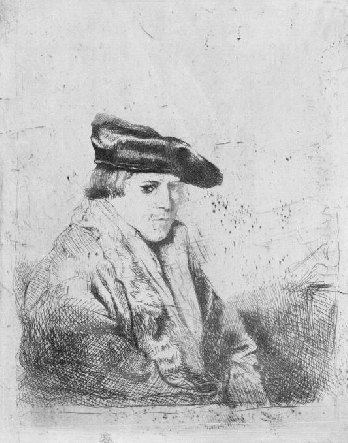 Rembrandt Harmensz van Rijn, Young man with velvet beret, etching (2nd state), 1637, Rijksmuseum, Amsterdam; Edgar Degas, Young man with velvet beret, copy after Rembrandt etching (only state), 1857, The Metropolitan Museum of Art, New York
Another lesson of Rembrandt was the use of seriality. The academic ideal was that works of art were considered finished only in a unique state of perfection. In contrast, in his etchings Rembrandt presented each state of an etching as an independent work. The series of self-portraits Degas painted in Italy was his first exploration of seriality, but this set a pattern for the remainder of his career, with his frequent return to dancers, nudes, jockeys, and other motifs.
For Degas and other nineteenth-century artists, Rembrandt also served as a role model: a non-conformist, whose primary subject was human nature, executed in a realistic manner. Eugene Delacroix wrote of Rembrandt in this way, when he expressed the heretical view that Rembrandt might have been a greater artist than the academic role model, Raphael: "Perhaps they will discover that Rembrandt is a far greater painter than Raphael... The older I grow, the more certain I become in my own mind that truth is the rarest and most beautiful of all qualities."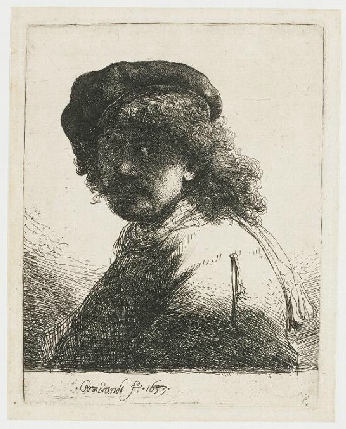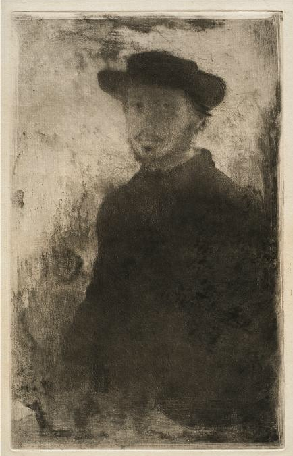 Rembrandt Harmensz van Rijn, Self portrait with beret and neck cloth, etching (2nd state), 1633, Rijksmuseum, Amsterdam; Edgar Degas, Self portrait, etching, 1857-1860, Sterling and Francine Clark Art Institute, Williamstown
Degas' departure from the Ecole des Beaux Arts after just one year clearly indicates his dissatisfaction with that school. Nor is this surprising. The Ecole taught a highly conceptual approach to painting, which cannot have been congenial to Degas, who in his maturity became a great experimental artist. In a number of respects, as detailed above, Rembrandt offered Degas another approach, very different from that of the Ecole. Like most influential teachers, Rembrandt showed Degas how to do things he already wanted to do. Rembrandt's lasting contribution to Degas' art was to demonstrate to him the expressive possibilities of an experimental aesthetic.
In this age of exaggerated publicity and bloated blockbuster exhibitions, the Rijksmuseum is to be congratulated, and thanked, for this excellent small exhibition. Without fanfare or an expensive catalogue padded with pompous essays, it provides powerful visual evidence of Rembrandt's impact on Degas. Viewers fortunate enough to see it can readily agree with Delacroix that truth is the most beautiful of qualities.
REAL LIFE. REAL NEWS. REAL VOICES.
Help us tell more of the stories that matter from voices that too often remain unheard.