Out of the blue I was contacted by the model booking agent for Don Bachardy, to sit for none other than the venerable portrait master himself--a man who has painted everyone imaginable in and out of the art and celebrity worlds of Los Angeles and beyond. Naturally, I accepted.
I could tell this was serious business when, a few days later, I received an eight page list of instructions--everything from where to park, how to dress and how to think about my involvement in the session. Nothing, it turns out, could have prepared me for the face-to-face session I was about to experience.
Always in fear of meter maids, I arrived well in advance so I could figure out the complex parking instructions I had been given. I brought a snack, as I'd been instructed to do, because the session would span across two mealtimes. I was told not to engage Don in conversation during a session; a bit of chatting at the beginning and in breaks would be okay, though.
With a view of the Pacific Ocean, the location of Don's studio is like an artist's Nirvana. Never having met him before in my life yet knowing everything about him, I felt strangely comfortable. And yet, when I consider my experience as an artist and a teacher, it seemed strange to reflect that I had never before sat as a model.
His working studio itself was modest and earnest--no showboating here--and Don himself was welcoming and warm. Everything went exactly as the instructions said they would which I guess makes sense if you've been doing it successfully for decades. I sat for a total of three sessions, each approximately an hour and a half. All three portraits were created with thin acrylic paint, using various Sumi brushes. The paper was thinner than I'd expected. I would have thought, using a wet medium, the paper would have to be thicker, to keep from buckling.
I sat in a chair facing a large picture window that looked out onto the Pacific. I was asked to look right at Don while he was working so that the portrait would have the appearance of, as it were, looking into the camera. This position was a little unnerving because I couldn't actually watch Don's eyes go from me to the paper without breaking concentration. Instead I found a spot that was next to his ear, which gave the appearance that I was facing him. Summoning all of my good meditation experience, I found my concentration.
The first session produced a portrait that I would call the most representational -- the most objective, at least. In some manner I felt like I was painting with Don, my body accounting in a sensorial way for each tiny stroke he put down. The portrait looked like a distilled version of me, grasped in simple gray tones. This manner of active sitting-- this painting-with-Don experience--caught my interest and drew me further into his process.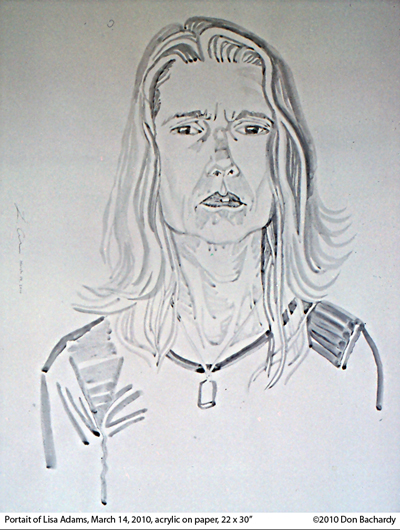 At the second session I offered to pull my hair up so that he didn't have to spend so much time representing hair. Sensing that I was drafting energy off of him, I felt stimulated. As Don gave me energy, he became much more energetic himself. He began to work in a staccato manner. He looked up and down at me repeatedly, tapping the paper as if he were sending a Morse code message. He was no longer representing, he was busy exchanging with me. The sitting became less an experience of observing him, and more an experience of being with him. I could feel Don's great joy in painting. The resulting portrait was no longer a representation but a full color snapshot of psychological intensity. Afterwards it was a shock for me to see myself on and below the surface of the work.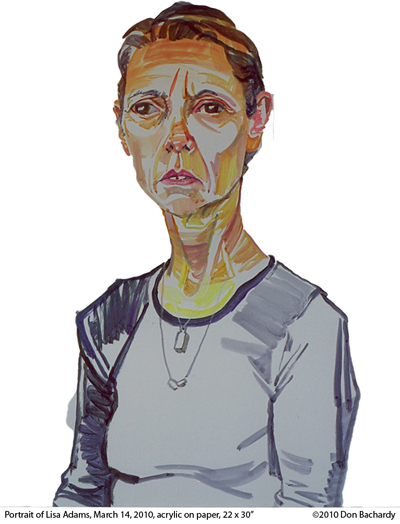 The final session, if that's even possible, was the most intense of all. Don seemed to be operating at his optimum pace. I saw him as a clear spirit, almost as though he were without a corporeal form, yet working feverishly. As Don's energy seemed to rise, mine began to flag. At the end of the third session I was fully spent. This session's painting was very colorful with a fully rendered background--created in a true spirit of alla prima. I felt it was the most arresting one of all. In the face of the sitter (me) I saw an image of two lives, his and mine, expressed over a duration of time, somehow magically synthesized in a single fleeting effort of the observer observing the observed--one in the same, worlds apart and fixed together in a physical thing--in a work of art.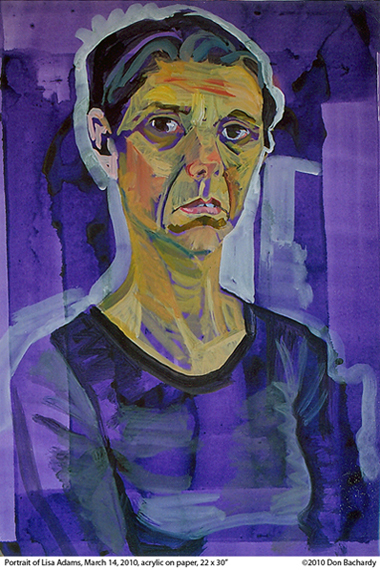 REAL LIFE. REAL NEWS. REAL VOICES.
Help us tell more of the stories that matter from voices that too often remain unheard.