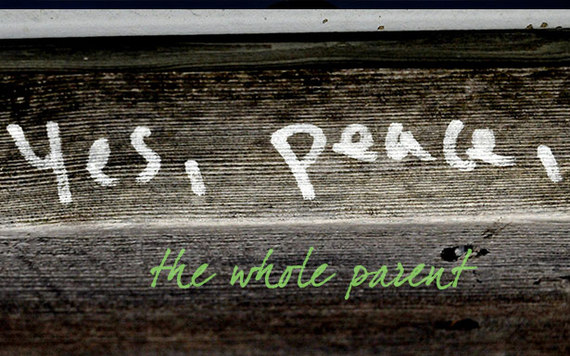 You're entering into the first WTF discussions with your partner about divorce. I'm sorry. There are a few things you should know, mom or dad, that will make your transition to a divorced couple more manageable. Again, I'm sorry for your loss. Perhaps there is something better on the other side, but right now you need to attend to the details. Maybe I can help. Here are the eight critical points of maintaining a positive divorce approach in the days, months and years ahead. Your relationship may be ending, but the road of divorce never ends.
1. Kids If you've got'em, everything you do from this point on should revolve around making their lives a bit less tumultuous over the next few years as you and your ex figure out the routine and cadence of co-parenting. Everything, and I mean everything, should be about the kids. All of your needs come second. Period. (Since this is my situation, most of the rest of this post deals with the kid-first issues of divorce.)
2. Money A friend told me during my practice divorce, "If you can rub money on it, let it go." And this is fairly clear. If it's a material object, there is no sense fighting over it. (Embittered or contested divorces notwithstanding; don't sweat the little things.) After the kids, the money is the main negotiation in divorce. You have assets, and you have debts. And as you separate your money issues, you will each get portions of both. If you have a house you are going to have to decide who gets it. Do you keep it? Do you sell it? If the kids would be better served by not being uprooted at this time, maybe you need to consider how you can best keep them in their home. Notice I said "their" home. Yes, it's your asset, as parents, but the home, the feeling of home, the safety, security and love that was established in this home, is really all about them.
But money doesn't stop with the house and things. The next issues is the sticky wicket the stalls a lot of divorce negotiations.
3. Child Support and the Noncustodial Parent This is the one I was completely uninformed about when we entered into our divorce planning. It was my hope and intention that we would work out the divorce with the same care we took in planning to become parents. We were a 50/50 family, all the way. But something happened on the way to the counselor's office where we began drawing up our parenting plan. This is the core schedule that will run your lives and your kids' lives over the next 10 to 15 years. It is the most important part of the divorce, but maybe not the most important part of the custodial negotiations.
Back in 2010 when I got divorced, the state of Texas had a pretty clear judicial record on divorce. Eighty-five percent of all divorced awarded the mom primary custody and the dad noncustodial status. It's still called joint custody, but don't be misled by the title. Here's the part I didn't quite understand, even as I was reading divorce books and making my own strategies about putting together a fair 50/50 schedule: The noncustodial parent pays child support to the custodial parent. No negotiation. The state has a formula based on your income (it works out to approximately 19 percent of your after-tax take home) and you (the noncustodial parent) will be asked to pay for 100 percent of the kids' health care insurance. Okay, so get that straight. If you go the path of least resistance, as I did, and cooperate to the best of your abilities, you are still likely to be given the noncustodial role and the big monthly bill.
This is the major sticking point in a divorce. I didn't know this. I agreed to move on after I was told, in no uncertain terms, that my soon-to-be-ex would get this anyway even if I fought in court about it. That wasn't our deal. That wasn't what we were doing. We were jointly paying a pricey divorce counselor to help us make these decisions together, but that's what I was "going to get if I went to court." So I folded my 50/50 plans, and was politely told my 50/50 schedule was nice, but that's just not how this cooperative negotiation was going to go.
I should have gotten an attorney at this point. The problem is, back in 2010, I would've gotten what I got. So we avoided that pointless fight, and moved on to the plan.
4. Parenting Plan Here's where the non-financial work goes. This is the real meat of the divorce, at least as far as the kids are concerned, and remember that's what we are focusing on here. Kids first, adults and our wants and needs second. So, along with the noncustodial parent role I was shown something called the Standard Possession Order or SPO. In Texas this means the dad gets the kids one night a week, plus every first, third and fifth weekend. (I'll get to that fifth weekend in a second as well.) That's the deal. That's what's going to happen "should you go to court," so you'd best be prepared to start there. Again this is the counselor talking. What I was saying is, "Why not 50/50? It looks like the books all say if the parents are cooperative and equally committed to co-parenting, that 50/50 parenting actually works better for the kids." That's not what you are likely to get if you end up in court, so "even negotiated" that's likely what you're going to end up getting if you try to keep the divorce planning in a cooperative and gitterdun mode.
The parenting plan also covers things like holidays, which Christmases they are with who. How you're going to divide spring break and summer vacation. Those are the routine details of the plan.
5. The Dating Clause One other part of the plan, that I think is essential, is the dating clause. In our plan, any parent who is dating, cannot introduce their dates to the kids until it has been a serious relationship for over six months. I think this saved us some real heartache in the early rebound days, and I was glad to have it in place. As it turns out, I still haven't made it to six months with anyone. My ex has been dating for two and a half years, so the kids are familiar with him and like him. The idea is this clause keeps the kids (especially younger kids) from becoming attached or involved in any relationship that might be temporary. It's a good idea, and I have felt that the way it slows down the pace of dating and moving into a more serious relationship, for me, has been beneficial.
6. Your Attitude
This is the core emotional piece of the divorce that you might spend more time on than you think. If we start with a few assumptions we might see the benefit of positive divorce more clearly.
Divorce is painful for everyone.
Each parent is responsible to keep their own emotional upset out of the kids' lives. It's fine to let them know or see that you are working through some stuff, but your promise has to be to not work it out in their presence. Get help for yourself outside the walls of your house.
Your kids will learn how to respond to this major life event by watching how you cope. You're the role model that will provide the guides for their future upset navigation. By keeping your attitude positive and keeping your issues about your ex between you and your counselor, you can show your kids how to continue a loving family, even as your ex now lives somewhere else.
Anger is part of the grieving and growth process. But anger should not be worked out in front of your kids. Do whatever you need to do, but keep the frustrations and conflicts with your ex, out of the kids' lives. There is not one angry thing that is appropriate to say about your ex. Not one. Your kids are not your little confidants, and they should not be included in your bitching sessions. And take care to notice when you are doing this over the phone, those little ears are so tuned to every nuance of what is going on, that your anger, even in another room on a phone call to a friend, should be considered risky. Grieve, get mad, get support, but don't let off steam in front of your kids.
7. Positive Divorce
If you stay on the positive divorce route, you will help your kids keep their positive opinions of both of you. You will give them healthy examples of how to cope with crisis and difficulty, that will provide a strong framework for them to grow with later in their own lives.
You may never want to be friends with your ex, but you must maintain friendly relations in front of the kids. Even if money or schedule conflicts are raging off scene, you've got a commitment to your kids that supersedes any and all issues. Yep, it's hard, but keep that powerful pain out of the family.
Nobody wins in divorce, but we can keep either side from losing, if we stay present and positive in the coming months of negotiation and planning. And keeping things out of court and out of conflict, as much as possible, will go a long way to keeping the coming years on the cooperative side. Believe me, you need your co-parent, sometimes more than you did when you were married. As a co-parent some of their help is voluntary. It is okay to say, "I'm sorry I can't help with that." But it is so cool to be able to say, "Hey, I have plans, but let me see if I can move them so I can take the kids for you."
The second sentence works like magic. You still have loving kids between the two of you. Keep their loving attitudes in your hearts, and when you're getting off track, focus on them and their needs. That's what it's all about.
I welcome your comments and suggestions here on HuffPo.
And your participation via Facebook and Twitter.
related posts:
image:
, mark farlardeau, creative commons usage
Related