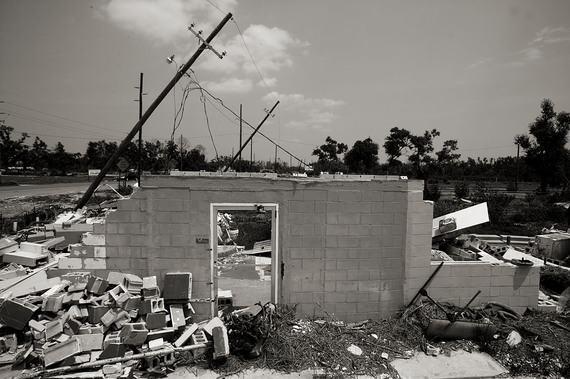 Photo credit: Minor Sinclair/Oxfam America

When Katrina slammed into the Gulf Coast ten years ago, the fundamentals of disaster relief poured in: water, sanitation, food, shelter. But looking back, we can see that the most effective tool for the hardest hit was something else altogether: community organizing.
Organizing may seem like the outlier, but in reality it is one of the most essential components for true recovery. It's the thing that makes communities more resilient. In the face of growing threats from climate change and extreme weather, the most vulnerable will only be protected if their communities have a voice in shaping recovery efforts and holding aid responders and government efforts accountable.
Katrina brought a devastation that overwhelmed local, state and federal authorities' ability to respond. The storm obliterated a vast swath of the Gulf Coast. Ultimately, Katrina killed nearly 2,000 people, permanently uprooted hundreds of thousands, and caused roughly $150 billion in damages, leaving in its wake communities few would recognize as part of the USA.
Katrina exposed pre-existing fault lines: deep poverty and racial and economic inequality. While the storm impacted people of all social and economic backgrounds, it hit the poorest and most socially isolated the hardest. Largely minority communities in the three of poorest and most unequal states in the nation-- Alabama, Mississippi and Louisiana-- had little capacity to respond, and scant help for their efforts to put equity and the rights of all people into recovery efforts. This inequality extended to disaster aid from the start, with many aid centers setting up in wealthier areas, while ignoring poor and African-American neighborhoods like East Biloxi, Mississippi, where Oxfam's disaster response team first established its operations.
Over time, the disaster showed how essential it is to have strong social institutions and local leaders delivering resources. When a community stands up for its rights, it will ensure resources are directed more equitably: from crates of water and generators, to temporary housing, to temporary assistance like disaster food stamps.
As the months and years after Katrina rolled on, hundreds of thousands of people were still stranded--homeless or stuck in formaldehyde-ridden FEMA trailers. At the same time, tales of epic government waste abounded: millions of dollars for football party condos in Tuscaloosa, an unnecessary expansion of the Port of Gulfport.
In all, private aid pledged after the storm amounted to $6.5 billion, and the federal government spent more than $120 billion. Given the amount of aid dollars flowing, it makes great sense to empower survivors to make sure the money actually helps the right people. Since Katrina, Oxfam has supported 23 community-based organizations in vulnerable communities along the Gulf Coast, with a focus on building capacity to advocate for their community's needs to local, state and federal leaders.
This included African American pastors and the STEP Coalition in Mississippi who fought to get $30 million first destined for a pork barrel port expansion, back to its intended use for low income housing along the coast. Vietnamese leaders at Mary Queen of Viet Nam CDC organized New Orleans residents with limited English to navigate government recovery programs to get back home. Worker centers in Louisiana and Mississippi held employers accountable for abusing the rights of immigrants, winning millions of dollars in back wages.
Investing in local leaders to hold government accountable can pay serious dividends. When a different but profound disaster hit in the form of the BP oil spill in 2010, communities were more prepared to respond. They were essential in holding BP accountable, and pushing Congress for legislation to ensure fines helped to repair damaged ecosystems while putting local people to work in restoration projects.
What ten years ago felt impossible, now feels evident: Disaster opens opportunity. Community leaders are creating a new climate in the region, where people are empowered to demand the resources and institutional accountability they need to thrive. This bodes well for the social issues plaguing the region and the country today: educational achievement, police accountability, responsive government, income inequality. The challenges are no less unwieldy today than ten years ago, but greater "power to the people" makes for a more optimistic future.
The best humanitarian response to a disaster may be as simple as a good community organizer.
Calling all HuffPost superfans!
Sign up for membership to become a founding member and help shape HuffPost's next chapter