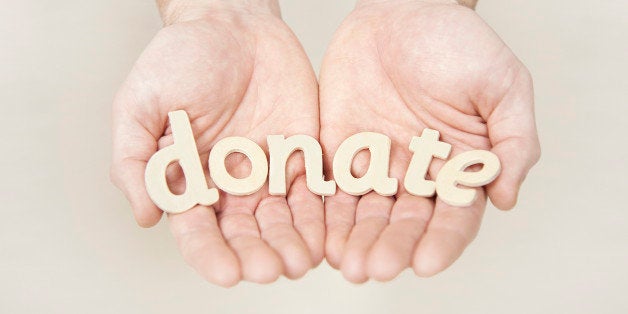 Are you looking for new revenue sources for your nonprofit? As nonprofits compete for a bigger slice of the pie, innovative and forward-thinking fundraising directors are turning to a strategy that has resulted in more donations, more donors and more engagement with the causes that matter to them most. How have they been able to accomplish this increased outreach and fundraising dollars without stretching their already heavily-used resources? The answer is third party fundraising.
With third party fundraising, a nonprofit taps into the power of their most powerful constituency -- their advocates -- and they do this by giving their supporters tools to create fundraising campaigns of their own. RallyBound, a Los Angeles based peer to peer fundraising tool for nonprofits, is leading the way.
Back before the days of the internet, this strategy was much harder to accomplish, but as of today the technology has fully caught up with the strategy. Now, nonprofits large and small can leverage the social power of their donors and supporters. RallyBound, for example, gives these passionate individuals the tools to run their own fundraising campaign that can bring in hundreds of thousands of dollars in support, along with new donors and increased engagement. Interestingly, this peer-to-peer (P2P) technology can be leveraged in a wide variety of ways for today's nonprofits.
Let's talk about how it works. Leveraging the power of next-generation fundraising technology, any nonprofit can give its donors and supporters online sharing tools as well as off-line material to help create unlimited opportunities for donation. A perfect example from the nonprofit world is the Michael J. Fox Foundation's use of P2P fundraising technology to raise hundreds of thousands of dollars for Parkinson's research. By leveraging this exceptional technology, "Team Fox" helps athletes gain entry into events and helps everyone fundraise in the process with an exceptionally easy to use interface that has allowed individuals to inspire others, host events, and importantly bring in much needed funds for research.
This opportunity for nonprofits to diversify their fundraising sources, while engaging their supporters, is one you should take full advantage of. That being said, let's dive into this fascinating opportunity with more concrete examples that will immediately make sense for you, and that will undoubtedly catalyze new ideas for you. These ideas can instantly give your nonprofit a new fundraising campaign that can raise thousands of dollars at a time, without overextending your nonprofit's employees in terms of time and resources.
There are three main ways that an organization can tap into the limitless power of third party fundraising:
challenge fundraising
community fundraising
individual fundraising
Let's start with challenge fundraising. When you are using a challenge-based event to tap into the power of third party fundraising, you are unleashing the extremely powerful force of motivated individuals, all of whom have a network of motivated individuals that they can tap into as well. For example, the Friendship Circle's Miami, NYC and LA marathon teams raised over $25,000 in just a matter of weeks.
Think of 5Ks, triathlons, Tough Mudders or even walks as the types of events that you can leverage to raise money for your nonprofit.
If you have been looking to raise money through events, then this strategy could be particularly lucrative. These events could be specifically cause-oriented, or you could simply give your donors tools to organize their own campaigns for already existing events, giving them the ability to raise money from their friends, family and loved ones as they participate in this "challenge."
Some best practice points to keep in mind: You ought to be strategic about which events you choose to get your supporters involved with. For example, Running USA's statistics tell us that the most popular challenge event in the United States is the half-marathon. Given that, you might have better luck targeting those 13.1 mile races than a 5K or walk. Do what you can to create a team atmosphere, including special shirts or jerseys.
Having a presence at the event can go a long way, such as a Gatorade table or a tent at the finish line. Finally, you will want to coach your participants both physically and mentally on how they can best reach their goals. When you do all of this, you not only give your supporters all the tools they will need to run a successful fundraising campaign on your behalf -- you are also building substantial amounts of goodwill.
The second main way that an organization can tap into the power of third party fundraising is through community fundraising. I'm talking about raising funds through churches and synagogues and mosques, sports teams, college organizations, family reunions or even through your company. By proposing fundraising campaigns to your followers in these contexts, they can decide to run a campaign through their business or community group on your nonprofit's behalf. When you give them the fundraising tools they need to collect donations quickly, easily and most importantly inexpensively. Your donors and supporters can host their own events, on their time, at their cost, in order to raise money for your charity.
One strategy that is that you create a "Host Your Own Event Kit" for your communities of interest. When you do this, you remove the guess work for them and any other obstacles that could otherwise conceivably hold them back from supporting your nonprofit. With bowling nights, bake sales, golf tournaments and more at your fingertips, the possibilities are truly endless...
Finally, individual fundraising is an excellent way to leverage third party fundraising to add dollars and donors to your bottom line. You could help your supporters raise money for you in the context of weddings, bar mitzvahs and communions, graduations, memorials, virtual events or even something as simple as getting a new tattoo or shaving a beard long overdue for a trim. There are literally limitless opportunities for your donors and supporters to raise money for your charity. All you need to do is give them the tools, point them in the right direction and then allow them to unleash their creativity on your behalf.
One strategy for individual fundraising that I recommend is to encourage your donors and supporters to tap into their social networks online to spread word of your message. Also, you can and should create a sample marketing plan for individual fundraising to give your supporters an idea of how they can go about conducting the fundraiser to truly raise the maximum amount of money possible.
Before I close this article, I want to give you some additional benefits for conducting third party fundraising campaigns. First of all, these campaigns are going to give your organization a wealth of data and analytics on your supporters. You'll know how much they donated, where they're located and if there are new givers. Most importantly, when a supporter runs a successful third party fundraising campaign, you now have a powerful community influencer that you can tap in the future with specialized materials to encourage their continued campaigning on your behalf.
The potential for third party fundraising has skyrocketed with the advent of the internet and social sharing tools like RallyBound and others. Now, you can have supporters emailing, blogging, tweeting and retweeting about their campaigns on your behalf -- while you watch the donations rush in. When the cause that you support is so important, you know that every dollar counts. When you tap into the power of third party fundraising, then you will have an extremely powerful weapon in your arsenal to help give your cause all the attention that it deserves.
Related
Popular in the Community