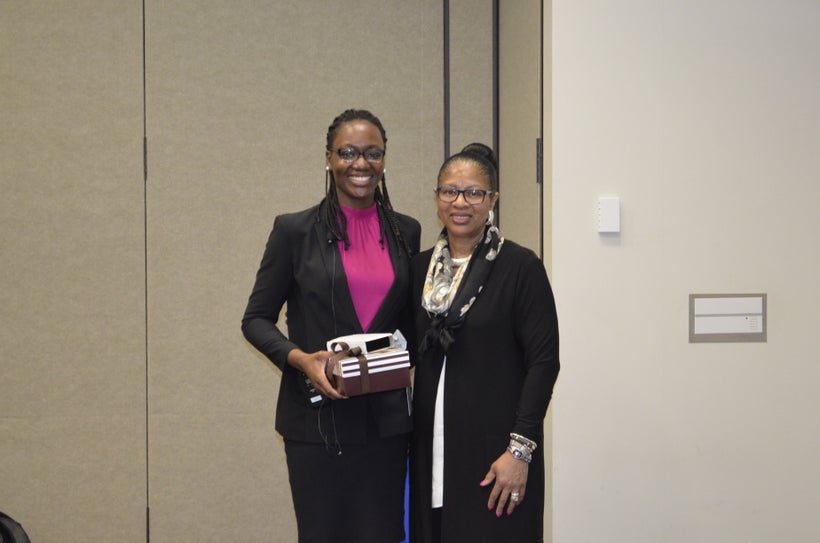 Hidden Figures, a movie about the three female NASA mathematicians who helped put John Glenn into orbit? We want to introduce you to Corlis Murray, Abbott's top engineer, whose story isn't all that different from the brilliant black female mathematicians depicted in the Oscar-nominated film.
When she was recruited by IBM for a high school engineering internship, her grandfather asked her why on earth she would want to drive a train for a living. This is, however, the same grandfather who, despite his 8th grade education, was especially gifted in math and inspired a love for it in Corlis, who left her $1.76-an-hour job at Jack in the Box in inner-city Dallas to pursue her first experience with engineering. Years later, she now has the top engineering role at a company that is a driver of health innovation across the globe, and has even started her own high school STEM internship program–because the reality is there's still a long way to go to inspire women to join the ranks of inventors, researchers and pioneers in science, technology, engineering and math fields.
Hidden Figures, much like Corlis, is inspiring young girls to change the world through math and science and think about pursuing careers in the STEM fields. Having strong, diverse role models is more important than ever in closing the gender and race gap in STEM fields.
TWOMENTOR: Corlis, you are awesome and have really inspired our team. We are particularly passionate about internship programs, especially internships with a designated mentor to elevate a diverse skilled workforce and can't wait to hear about your program at Abbott. Can you speak to the role of mentoring as it pertains to encouraging young women to pursue careers in STEM?
CORLIS MURRAY: Mentorship is absolutely critical when it comes to encouraging more young women to pursue STEM fields. Young people need to see people like them in the fields they want to pursue – and not only that, they need to be able to learn from our experiences and come to us when they hit obstacles. Being a mentor gives you the chance to demystify things like engineering and science for these young people and show them what it's really all about. We also can teach them how to navigate corporate America and build a professional network of people who will be willing to cheer them on and rally on their behalf later on.
Having a good mentor also makes the journey a bit more personal and makes big ideas more accessible. I try to always remind these young women, too, that it's important not to think of themselves as a victim of their circumstance. Yes, fewer women enter STEM fields. Fewer minorities, too. If I let the odds dictate my future, I certainly wouldn't be doing the work I do today. But let's push past that – let's live up to our full potential regardless of what came before.
TWOMENTOR: Did you have a mentor(s) that helped guide you through your STEM career?
CORLIS: I've had so many. My mom has probably had one of the most significant impacts on my life because she taught me the importance of education and continuing to challenge yourself. When I was in high school, she went back to college to finish her degree. With both of us in school and studying at the same time, it encouraged me to be a strong student and make academics a priority. I guess it runs in the family because it really all started with my granddad. He inspired my love of math and always encouraged us to be the best that we can be.
While my family had a big impact on my education and interest in STEM, I also was very fortunate to have inspiring teachers, mentors, and professional opportunities that cemented my passion in this field. During my first internship after my junior year of high school, I worked with a mechanical engineer who ended up being a hugely influential person in my life and inadvertently became my mentor. He didn't exactly look or act like a "cheerleader" or "mentor" per say, but he took me out in the field to troubleshoot large, mainframe systems—the brains for computers at the time—during a time when very few female engineers were in the field. He taught me how to problem solve. And he discussed with 17-year-old me the technical aspects of what he did, as well as some of the challenges that he faced as an African-American in the industry at the time. He was my implicit mentor, but one who demystified for me what engineers really could do. Without his encouragement, I might not be in the field at all. When I go to reach out to the teenagers and young professionals of today pursuing careers in STEM, this is not lost on me. It makes me think: How can we not give back, when the mentors who came before us are the reason we're here at all?
TWOMENTOR: Do you consider yourself to be a role model/mentor for later generations and if so, how do you mentor those hoping to pursue careers in STEM?
CORLIS: I feel fortunate to be where I am today, and I've learned so much along the way that I think it is my responsibility to pass this knowledge on to others and help inspire future generations. Giving back is very important to me, which is what led me to launch Abbott's high school STEM internship program, which is two-thirds young women and nearly 60 percent minorities. Since it started in 2012, almost 70 young people have participated in the program, and 97 percent are pursuing a STEM degree or have a STEM job, which is something I feel proud to be a part of. I have worked with so many young people over the years and it gives me joy to see that I can have such an impact on their lives. In this way, I do see myself as a role model. More importantly, I hope they see me as a role model, as someone who came from a challenging life early on being able to arrive at a place that I can help make a difference to them.
TWOMENTOR: Do you feel like you faced adversity in your life or career and if so, what lessons did you learn?
CORLIS: I grew up attending inner city schools and many of our interns come from similar backgrounds. What I try to impress on them is the fact that your zip code does not have to determine your destination.
When I decided to pursue this career, not a single person I knew in the field looked like me. As a black, female engineer, today, I'm about 10 times more rare than a woman in Congress. While 105 women held seats in Congress last year, just about 14% of engineers in the U.S. are women, and a small percentage of them are minorities (about 2% are black).
When I started in this field, I had to remind myself that the things that made me different from other engineers also gave me a perspective they didn't have and I just had to dig deep to figure out what that perspective was. I think that's an important lesson for anyone who is doing something different than other people or breaking barriers in their field.
TWOMENTOR: Your data above is stunning! 2%?! What advice would you have today for your 20 year old self?
CORLIS: When I reflect on my journey, I give consideration to what I wish I had known earlier in my career because just maybe, it would have allowed my journey to be a bit easier. While I do believe it is the journey that I've had that fosters my gratitude and inspiration to give back, there are a few suggestions that I would offer the 20 year old me. I would encourage myself to trust myself more, don't allow self-confidence to be shaken; do maintain that hard work ethic but appreciate and value the need for balance; don't fear mobility – it's ok to move away; be agile – take full advantage of every opportunity even when on the surface, some may look small; embrace feedback –, it comes to make you stronger, a better version of you and makes you more self-aware.
TWOMENTOR: Do you have any advice/suggestions for kids in school who are facing challenges or aren't quite sure how to reach their goals?
CORLIS: If you're struggling to figure out your unique offering, spend some time investing in yourself: Join professional networks, take on challenging and diverse projects, enroll in courses at a local college, and network inside and outside of school and work. Speak with professionals that are in roles you may aspire to.
For support, young people can reach out to a teacher or trusted adult, and talk to their parents and family members. Even if these individuals do not know the specifics on STEM fields, they can help inspire confidence and figure out how to pursue related learning opportunities.
I'd also highly recommend doing individual research – whether at home on the internet, at the library, or a bookstore. One of the beauties of science and technology is that it is such an important part of everything that we do so it's easy to make a meaningful connection to things kids are already interested in. If you like basketball, there's physics behind that. If you like cooking, there's a lot of science that goes into that. If you like video games or computers, that's technology. This association can help inspire additional interest and help kids see the potential for careers in these areas later.
TWOMENTOR: Can you speak to internships and the role they play to expose high schoolers to the world of work?
CORLIS: I think it is so important to start young. Time is one of our most precious assets as individuals, with career advancement being no exception. My internship with IBM when I was 17 years old gave me the confidence I needed to land another internship after my senior year as a civilian with the Norfolk Naval Shipyard – and those two things combined were enough to convince me that I was capable of pursuing a career as an engineer. Without those experiences I would not be where I am – an executive at a Fortune 150 healthcare company.
TWOMENTOR: "Hidden Figures" was nominated for an Academy Award – what did this movie mean to you and how does it relate to your life or career?
CORLIS: What I love about this movie is it has stirred the waters for people to pay more attention to these fields. These women had a huge impact on our country and it took decades for them to get the recognition they deserve. We have made a lot of progress in recent years, but we still have a long way to go and there are still significant barriers that exist. And I think that's why the movie is so important – in addition to telling these women's inspiring stories. It is encouraging us to have a discussion about these barriers and how we can break them down.
It is also important for kids to see people like them on the big screen and see them as the heroes. The more we celebrate these successes, the more others will be inspired and see the potential for themselves to also make an impact.
TWOMENTOR: What are the most important steps you think we can take to close the gender/racial gap in the STEM industry?
CORLIS: The biggest thing for me to close the gap is making it very personal. You can do that with internship and mentorship programs that put young people to work side by side with both women who are engineers and STEM professionals of different ethnicities. We do this at Abbott, where our interns work on real projects and learn how to navigate corporate America. They learn to apply their academics and establish a network of peers and professionals. This means that they have someone who looks similar to them, that they can pick the phone up and call -- and that makes it real for them.
Also, companies have to take on greater responsibility. Internship programs are one component – but we also need professional scientists and engineers and technicians to go into the classrooms so that these young people can see people who look like them working in these industries, and educate them on the opportunities available to them.
In order to truly diversify the field, individuals must take what they have learned and give back to the community. I hope that my students continue my work and touch the lives of others. One of the things that we teach in our high school STEM program is 'each one teach one.' It is essential that these young people learn what we are trying to expose them to so that they reach back and pull forward the next young achiever.
TWOMENTOR: What inspired you to launch Abbott's high school STEM internship program?
CORLIS: My life experience is really what did it. I was able to be exposed to STEM early through my high school internship and I wanted to be able to make sure other young people have the same opportunity.
It's true that we are standing on the shoulders of giants that have gone before us. We have to pave the way for those who will come after us. I'm fortunate to work at a company like Abbott that's on board with this idea and supports young people in STEM alongside me. These are, after all, the leaders of tomorrow. They are our future engineers, scientists and math and technology leaders. We have to help them reach their potential so we as a company can reach ours.
TWOMENTOR: Are there any anecdotes or particularly meaningful experiences you can share relating to your work at Abbott or the internship program?
CORLIS: Our students are creative, not afraid of technology, they're smart and forthcoming. Many are shocked by the fact they are required to learn Excel but by the end of the summer, those who have projects where it is needed, are writing complex macros.
I've had some students who have loved ones experiencing challenges with health conditions. They work hard to gain knowledge about our work as a company and they see firsthand how the work we do impacts the lives of those we serve and they want to be a part of that.
We have students working with scientists and during their project reviews (our graduation process for them), we ask questions. The questions can become quite technical. The exciting part is so are their answers. They are learning so for me, we are making inroads. A transfer of knowledge is occurring and these are students that return to high school or head off to college well-equipped.
We had one of our high school STEM graduates share with us that during a freshman math lecture, the professor asked if anyone could explain a particular problem. She raised her hand and went on to explain. Naturally, the professor wanted to know how she could have known that. She shared, because she worked with that mathematical model while working at Abbott as a high school STEM Intern.
#Hiddenfigures #STEM #GirlsinSTEM #Iamanengineer #Twomentor
REAL LIFE. REAL NEWS. REAL VOICES.
Help us tell more of the stories that matter from voices that too often remain unheard.
This post was published on the now-closed HuffPost Contributor platform. Contributors control their own work and posted freely to our site. If you need to flag this entry as abusive,
send us an email
.