How do you revive interest in a story that has been around for more than five years? A story, that actually feels like a cliché from a region regularly rocked by one conflict or another?
One social media user did something, well, different, something that triggered a virtual debate and backlash.
Making headlines, the "Hot Migrants" Instagram account was posting screen grabs of "handsome men on their journey to Europe", according to the page's bio. "Their countries might be falling apart but their sex appeal still goes strong."
The images were taken from news footage of refugees making the treacherous journey from conflict zones like Iraq and Syria to western Europe. But since it made headlines, the account has disappeared. A new one with the same bio, and photos appeared with the name: "@HotRefugees." There is also a website hotrefugee.com that describes itself as "Scouting hot refugees....let's get these poor people modeling jobs!"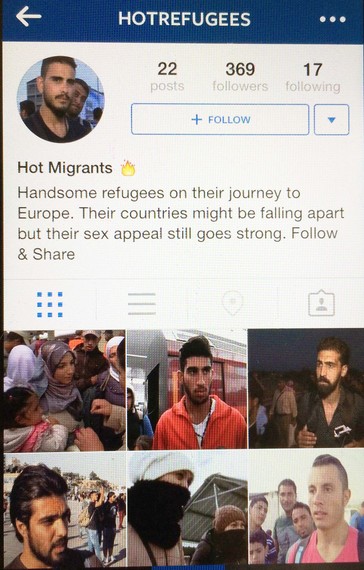 Reaction to the 'hot migrants' account has ranged from being attacked as "inappropriate" - given what those in the photos must have gone through to reach their destination - to feeling that the men featured are being "objectified".
At the same time, others are praising it for humanising the refugees as people who have distinct looks instead of the almost generic gloomy-looking battered images of fleeing people.
The creator of the instagram account, who is in the United States and wants to remain anonymous, fired back in interviews that it should not be taken too seriously, and that the aim is to shed a different light on a humanitarian crisis and make it more understandable to the average social media user.
It is interesting to contemplate whether there would have been such a strong reaction if the page was focused on beautiful refugee children or women. That one is very risky, as vultures and predators would hound and try to find these vulnerable figures. Women have been objectified enough, and I have written before about how photos of Syrian and Iraqi refugee women are shared on social media with announcements like: "Beautiful brides await you."
Let us pause a bit and take a step back. While we don't like to admit it, we do this sort of thing in the media all the time.
We focus our lens and writings on that one extra "attractive" or distinct-looking refugee child or woman - because, as shallow as it sounds, people do take more notice of someone attractive or distinctive-looking regardless of their plight and story.
Here's one example: a photo of a blond, blue-eyed Syrian refugee child that got many likes and was making its rounds last year was accompanied by ignorant comments such as: "Oh! She doesn't even look Syrian. She looks European."
What is coming out of the continuing crisis is that stories that trigger strong emotions get noticed and reshared.
There is great outrage, like in the case of ISIL terrorists forcing Yazidi sex slaves to take birth control so they can continue to rape them. When I got the chance to talk to Yazidi women who fled to Erbil, Iraq, they told me how they were treated "less than human" for their beliefs by Daesh (what ISIL is called in the Arab world) and how they not just lost their loved ones, but lost themselves, over and over again as they got beaten and raped.
It is not enough to feel outrage and write emotional comments on social media and under articles on this. I wrote about a photo that triggered a lot of emotions, it was a photo of a child that thought a camera was a gun, and had actually put up her arms, bitten her lip and looked with fear at the camera.
It is said that when you want to see the purest form of feelings, devoid of politics, expectations and social interference, look through the eyes of a child.
So we see this photo and many others and feel pain for those in them. What can we do?
Well, something active needs to be done - and there are projects out there that allow us all to help out refugees and the vulnerable. Besides the many great initiatives by the UN, there are several ones like War Child, Kafa (enough) in Lebanon and many more I have reported on, volunteered with, and seen their great impact. Every small bit helps.
Then there are those stories that touch a chord with the public, as they can imagine themselves in the shoes of the refugees.
In this category is the case of Kunkush the cat, a beloved pet who was reunited with his Iraqi refugee family in Norway after he was lost on the Greek island of Lesbos. The family was fleeing ISIL militants in Mosul and took their pet with them. But along the journey the cat panicked and slipped away. Eventually, through social media and volunteers, the cat was brought to Norway and reunited with the family.
I know I teared up along with the mother and her children when she held and kissed Kunkush and called him "hayati" (my life), a term of endearment.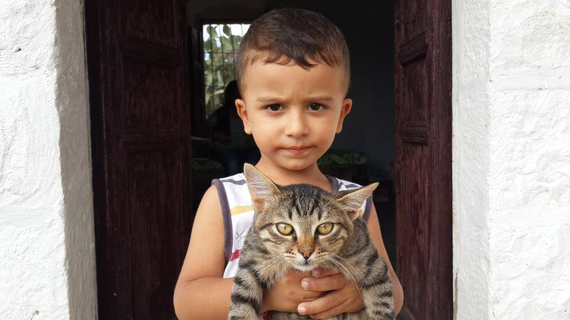 A refugee boy and his pet.
More and more photos and videos are coming out capturing how refugees are clinging to their pets in refugee camps or taking them with them on their long journey to safer grounds.
The refugees and migrants, like everyone, just want to live. They want a home, they want to love their pets, they want to feel, look and be human. They don't want to live up to some image of a refugee we have in our minds.
They are survivors and want to move on, and we need to help them do that.
Rym Al Ghazal is a former war zone correspondent, currently a senior feature writer and columnist for the National Newspaper. She is working on her second book, Single in the City.