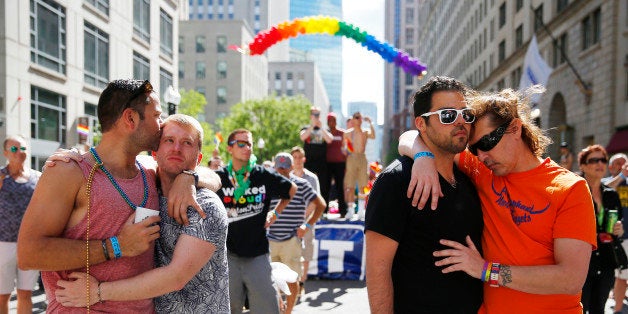 Work crews are still sweeping up from this past weekend's Boston Pride March. Yet this evening, the same City Hall Plaza where the march concluded will serve as the gathering spot for a vigil to honor the 50 lives lost at Pulse, an Orlando LGBTQ nightclub, in the early hours of Sunday morning.
Many will write that words fail them, and to tell the truth, the words chosen here are far from perfect. But after this horrible act of domestic terrorism, the commitment of the Bisexual Resource Center's Board of Directors to advocate for and assist the bi+ community, as well as our greater rainbow community and allies, is only reaffirmed all the more.
The hashtag #BostonStrong may sound like a distant memory to many Americans. But those of us who live, work, and go about exercising our daily freedoms in the very city that suffered and survived the marathon bombings that inspired the Florida gunman -- we know a thing or two about resiliency, and not letting hate win!
So to all our brothers and sisters in Orlando: know you do not stand alone. WE are #OrlandoStrong. And by displaying love, compassion and kindness to all members of our greater rainbow community who need it, we will always diffuse fear and hatred and leave them like rusting relics on an old battlefield -- while we march on with PRIDE!
This post was originally published on the Bisexual Resource Center's blog on June 13th, 2016.
CrowdRise has listed a number of ways to help. Donate here or through the widget below.
Calling all HuffPost superfans!
Sign up for membership to become a founding member and help shape HuffPost's next chapter