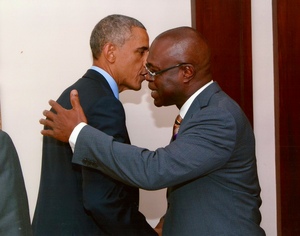 Anthony Egbase, a nationalized American from Nigeria with dual citizenship, sat down with President Obama to discuss foreign policy and specifically the terror attacks in Syria by ISIS and in Nigeria by Boko Haram. Mr. Egbase is a highly respected Los Angeles attorney, who is licensed to practice in California, Maryland, District of Columbia and Nigeria. Egbase did not speak with the President as a representative or advocate of the Nigerian government, although he has friends in top government offices there. He participated in this discussion as a concerned Nigerian desiring that the United States offer more assistance to Nigeria in its fight against Boko Haram.
On September 26th, in a very intimate setting, with approximately 20 attendees, the President discussed Egbase's concerns and recommendations as they pertain to the United States' involvement, or lack thereof, in addressing the crisis of terrorism in Nigeria. The United States has designated Boko Haram a Foreign Terrorist Organization and the United Nations has sanctioned Boko Haram as an Al-Qaida-linked terror group.
Egbase confessed that he entered the meeting believing that President Obama was a man of African descent but was emotionally far removed from the crippling plight of many in Africa. He left the meeting wonderfully impressed, with not only the President's in-depth understanding of Nigeria's culture and political intricacies, but moved by his deep concern for the travesties occurring in Nigeria and Syria.
The overriding message conveyed by President Obama was threefold: 1) the Nigerian government is fully capable of defeating Boko Haram 2) the United States cannot be solely responsible for ridding all of the world of its evil and 3) the shedding of American blood in foreign land is to be avoided whenever possible.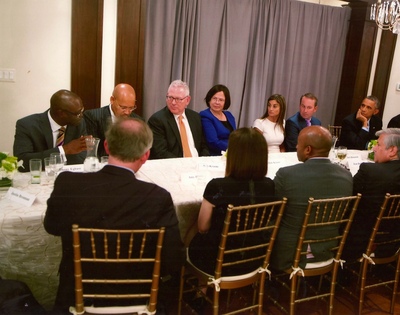 I spoke with Anthony Egbase, exclusively, to learn more about how the Obama administration's plans to deal with ISIS and Boko Haram in the wake of the escalated terrorist attacks.
Q. Did you discuss ISIS with President Obama?

Egbase: Yes we discussed ISIS. The President discussed ISIS in his opening foreign policy discussion. He focused on the war with ISIS and expressed his satisfaction with the way the US military is carrying out the campaign. He was particularly happy that there have been no civilian casualties because of the precise nature of the air strikes.

Q. Did you discuss Boko Haram with President Obama?

Egbase: Yes. We spent about 90 minutes discussing Boko Haram, the Nigerian government and the religious divide between northern and southern Nigeria. I was quite amazed about how knowledgeable he was about Nigeria.

Q. Do you see any similarities between the ISIS terrorist strategies and that of Boko Haram?

Egbase: Yes, and I informed Mr. President that Boko Haram is just as lethal as ISIS. In response to my statement, he agreed that Boko Haram is just as "dangerous" as ISIS.

Q. Do you believe that Boko Haram is communicating with ISIS?

Egbase: There is no doubt that Boko Haram is communicating with ISIS. They are both made up of religious extremists who want to kill people and or get killed. They believe killing people or getting killed will lead them to their goal. The two groups' mode of operation is the same as they want to establish "Islamic Caliphate" even though their dream is unrealistic as they will kill themselves or be killed before that happens. Boko Haram kills and behead foreigners just like ISIS and they have attacked the United Nations building in the capital city of Nigeria killing foreigners.

Q. What did the President share regarding the United States support of Nigeria in fighting Boko Haram?

Egbase: I did not realize how much other countries in the world look to the United States for help until the President mentioned the same. Specifically, the calls from Ukraine, the Philippines and other natural disaster areas around the world. In his words, "they do not call on China or Russia, they call on us."

The President reminded me, as did his wife did at my meeting with her 10 days prior, that the United States in one country and cannot afford to commit its resources and personnel to fighting evil all over the world. The President's opinion was that Nigeria, with its military capability right now, can obliterate Boko Haram. He added, however, the problem is Nigerian government's fear that going all out against Boko Haram will alienate a certain portion of the Nigerian society.

I stated that in some quarters in Nigeria, some believe that Nigeria's inability to combat Boko Haram is partly due to the US embargo against Nigeria. The alleged embargo restricts Nigeria from purchasing arms from the United States. The President did not confirm or deny that the United States has such an embargo against Nigeria.

Q. What were some of the suggestions made by the President in addressing Nigeria's fight against Boko Haram?

Egbase: He stated that changing the mindset of the people as part of solving the problem of terrorism. The President said that he would like to see many African nations form a coalition to address the Boko Haram problem. He did not specifically mention that the United States would support Nigeria if a coalition is achieved, however in the context he used it, I believe he would consider lending more support to Nigeria to fight Boko Haram if this happens.

Q. What do you think the United States can do to make an immediate impact against Boko Haram?

Egbase: I believe the United States, with its unique militarily and intelligence gathering capabilities, can help Nigeria combat the growing cancer Boko Haram. Like I mentioned above, many Nigerians believe the United States embargo against Nigeria is hampering the Nigerian government's ability to fight Boko Haram. On the other hand, many Nigerians believe Nigeria is reluctant to seek United States assistance because Nigeria does not want to appear too close to the West which will alienate a certain section of the Nigerian society. To this point, the US Assistant Secretary for Africa Ms. Linda Thomas-Greenfield was quoted as saying to the Nigeria government in Abuja "the time of denial and pride was over" and that Nigeria should openly embrace US military assistance.

Q. What immediate steps should the Nigerian government take in the fight against Boko Haram?

Egbase: Nigeria government should take control of its northern border to prevent Boko Haram, which is made up of mainly foreigners, from coming in. Nigeria should increase it's military and intelligence capabilities by doing all it can to tap into the United States unique capabilities. It can start by putting pressure on the Obama administration to review the Leheay Amendment if that is the problem. I believe the United States will listen to this because if Nigeria becomes a failed state there will be many more "underwear bombers". Contemporaneously, the Nigerian government needs to lead the efforts, as it has done in the past, getting other African countries together, especially those affected like Cameron and Chad and form a coalition as President Obama would like to see happen.These immediate steps will enable Nigeria to have a fertile ground to plant the seed of reclaiming the affected communities. This will also enable the government to provide education and infrastructural development to the affected areas.

Q. What was the most powerful statement the President made that you haven't heard elsewhere?

Egbase: The Presidents statement that part of the problem is the Nigerian government's belief that coming down too hard on Boko Haram will alienate certain portion of Nigerian society.

Q. Did you discuss the missing 200 Chibok school girls that were kidnapped by Boko Haram in April 2014?

Egbase: No we did not discuss that unfortunately. However, at my meeting with the First Lady, I thanked her regarding her public condemnation of Boko Haram when the kidnapping happened. She talked extensively of many African leaders refusing to take the lead in training girls and changing the mindset of the people about equality between girls and boys. This she argues creates fertile ground for kidnapping of girls that simply want to go to school.

Q. What is your take on recent reports that the Chibok school girls are to be returned within days of this article posting?

Egbase: It is my prayers that the cease fire deal comes to fruition. Every right thinking person wants "our girls back" and we all hope the insurgency stops. However, I question whether the deal is realistic in light of the fact that we are dealing with religious extremists. For any meaningful deal to be reached, the following questions must be resolved: Have the members of Boko Haram suddenly decided to have change of heart? Have they renounced their ambition of forming a religious caliphate? Are they now willing to live side by side with Christians and other moderate Muslims? Do they now believe Western education is okay for their girls? I don't see how one reaches a compromise on these types of issues. Nevertheless, again, I pray the cease fire deal is real.

Q. Did you offer the President any suggestions regarding the United States assisting Nigeria in its fight against Boko Haram?

Egbase: At some point I suggested to the President that many countries seeking United States assistance can actually afford to pay for such assistance. At that point the President reminded me about his wife and how she goes out working for military families that have lost loved ones, and service men and women who have lost their limbs. He mentioned what American young men and women are going through in Walter Reed National Military Medical Center'. With teary eyes, he concluded "it's not about the money but about putting American blood on the line." He stated how many American service people have no limbs because they fight to defend freedom all over the world. He concluded by saying leaders of all counties need to step up and fight evil in their own countries.

Q. Is there anything else you would like to share regarding your meeting with President Obama?

Egbase: Yes. When I hugged the President I was asked him to please visit Nigeria before he leaves office. His response was "we are trying."