San Francisco Ballet closes the 2016 Season with John Cranko's 1965 masterpiece, Onegin, now through Sunday, May 8. The score consists of a variety of music by Tchaikovsky as compiled and arranged by Kurt-Heinz Stolze. It does not include music from the composer's 1879 opera, Eugene Onegin, based on Alexander Pushkin's earlier verse novel. The final assemblage of music for the ballet has the astonishing effect of completeness - standing alone as an original composition, intended solely by the composer as a full length ballet. "I learned that after I had danced the part of Olga," said principal dancer, Mathilde Froustey, who will appear as Tatiana on May 7 and 8.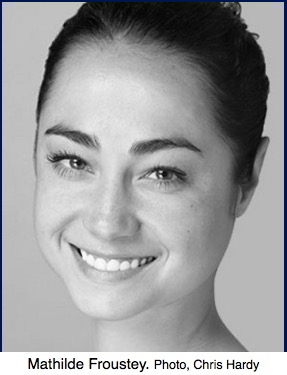 "I had no idea the music wasn't originally composed as a ballet. I was at the Paris Opéra Ballet. I was right for Olga because I was at the same stage in my life. I also did the mirror scene. That was during my first year in the company, when I was sixteen. I was young, ballet was easy, life was really easy, and I had no injuries. And now, being older, I'm more in touch with Tatiana. I know this ballet so well - because I did the corps, because I did Olga. As Tatiana, her older sister, I know what Olga is going to do. That helps me. Tatiana knows things. She is protective of her. The choreography is so well done - it matches and makes sense with the music. Act I is light. The second act is deep and intense, an older sound. Like Tatiana - it has matured, become more grounded. It's perfect."
For young dancers, Cranko's Onegin has always been in the consciousness - perceived as an established Classic, with roles that can inspire ambition and a life's dedication to the art of Ballet. In the opera, the ballet, and throughout a long list of film adaptations - the role of Tatiana is a plum assignment. It challenges the performer to convey a character who is seen first as a marriageable innocent, but whose passions have been ignited by the aloof and disdain-filled Onegin. In Act II, Tatiana emerges as a highly sophisticated and desirable woman, the wife of a prince. Mathilde's repertoire includes other classic roles drawn from great literature - Tomasson's "Juliette" and Neumeier's "Marguerite" in Lady of the Camellias.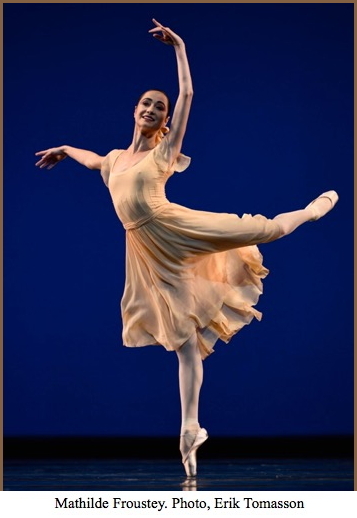 "It's true that Eugene Onegin is hard to translate into English. I read the French translation - the poetry is probably closer to the author's. Not that one language is better than the other, but translating Russian into French is easier. The role of Tatiana is very special to me. It's unusual for a dancer to be able to portray a young woman and an older woman in the same ballet. The story begins when Tatiana is sixteen and continues after a long lapse of time. I'm in-between these two ages. I'm not as naïve as Tatiana at the beginning of the story and not yet as mature as she is at the end."
Mathilde joined San Francisco Ballet as a principal dancer in 2013. Prior to that her career was centered totally at Paris Opéra Ballet where (as a soloist) she appeared in leading roles, including "Kitri" in Don Quichotte. Helgi Tomasson saw her in this production in 2006. I saw her first at the War Memorial in the title role of Tomasson's Giselle. I was aware of a story going around that Paris Opéra would not hire her as a principal soloist. But after her compelling interpretation in Act One, I couldn't help thinking - to hell with Opéra Ballet / you stay with us in The City.
"It's different at Paris Opéra Ballet. The position of principal dancer is not offered, it's a contest. You have to do a solo onstage for an audience and jury. I never made it. I failed the contest ten times. After ten years - I'm like, 'Well, maybe I should leave!' It's like the Bolshoi - the Paris Opera Ballet is a big-big company and there are political issues. I was really close to Brigitte Lefèvre [director of the company] at that time. She was really nice to me and I only danced principal roles. I was only a soloist, but dancing principal parts. At the contests, the people on the jury were not happy about my special treatment. Lefèvre felt the problem was that - because I was only dancing principal parts - the people would not vote for me. She said, 'Do you want me to stop giving you principal parts?' I just wanted to dance. She proposed that if I danced less, then I might be promoted. I said - 'No.' I did Carmen for my last contest. I didn't even get ranked! The first in the rank is the one who gets promoted - and I wasn't even good enough to be ranked! That didn't make sense to me, because two days later I was dancing Kitri in Don Q. The other people who got ranked were in the corps. 'Wait! You give me a principal role and yet I'm not good enough to be ranked even fifth, sixth or seventh?' It just didn't make sense anymore."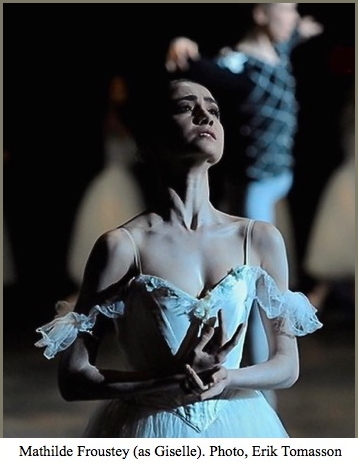 "I was tired of it. I was getting close to being thirty and just didn't want to do that anymore. So, I sent an e-mail to Helgi Tomasson. Two days later, I had my contract. I will remember all my life what Helgi told me before my first show of Giselle. I was pretty nervous, you know?"
She never danced "Giselle" before?
"No! This was my first performance. Helgi is really instinctive. He knows when somebody is nervous before a show. It may not seem that much, but he has really good eyes. He came to me and said, 'You can score here, because I like the way you dance. Don't try to change or look like somebody else - at all. I like your way. What you think is good, is good for me.' In Paris, I was always trying to look like somebody else, trying to look like the principal dancers who are setting the fashion. Everybody has to look like them! It was a really claustrophobic thing. After fifteen years, having somebody going, 'No, you have to change this, you have to change that' - and to then hear, 'Just be yourself.' Oh! OK. Really? It was like opening a door. I discovered that Ballet is really joyful. In San Francisco, I'm so happy to go on stage and I'm not nervous anymore. Of course, I get nervous! But the joy overcomes that. Yes, I was shaking a little bit before my first entrance in Swan Lake. But I was excited to dance - because of Helgi, the atmosphere, my work with the ballet master, my partners. And I know the corps is reacting to everything I do. My first solo would set the mood for the whole night. If I was really energetic, if I'm relating to everyone around me - they will all be with me for the next two-and-a-half hours. You have this as a principal dancer, to take-in the people around you onstage and create a great show."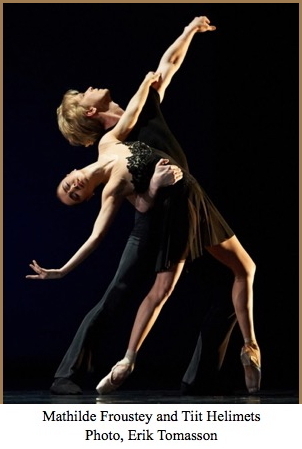 "Well," I said, adjusting my tie. "I believe you've totally succeeded in getting people to fall in love with you."
Popular in the Community