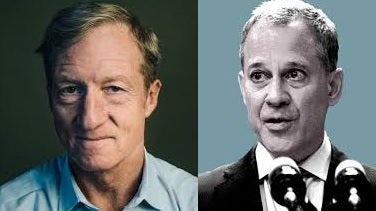 The assault on the people who provide energy to make our lives easier and more productive didn't just happen. It was well planned, and, even though so far the campaign has been singularly unsuccessful, the radical environmentalists who are behind the effort are not giving up soon.
Their goal is to end the use of fossil fuels to generate electricity and power transportation. If they are successful, they will lay waste to the American economy and undoubtedly help our competitors, like China, which have no interest in the kind of severe reductions in energy use that the radicals have in mind.
The campaign has been brewing for a long time, but lately it has received a big push from what some may consider an unlikely source: two foundations whose funding was the wealth of the founder of America's largest energy companies. The foundations began by urging divestment of shares of ExxonMobil, whose roots, like those of Chevron, Amoco, and other companies, are found in John D. Rockefeller's Standard Oil Trust of 1882.
The foundations, the Rockefeller Brothers Fund and the Rockefeller Family Fund, began with divestment: selling their own shares in fossil-fuel companies and urging others to do the same. Then, five years ago, they helped convene a group of activists and lawyers in a tiny California beach town to plot a more aggressive strategy. That meeting, on June 14 and 15, 2012, in La Jolla, produced a report called "Establishing Accountability for Climate Change Damages: Lessons from Tobacco Control."
The relentless efforts by the Rockefeller family come on top of recent blockbuster news published by The Daily Mail: Tom Steyer, a Democratic mega-donor advocating the impeachment of Donald Trump, has been linked to early efforts in a class action legal campaign against the oil industry, according to documents the newspaper obtained.
It's significant news for a number of reasons. In September, San Francisco announced a lawsuit it was filing against energy giants BP, Chevron, ConocoPhillips, Exxon and Shell. The announcement came several months after Steyer, a billionaire who is a major foe of the oil and gas industry, contributed $30,000 late last year to a campaign committee with close ties to the mayor of San Francisco. More than that, the San Francisco lawsuit tracks closely with a legal strategy memo sent from Matt Pawa, a legal mastermind behind the assault on the industry, to the attorneys working for Steyer in 2015.
In addition, Steyer initially denied involvement in state-level efforts to bring class action lawsuits against oil companies, after The New York Post obtained and published an email in September 2016 showing that New York Attorney General Eric Schneiderman, a leader against the industry, was trying to set up a phone call with Steyer to discuss political contributions to a 'governor' race in the context of lawsuit the state had filed against ExxonMobil. 'Eric Schneiderman would like to have a call with Tom regarding support for his race for governor . . . regarding Exxon case,' according to the email, which was sent by Steyer's lawyer to his scheduler.
One early gambit in the case against the oil and gas industry – a test case launched by an enterprising trial lawyer even before the La Jolla meeting ― was based on the claim that energy companies were responsible for rising sea levels, allegedly caused by global warming, which in turn was supposed to be the result of man-made emissions of carbon dioxide generated from burning oil and gas. In that case, Village of Kivalina v. ExxonMobil Corp., Matt Pawa, a Boston attorney and the legal brains behind the campaign against the industry, tried to get a federal court to force the company to pay an Alaska town the cost of protection from flood waters.
Pawa took the case to the Ninth Circuit Court of Appeals and lost, but he encouraged attendees at the conference to try again in state court. And, indeed, that is what happened. The city governments of San Francisco and Oakland in September filed their own global-warming suits against Exxon, Chevron and their other energy companies to pay to mitigate the effects of rising seas. Meanwhile, the Pawa Law Group has been acquired by one of the nation's largest plaintiffs' law firms, Hagens Berman Sobol Shapiro, which represented 13 states in tobacco litigation that yielded a $206 billion settlement.
More than that, a popular gambit in the tobacco cases was for state and local governments to join forces with private litigators. Kivalina, San Francisco, and Oakland are examples of putting that strategy to work today in the climate-change campaign. Another trial-lawyer giant, Cohen Millstein, was hired by the Virgin Islands to pursue a racketeering case against ExxonMobil for supposedly hiding what it really knew about the dangers of global warming (even though the company's scientists had been publishing mainstream research on the subject in peer-reviewed journals for decades). After failing attempts to subpoena climate-change documents by intimidating think tanks, the U.S. territory decided to back down.
In March of last year, the Virgin Islands joined 15 states and the District of Columbia in a coalition to "coordinate efforts" to fight climate change – mainly by going after ExxonMobil. But that effort, also spurred by the Rockefeller foundations, soon collapsed, and New York Attorney General Eric Schneiderman, its leader, switched his focus to claim that Exxon was not properly informing investors of the effects of climate change on the company's assets.
This alliance between trial lawyers and state officials is a grotesque distortion of good governance. The state wields tremendous power; it has no business being in league with private interests in order to extract huge sums from what are essentially ideological foes. If attorneys general think they have strong claims about private firms, then they should bring legal cases against those firms with their own lawyers, period.
When the government contracts with private firms, it undercuts prosecutorial discretion. Citizens elect public lawyers to represent their interests in the court of law. Private profit should not be a part of that calculus. But, in an ironic twist, this sort of unbridled greed is precisely the engine that extremists at the La Jolla meeting urged harnessing. The foundations behind today's radicals are even less principled than yesterday's radicals claimed their founding fathers to be.