Liberia is lauded as the first African country to elect a female president. The country can also be proud of having not one but two female Nobel peace prize winners. Despite these commendable achievements, many Liberian women and girls live with a high risk of sexual and gender-based violence (SGBV).
Before I was appointed to Liberia in July 2012, I read President Ellen Johnson Sirleaf's autobiography, which includes a chilling account of the time she was threatened with rape while imprisoned. The UN estimates that a staggering 40,000 women or more were raped in Liberia during its civil conflict from 1989-2003.
Ten years later, the country's women and girls are still being sexually violated. According to government statistics, over two hundred cases of sexual violence are reported every month, and many more go unreported. Four out of ten reported victims are under the age of twelve.
As the world marks International Women's Day with pledges to end violence against women and girls, I reflect on the life of 13 year-old Olivia, who was repeatedly raped by an uncle when she was just seven years old. By the time officials were alerted to Olivia's case, she was already suffering from severe fistula. Olivia underwent three surgeries, and was left with a colostomy bag that would cause repeated complications. Only a child, Olivia's injuries never deterred her from wanting the life of a normal girl. Even as infections recurred, she continued to attend school whenever she could. Olivia was buried in Monrovia on 18 December of last year. No girl or woman should ever have to suffer like Olivia did.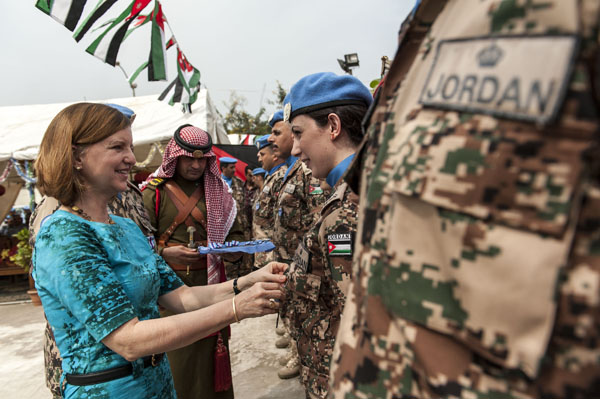 Liberian women are courageous and vocal. Shortly after I arrived in Liberia last year, I attended a public meeting to discuss the challenges women face in accessing justice. A woman took off her shirt to show me - and to show the entire gathering of women, lawmakers and visitors from all walks of life- the angry red scars on her back, where her husband had thrown acid on her. Bearing witness to her story only strengthened my own resolve to help Liberia promote and protect the rights of women and girls.
Liberia's justice system works too slowly, and many young victims' families tend to "settle" rape cases, often with cash payments from the perpetrator. Few rapists are held accountable in a court of law and a sense of impunity for such crimes prevails. The United Nations, working with the Government of Liberia, has invested in helping to empower vulnerable women and girls, helping to prevent them from becoming victims, increasing access to justice for survivors of sexual violence and supporting stronger laws.
With support from the UN and others, Liberia has established a specialized prosecution unit and court to focus on gender-based crimes, and strengthen its capacity to handle these crimes more effectively. The government has also produced specialized training and guidance to strengthen access to justice for sexual and gender-based crimes. Last December, the Independent National Commission on Human Rights began a year-long campaign to end child sexual abuse, and enhance justice for victims.
Last month, President Johnson Sirleaf became the 19th Head of State to join the UN Secretary-General's "UNITE" global campaign by pledging to end violence against women. The President committed Liberia to adopting tough new domestic violence legislation; allocating funding for a national action plan on sexual and gender-based violence; and scaling up efforts for better justice for survivors of sexual violence.
I welcome the signing of this pledge by the Liberian Government, confirming their steadfast intention to see an end to violence against women and girls.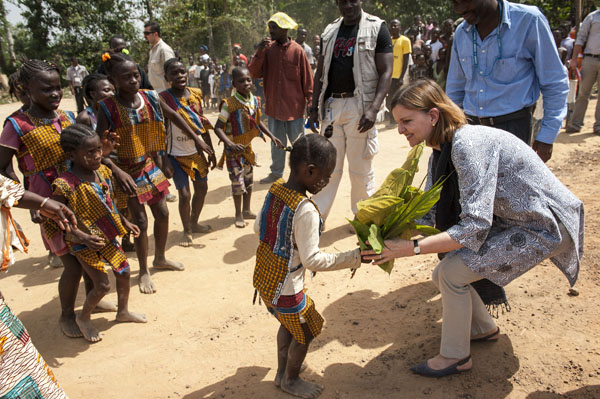 Now, more needs to be done, and quickly.
The United Nations Mission in Liberia (UNMIL), which I head, consists of over 10,000 military, police and civilian personnel who have helped Liberia keep the peace and emerge from its wartime destruction. Since 2003, UNMIL has helped recruit and train some 800 female police officers for the Liberia National Police, bringing the proportion of women in the ranks to over 17%, as compared to an average of 10% in police forces worldwide. The UN has helped the police create a dedicated section for the protection of women and children, represented in all 15 of Liberia's counties. These are staffed by both male and female officers, especially trained to handle SGBV investigations and to support women and girls who fear or encounter violence. Last month, Liberia opened the first in a planned network of justice and security "hubs," giving Liberians outside the capital, Monrovia, better access to justice services.
Over the next few years, UNMIL will progressively be handing over security responsibilities to the Liberian authorities. A country that is safe and secure is one in which women and girls are protected, and can live without fear of rape or other forms of violence.
Today, on International Women's Day, let all Liberia's partners honor Olivia, and all Liberian women, by keeping the pledge to end violence against women and girls.
Karin Landgren is the special representative of the United Nations Secretary-General and Coordinator of United Nations Operations in Liberia.
Related
Popular in the Community