Interest in big data initiatives for healthcare have been increasing over the past few years. A report published by McKinsey & Company in January 2013 estimates that developing new value pathways based on such initiatives can save the US healthcare system approximately $300 to $450 Billion each year. The report also highlights the convergence of various market forces: the growing demand for better data, increasing liquidity (supply) of both healthcare and non-healthcare data, improved technical capabilities, and a supportive government policy framework.
McKinsey defines the following new value pathways, as derived from big data efforts:
Right living. encourages patients to make lifestyle choices that help them remain healthy.
Right care. ensures that patients get the most timely, appropriate treatment available.
Right provider. patients should always be treated by high-performing professionals that are best matched to the task and will achieve the best outcome.
Right value. providers and payors will continuously enhance healthcare value while preserving or improving its quality.
Right innovation. identify new therapies and approaches to delivering care across all aspects of the system.
As payment models shift from traditional fee-based reimbursement to risk-sharing, payors and providers must now rely on insights derived from big data to determine appropriate reimbursement levels and demonstrate effective patient care outcomes. However, in order to achieve business value out of big data, these organizations must already have a lot of the groundwork in place.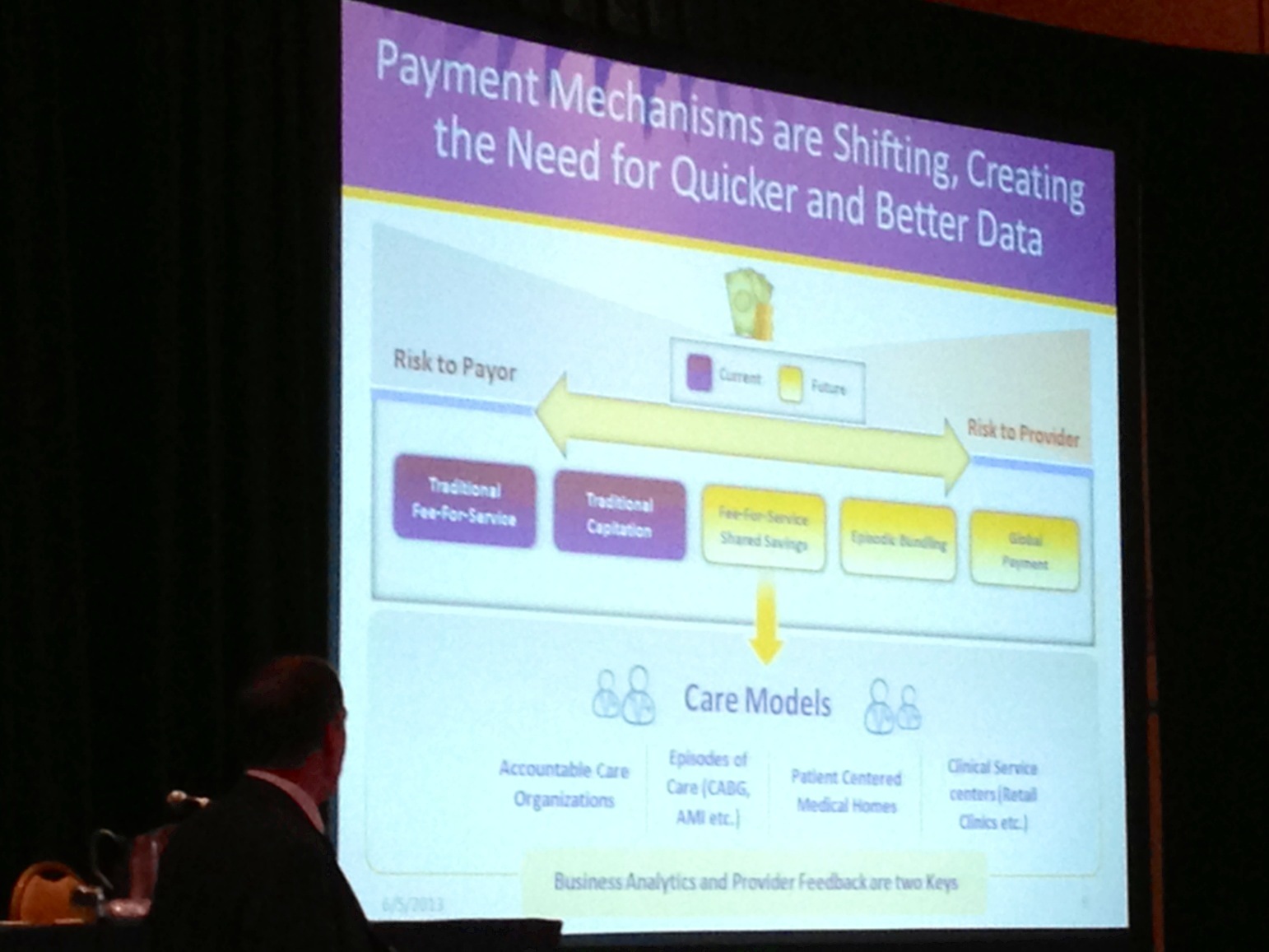 CMS's Tony Trenkle talks about shifting payment models at the 2013 HIMSS Big Data Forum in Washington, DC.
Last week, HIMSS Media and Healthcare IT News hosted a Big Data Forum in Washington DC, which attracted an intimate but diverse audience of big data experts, policymakers, payors, providers, and technologists. From the various stakeholders I had an opportunity to speak to, it appeared that the audience was divided into two groups: the early adopters that have already begun to derive value from big data, and the ones that are catching up to this trend but are stuck at the basic building blocks (i.e. data warehousing).
For the latter group, most of the issues go beyond technical challenges. The industry is well known for resistance to change, in which providers are accustomed to making decisions by themselves, rather than basing decisions on standards-based protocols. Others have older systems are functional, but have a limited ability to normalize and consolidate data. Privacy concerns also limit data sharing, and even within a single organization, information often remains siloed because procedures for integrating data and communicating findings don't exist. Government policy, although stimulating, focuses stakeholders on the nuances rather than seeing big-picture.
In closing, companies must develop a range of big-data capabilities in order to achieve improved patient care, through quality and outcomes-based protocols that are based on data from the organization and its peers.
Below are insightful quotes and advice from some of the people I spoke with at the forum:

"Without data veracity, predictions mean nothing..."

Chris Belmont, SVP and CIO of Oschner Health System


"Start with 'small' data, build on the clinical and business value resulting from these analytic efforts, then scale up."

Lee Pierce, AVP Business Intelligence & Analytics at Intermountain Healthcare


"Deriving value from Big Data will and must be the driver for when, where, and how, we incorporate it into health plan Business Intelligence."

Tariq Abu-Jaber, VP Medical Informatics at Harvard Pilgrim Health Care


"We must deliver the right kind of information, to the right people, at the right time, and in the form-factor that they prefer."


Tammy Wingo, Director of Business Analytics at Monroe Carell Jr. Children's Hospital at Vanderbilt



"Don't be afraid to challenge the status-quo, or to approach your CIO or CTO with an idea"

Peter Levin, former CTO at the US Department of Veteran Affairs


"We need to move away from a 'permissions-oriented' culture in healthcare."

Shahid N. Shah, CEO of Netspective and technology strategy speaker

Click here for more posts on big data healthcare at The Huffington Post.
Calling all HuffPost superfans!
Sign up for membership to become a founding member and help shape HuffPost's next chapter