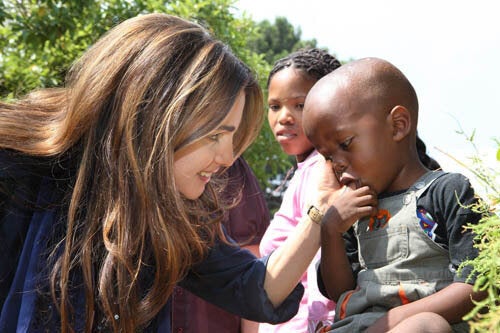 Ironic. The peace conference, that brought me to South Africa, has been postponed.
A gathering billed to bring people together... that symbolized the power of dialogue and intercultural understanding... that was to be a medium for solutions to ongoing conflicts around the world has, instead, polarized opinions, fuelled frustration, and caused divisions.
In many ways, this unfortunate turn of events underscores many of the unresolved problems that our global community faces today. In my part of the world, the Palestinian/Israeli conflict is an open wound that we desperately need to heal. Perhaps if we all subscribed to the African concept of Ubuntu -- that we all become people through other people, and that we cannot be fully human alone, we could learn a lot. There'd be less hatred and more harmony.
And that's a good word on which to start my reflections because I had the best possible start to my working visit to Johannesburg: a meeting with President Mandela and Graça Machel. This was a moment in time...an experience to cherish forever.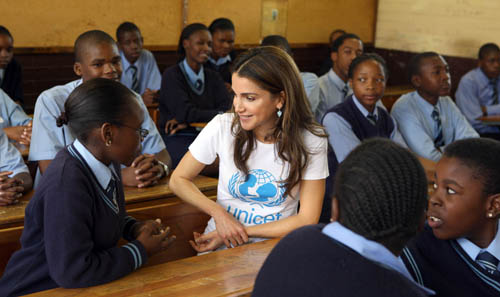 In Madiba's presence, even before he speaks, something magical happens. Goodness and goodwill flow from this great man. Grace, humility, and courage light up the room. He makes you feel as if you, too, can be a force for good. People say that Madiba has slowed down, but as he spoke of his efforts to secure his legacy, especially for the children of South Africa, I wondered how everyone kept up with him.
He has said in the past, "There can be no keener revelation of a society's soul than the way in which it treats its children."
Currently, only three children's hospitals serve the entire African continent with its population of 741 million. Countries like Australia, Canada, and Germany, each boast nineteen or more facilities. The inequity is glaring and unfair. Madiba's state of the art Children's Hospital, due to open in July this year, is an example of how he believes children should be treated.
He smiles, his eyes crinkle, his infectious laugh fills the room...and I leave feeling like I can take on the world.
Next stop, Soweto and the Phefeni Secondary School to learn about the Girls' and Boys' Education Movement (G/BEM) run by the South African government and UNICEF. South Africa is on track to meet the MDG gender equality goal by 2015, but there is still work to do. G/BEM empowers girls by involving girls and boys in activities and discussions covering everything from teenage pregnancies and drug abuse to sexual harassment and human rights. Their logo, rather movingly, reads, "I am my brother's and sister's keeper.' And they are.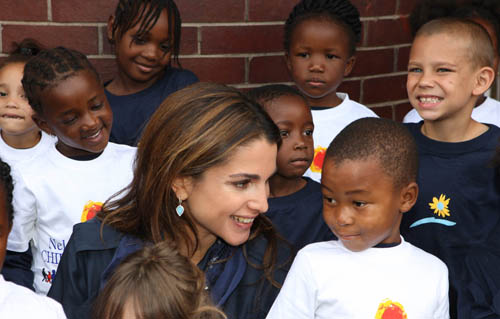 When I was growing up, I remember being told what to do by adults. But, 16 year old, Zanele taught me something that day. Her name, in Zulu, means "girls are enough," and she certainly lived up to that. This unbelievably articulate young woman told me about the progress of the G/BEM club that she coordinates, and how poetry, art, music and drama give everyone the chance to express themselves. It struck me that peer-to-peer learning was much more effective than anything adults could hope to achieve.
On the way to my next stop -- one of the Nelson Mandela Children's Fund projects -- I was able to bear the traffic with help from U2's new album on my iPod and the lush landscape passing by outside.
Kids' Haven, started by the big-hearted Moira Simpson in 1992, is a residential shelter offering care to children who have been abused or abandoned. Part of the haven is a children's village with six homes for girls and boys. The houses are very simple; the children don't have much, but there is warmth and love in every home; the children are grateful for a second chance.
One little boy I met, Moses, is 2 and the cutest little guy ever. He and his siblings are from Burundi, and have been at the village for five months. They were victims of last year's xenophobic riots in Soweto, during which his mother was arrested and jailed. Her five children were about to be deported back to Burundi, all alone, until Lawyers for Human Rights intervened at the airport and called Moira, who took them all in.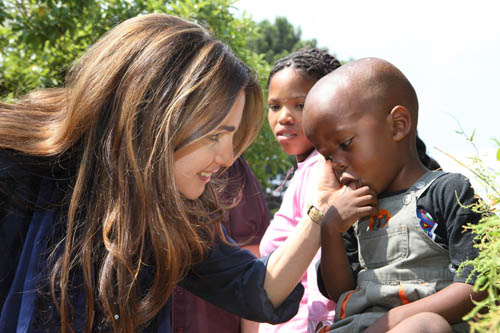 Each one of Moira's children has a frightening and heartbreaking story to tell. But no matter what trauma they've experienced, she believes that with love and support, they can live happy, fulfilled lives. And while her and her tireless team has the heart, they also need support.
Back in my hotel, sitting outside, dreamily watching the fish, on a balmy African evening, my husband calls to reassure me that he's conscientiously holding down the fort back home. I miss them all, but I worry about my youngest the most. He finds the disruption of our playtime, bath, dinner, story, and bed routine unsettling. But, he was sufficiently compensated today by the treat of having daddy pick him up from pre-school! I was told that as he climbed into the car, he cast a proud, almost boastful, glance at his toddler mates!
Support HuffPost
The Stakes Have Never Been Higher
Related
Popular in the Community