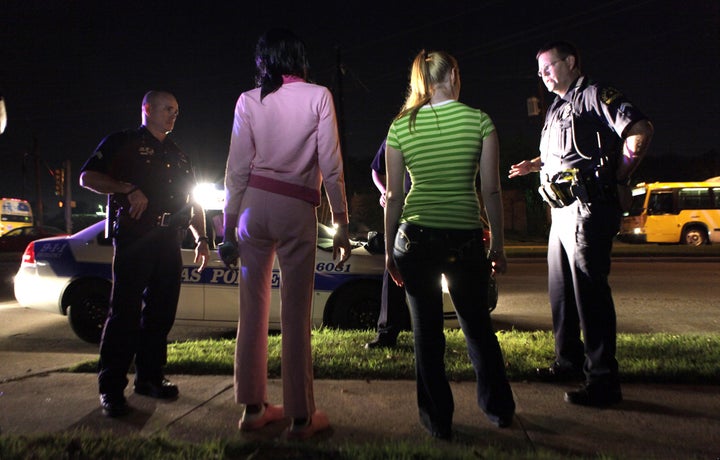 Fourteen men appeared in New York State Supreme Court in Manhattan on Monday, charged with patronizing a prostitute, after a crackdown on a brutal sex trafficking ring run by a father and son team from Pennsylvania.

This is one of the few high profile cases across the country in which the johns as well as the traffickers have been indicted, and I applaud the Manhattan district attorney, Cyrus R. Vance Jr., for his leadership.

By arresting the alleged johns as well as the pimps and the six taxi drivers who are accused of finding customers and ferrying them from place to place, the D.A. shows that he gets it. The alleged pimps were vicious, going so far as to tattoo their names, and in one case a bar code, on the women they treated as slaves, according to court papers.

But the commercial sexual exploitation of women doesn't happen unless the demand is there. If there weren't people willing to pay for the women's sexual services, the women would likely not have been beaten and psychologically abused, as the D.A. charges.

"Sex trafficking is a business that relies upon supply and demand," Mr. Vance said today, describing how his office had filed indictments against eight men responsible for the supply-side of this trafficking operation. "Today, in this same investigation, we have charged 14 individuals with patronizing prostituted women. This reflects law enforcement's top-to-bottom approach to dismantling a sex trafficking business, including, when appropriate, prosecuting its customers. There is a misperception that prostitution is always a victimless crime -- in fact, as in this case, it can involve the physical or psychological coercion of women, who become the victims of sex trafficking."

Of the 14 alleged johns who appeared in court Monday, two pled guilty, two filed motions indicating they may want to go to trial, and 10 had their cases postponed for later dates. Those who agree to plead guilty to a first offense of patronizing a prostitute have the option of pleading to disorderly conduct and taking a health education class, completing five days of community service, and paying a $250 fine. If they stay out of trouble for two years, their records are sealed.

The men charged yesterday are Constantine Nicolaidis, Michael P Haughton, Ben Corr, Dale Araten, Brian Lee (a/k/a Phi Hoang) Nick Koutsoulidakis, Robert J. Krioski, Zachary Zaitzeff, who pleaded guilty, Thomas Madden, Richard Farrell, Edward Kamenitzer, Anthony Napolitano, who pleaded guilty and who described himself in court papers as a doctor, Justin Gorenkoff, and Paul Taboada. A few of the men are prominent in the city's financial and restaurant industries. "Does my wife have to find out about this?" one asked a police officer investigating the case. Another told police he used to work at the Diocese of Brooklyn.

While I know some people will cry out for legalizing and regulating prostitution, and others will say it's just human nature and it's not something you'd ever think you'd get caught for (remember Lawrence Taylor?), it's vital to have robust prosecutions of johns in trafficking cases. If men didn't rush in to buy women, women would not be subjected to the violence and slavery alleged in this case. In this 150th year of the Emancipation Proclamation, we need a 21st century abolitionist movement to end the trafficking of women and children, and it must include a robust front in the war against demand.

In the fight against human trafficking, which I write about extensively in my forthcoming book, Almost Home: Helping Kids Move from Homelessness to Hope, one model stands out as a way out to cut down the instances of sex trafficking. In Sweden in 1999, legislators chose to look at the sex trade as a human rights and a women's rights issue, adopting the view that women deserve the freedom from being bought and sold. Legislators passed precedent-setting laws, aggressively punishing people who buy sex, rather than only those who sell it. The law criminalizes the client and the pimp, while asserting that prostituted people are often victims of coercion and trafficking and should not be punished. The results have been dramatic: the number of women working on the streets has decreased between 30 and 50 percent.

In writing our book, my co-author, journalist Tina Kelley, and I interviewed several trafficking victims, and we tell the story of one, whom we call Muriel, who as a teenager was sold up to nine times a day, after her three different pimps drugged her with a date-rape drug combined with stimulants, to keep her working. They did not let her sleep until she had earned her quota, and she never saw the money she was supposedly earning -- the pimps bought her fancy clothes to make her more attractive as they sold her baby-faced image over the Internet, but when she courageously left one pimp, he refused to pay her, even though he owed her tens of thousands of dollars. He threatened to kill her dog instead. Another pimp threatened to kill her.

Johns create the market for girls like Muriel, and it's a profitable one -- one of the prostituted women in this ring made about $500,000 a year, all of it going to the alleged pimps, Vincent George Sr. and Jr. Muriel could earn up to $600 an hour, and for each guy she had sex with, there were ten who had contacted her online who wanted to buy her. The money flows from man to man, while the women and girls often end up abused, scarred, ripped off, sick, and far too often, dead. Prostituted women and girls face a mortality rate 40 times higher than average women do. And homeless young women, particularly those with a history of sexual abuse and shattered family ties, are the most frequent victims of pimps and johns. They are also our kids, among the 56,000 homeless young people Covenant House strives to feed, clothe and encourage each day at our 22 shelters in the United States, Canada and Latin America.

So while the men arrested here may plead ignorance that they were buying the services of a trafficking victim, it shouldn't work. Many prostituted people are not choosing the profession because they have many other options. Many are coerced, from an early age, into this potentially dangerous and demeaning work. Buying sexual services is a crime in New York, as it is in most states, and the police are cracking down on it, as seen by how Chicago police now post on their website pictures of those who have been arrested for solicitation or related crimes.

In New York this January, we cheered as the city's police arrested 195 people, including johns, and seized 55 vehicles, as part of Operation Losing Proposition, after Police Commissioner Raymond W. Kelly met with advocates from Europe about the issue of trafficking. Meanwhile, our friend Norma Ramos, the executive director of the Coalition Against the Trafficking of Women, advocates impounding johns' vehicles -- most of the men are married and would find it hard to explain where they left the minivan.

In Sweden, the legal system actively prosecutes and punishes johns; offenders can face fines based on their income, and a john can go to jail if the purchase of sex is made through organized prostitution. It seems to be working. In the law's first year, arrests increased 300 percent. Now, fewer johns are trying to buy sex, recruitment has nearly stopped, and the estimated number of women in prostitution dropped from 2,500 to 1,500 in three years. Traffickers are looking elsewhere to set up shop. There is a stigma attached to demand in Sweden which remains too elusive in the United States. Norway, Iceland, the Philippines, and South Korea have adopted similar measures, now known as the Nordic Model.

North America has been slower to understand that you don't have to be transported from a foreign country to be a sex trafficking victim. You just have to be engaged in a commercial sex act through force, fraud or coercion. In fact, 83 percent of confirmed sex-trafficking incidents in the United States involved U.S. citizens as victims.

There's another reason we at Covenant House applaud Mr. Vance for pursuing this groundbreaking case -- it will raise awareness of the law. District attorneys everywhere need to have the good sense and courage of Mr. Vance in attacking sexual exploitation where it starts -- with demand. Prosecutions like Mr. Vance's help stigmatize the buying and selling of trafficking victims.
Popular in the Community