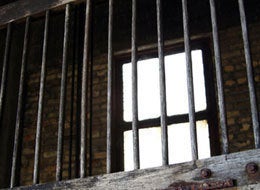 Last year, a Burmese poet named Saw Wai published a Valentine's Day poem in the aptly named Love Journal, a popular Burmese magazine. His poem, entitled "14th February" read, in part,
Millions of those who know how to love
Laugh and clap those gold-gilded hands
It seems innocuous enough, but "14th February" was an acrostic--a poem in which the first letter (or word) of each line spells out another word or phrase. In this case, the first word of each line spelled out "Senior General Than Shwe is Power Crazy." Shwe, the head of a military junta which has ruled Burma since 1962, is essentially the country's dictator. Here's the full poem, along with a translation by The London Times, which shows Wai's cleverly hidden message of protest (if the words in bold are read independently).
Ar rin bek ka pyaw dair
(Aaron Beck, the psychiatrist, said)
Nar nar khan sah dat hma khan sah hma
(Only if you know how to suffer painfully)
Yoo yoo moo moo go phyit nay hma
(Only if you are crazy - crazy )
Kyi myat tet a noot pyinnya lo
(Can you appreciate a great work of Art)
Hmoo hmoan hmaing way zay det dat poan model ma lay yay
(Dear little photomodel who makes me dizzy)
Kyi daunk kyi mah kya hma a thair kwair det yawgah det
(They say it is a broken liver disease, a great and terrible one) [note: Broken heart in Burmese is usually expressed as a broken liver.]
Than baung myah zwa thaw chit tat thu myah
(Millions of those who know how to love)
Shwe a teet cha hta thaw let myah phyint let khoak tee yway yair bar
(Laugh and clap those gold-gilded hands)
Unfortunately for Wai, he wasn't clever enough, and General Shwe didn't take kindly to the criticism. This past week the Burmese government sentenced Wai to two years in prison for the dubious crime of "harming public tranquility."
Wai's sentence could have been far worse. That same day, a 28-year-old blogger named Nay Phone Latt--described by news organizations as Burma's best-known blogger--was given a 20 year sentence for publishing a cartoon mocking Shwe. The next day, 23 "activists" were given 65 year sentences. Even Wai's lawyer will have to spend four months in jail.
Human rights groups have, of course, condemned the severity of the sentences. The Paris-based "Reporters Without Borders" issued the following statement:

"Saw Wai, for his part, is being made to pay for his impertinence and courage as a committed poet."
Wai is being held at the notorious Insein Prison (aptly pronounced "insane"), renowned for its squalid conditions and the common use of torture. Insein now houses more than 2000 political prisoners, including Nobel Peace Prize winner Aung San Suu Kyi, head of Burma's opposition party. Most of the prisoners were jailed during last September's demonstrations by Buddhist monks in which, it is estimated, more than 100 people were killed.
This isn't the first time an acrostic poem has caused something of an international incident. Last November, I wrote about another one that made news: a Pakastani youth discovered that the first letter of each line of a poem in his English primer called "The Leader" spelled out "President George Bush." The poem prompted a high level meeting in the Pakistani government, and some accused them of trying to drum up support for America's war on terror.

Related