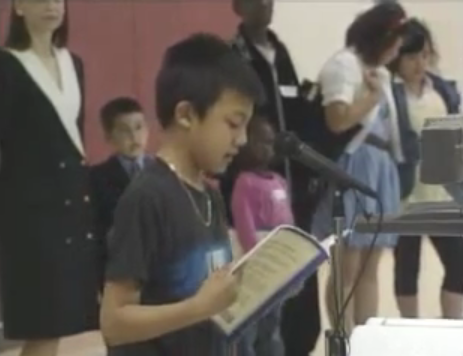 In my original post, I commented that David and I were crossing our fingers that good things came out of the book--and not just in terms of sales. It was David's and my hope that, in presenting the voices of children at this complicated but exciting time in our nation's history, perhaps we could shine a light on kids when we needed to hear from them the most. They are the future, after all.
Last week, one of those wonderful things happened--in Lincoln, Nebraska. Twelve of the children who contributed to the book attend Clinton Elementary School in one of the poorest communities in Lincoln. Born of various nationalities, many of these kids are the second generation of immigrants who came to Lincoln (as well as Fargo and a few other major refugee relocation sites in the U.S.) during the 1970s and 80s. Back then, a Nebraska native tells me, these families weren't particularly welcome, particularly because many were Vietnamese, and their presense only served as a sad reminder of a long and ugly war.
And yet, 25 years later, here are a dozen wonderful kids of thoroughly assimiliated familes, who love their community (and vice versa) and have become, for lack of a better term, the stars of a book of letters to the President of the United States. Five-year old Jason Phan, for example, drew the charming Obama portrait that we used for the cover; and 9-year-old Taylor Lengel wrote a line in his letter that has now become the slogan for the book: "Dear President Obama, You should be on all the dimes in the world."
These kids are unmistakably the epitome of the Obama era: mixed-race, multi-cultural, smart and funny, and incredibly patriotic. And to read their letters--and look at their pictures--is to understand the true melting pot that is America.
Because of the community's economic hardship, a secret benefactor sent a crate of 50 copies of Dear President Obama to Clinton Elementary, 12 of which were presented to the young author-illustrators at a special assembly arranged by the school's principal and teachers. Friends, families and local politicians showed up for the event, as did a swarm of media, including CNN affiliate KETV from Omaha.
Here's the coverage of that remarkable day in Lincoln.
NOW ON SALE!


Dear President Obama: Letters of Hope From Children Across America (Beckham Publications Group, Inc.)
By Bruce Kluger and David Tabatsky
Foreword by Linda Ellerbee
Related
Popular in the Community