Unless it's 1955, your name is Biff, and a 2015 version of you just handed you a sports almanac, you can't tell the future. But since it's the new year and we're curious about what'll be happening in the food world in 2015, we asked two people who have a really good idea. We sat down with Miwa Mack, a psychic/healer and the director of the Boulder Psychic Institute, and Daniel Boulud, a chef with 16 award-winning restaurants around the world, including the new db Brasserie in Las Vegas.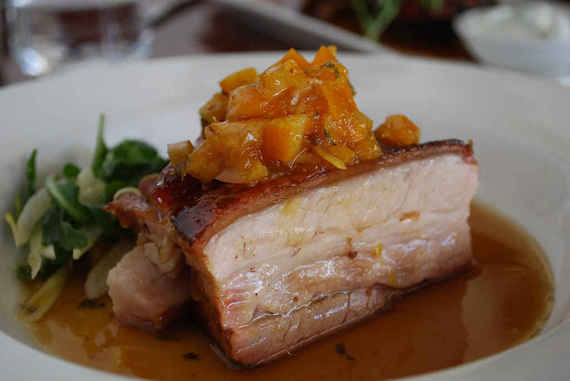 Credit: Flickr/avlxyz
What ingredient will everyone be sick of seeing on menus at the end of 2015?
The Psychic
"It's interesting, the first thing that pops to mind is basil. It looks like basil might be overused."
The Chef
"Classics will never die. Classics will disappear and come back, and trends have to die in order to reinvent themselves. For me, I'm more of a classics guy. American or French classics, or many others.
Definitely pork belly, as it's phasing out. It's not off the wagon yet, but it's phasing out."
Is there a dish you think people will be going crazy for in 2015?
Editor's Note: 24 seconds of silence elapsed before she answered this.
"Nothing's really coming up that clearly. There are foods more from the Mediterranean. The Mediterranean might have a bit of a comeback. I'm not sure if they do polenta out there, but I keep seeing polenta. But basically foods from the Mediterranean."
"Ceviche and ramen were definitely hits in the last year. Because I'm French, and because I sit in French-style bistros and also enjoy cooking French food, I feel like it's certainly coming back. We see the trends in Paris with a lot of young-generation chefs starting avant-garde bistros.
I think we're going to see more chicken concepts coming up. To me, the best concept I've seen in the last two years in terms of healthy fast-casual is Sweetgreen in New York."
Related