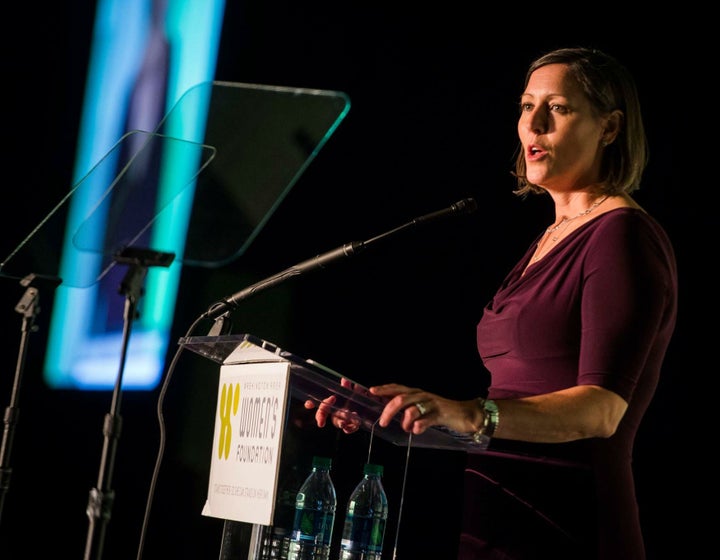 Jennifer Lockwood-Shabat Remarks at Washington Area Women's Foundation 2016 Leadership Luncheon,Washington, D.C.,October 19, 2016
Good afternoon everyone! Thank you all for being here. I'm always blown away whenever I walk into the luncheon—the energy, excitement and enthusiasm are truly contagious, and I always leave this room feeling inspired.
And really how could you not be inspired by Karen and Juanita? Wow. Thank you both for the courage it took to share your stories with us today.
You know something that Karen said earlier really resonated with me: She said that you can't find balance after pulling yourself up by your bootstraps, without a community of support.
At the Washington Area Women's Foundation, this is what we're all about, building and mobilizing community. And it's the power of community that unites us of us here today.
It is absolutely no mistake that the theme of our luncheon this year is Together, We Thrive, because we know that when we bring community together, we can achieve better outcomes. And in the 18 years since The Women's Foundation was created, we've certainly made incredible strides. Last year alone, our grant investments reached more than 3,600 women, and we helped them increase their incomes and assets by $3.6 million.
But we all know that the reality of today is that not everyone in our community is thriving, and in particular, women and girls of color face systemic challenges that stand in their way. And rather than lifting up the strength, resilience, and hope that is resident in communities across the country, some of the current public discourse is dragging us down.
And so, I've spent a lot of time thinking about that and trying to figure out what I wanted to say to you today. As a white woman leading this organization in this moment, I've thought deeply about my role as a community leader in advancing racial equity. I acknowledge my privilege as a white woman, and I acknowledge the privilege and power that inherently comes with philanthropy. Frankly, on some level, it's easy to hide behind that and go about my day. It's hard to have difficult and uncomfortable conversations. It's hard to confront and challenge the unconscious biases that we all have, but at the end of the day, I can't honestly look into my daughters' eyes and say that I did all that I could to create a better community for women and girls if I remain silent when deep injustices are happening around me.
Last year, I stood on this stage, and talked about the need for bold action. I'm a firm believer in – "don't talk, act. Don't say, show. And don't promise, prove."
And that is why today, The Women's Foundation is publicly committing to advancing equity for women and girls of color and tackling racism head on so that we can truly advance our mission and ensure that all women and girls in our community have the opportunity to thrive.
I'm a firm believer in – "don't talk, act. Don't say, show. And don't promise, prove."
We must use our voice, our resources and the community we have created to remove the barriers women and girls of color face.
As you know, the mission of The Women's Foundation is to mobilize our community to ensure that economically vulnerable women and girls have the resources they need to thrive. Economic security has been central to our mission since our founding, but it's not enough to simply say that we are working with low-income or economically vulnerable women and girls. We have to be intentional and explicit in our language and our actions. We can no longer leave unsaid the realities facing women and girls of color, and I would argue, it's time to write a new narrative, one where we celebrate and embrace the contributions of women and girls of color.
While it's always been implicit in our work, now we are committing to also explicitly applying a racial equity lens to our convening, our research and advocacy agendas, and our grant investments.
But most importantly, we are committed to ensuring that women and girls of color not only have a seat at the table, but are driving the solutions. And we'll start that by launching a Young Women's Initiative, which will be co-designed with young women and girls of color and other leaders in our community (many of whom are here with us today), all with the goal of crafting policy recommendations that address racial, gender, and other disparities. I'm pleased to say that we are doing this in collaboration with seven other women's foundations from across the country as part of a broader effort called Prosperity Together, as well as the White House Council on Women and Girls.
As a first step in this Initiative, we are listening—really, truly listening—to the concerns and challenges facing women and girls of color in our community: Issues that limit their ability to achieve higher paying jobs; issues that threaten their own safety; and issues that jeopardize the health and well-being of their children.
And to be clear, when I say issues, what I am referring to are the policies and practices that disadvantage and disempower women and people of color on a routine basis—in other words systemic and institutional racism.
And so today, every member of my board, and my staff, is taking a public stand and professing their commitment to racial equity. We are all in—today, tomorrow, and for the years ahead because this is hard work, and this hard work that must continue long after the national conversations have faded.
As we move forward in advancing equity for women and girls of color, I ask you to join us. Stand with us.
Stand with us as we work together to understand the root causes of inequality and inequity in our city, and develop plans, together, to create change.
Stand with us if you believe that having a bright future means that you can't predict how well women and girls are doing based on their race and ethnicity.
Stand with us if you believe that, Together, We Thrive.
Related
Popular in the Community