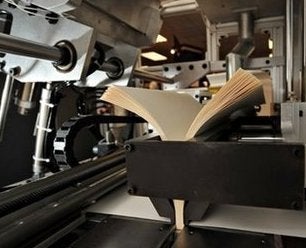 Writing a book is difficult, especially when you reveal your darkest secrets and bare your soul for the world to read. Getting that book published is tougher still. Apparently, staying in business as a publisher in today's world is the most difficult of all.
Less than four months after the release of my inspirational memoir, The Last Day of My Life, my publisher, Phoenix Books, abruptly shut its doors for good. For years, the company was headed by Michael Viner. It turns out that mine was one of the last manuscripts he bought. Following his battle with cancer and then his death in August 2009, the owners of the boutique Beverly Hills publishing house infused it with a new energy and staff, a new slate of titles and authors, a new logo and a new mandate, eschewing the tabloid titles for which it had become known and focusing instead on more respectable, serious literature and inspirational titles. Fortunately for me, mine was among them.
Reinvention, it seems, was more challenging than the owners had imagined. Friday, April 23, 2010 was the end of the line for Phoenix. I was informed about the impending closure of the company only forty-eight hours earlier, along with the publishing house's other authors, several of whom had their own titles about to launch in the marketplace within just days. I suspect they felt as I did -- lost, bewildered, frightened and a bit angry. I imagine that various market and economic forces played into the decision to shutter to company. Publishing is down (I suppose, so is reading) and since the stock market implosion, numerous businesses, publishing among them, have been downsizing dramatically.
I had spent literally hundreds of hours securing media bookings on radio and television shows to promote my own title and I soon discovered that marketing a book was more challenging and time consuming than writing it. I now faced the very real prospect that all of this effort and the positive results would fail to return a single penny. Still, before closing, Phoenix graciously granted me all rights to my work, including the print and audio versions. Now, I find myself diligently researching my options, from selling the rights to another publisher to capitalizing on a successful book launch, buying the stock on hand from the printer and continuing to market the book on my own. After all, I now own the rights and the electronic files, the distribution network is already in place and there is the real promise of steady sales over the months ahead. (It is still available in brick and mortar and on-line book sellers) I thought, "How hard could it be to continue the publishing duties myself?" As it turns out -- it can be plenty hard.
I suspect that the angst within the publishing world was foreshadowed by similar fears in the record industry. That business has been gutted by the digital revolution and an industry unwilling to adopt -- choosing rather to dig in its heels and fight to the death (their own). I am confident that there will always be physical books. I love the tactile nature of the paper in my hands and the smell of the ink on the pages. Still, I own many Kindle titles (on my iPhone) and the amazing success of the iPad signals even more eBooks will be chosen over their pulp counterparts. It is inevitable and it changes everything. Musicians can now sell their songs directly via iTunes, bypassing large record companies entirely. Authors are discovering that same power with respect to electronic books and even via print on demand self-publishing. It takes much more effort, to be sure, but it is enticing to have more creative control and a greater financial return on every sale. It seems to be a more viable option than ever before.
Is the fate of Phoenix going to be suffered by other publishers? Undoubtedly so. But I am confident that authors and publishers will continue to flourish in this new electronic landscape, just as songwriters and performers and even labels have learned how to navigate the transition from CD's to instant downloads. Fortunately, this author is also a lawyer. My mom always told me that law school would serve me well. I'll bet she never imagined telling her friends about "my son, the lawyer...and publisher." We'll see.

Related
Popular in the Community