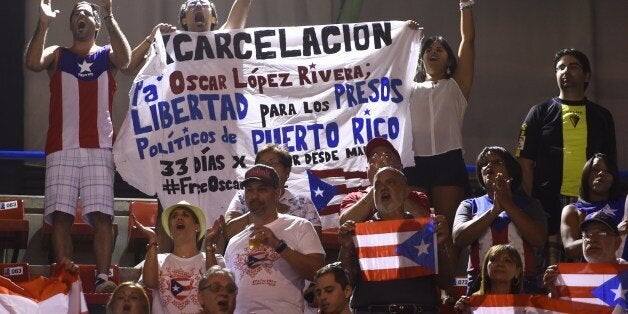 A 74-year-old Puerto Rican man sits in federal prison today having served 34 years, twelve of them in solitary confinement. Research shows that at that age the likelihood of recidivism, should he be released, is less than you or I committing a federal offense, even if we have never committed a previous crime. He has asked the president for executive clemency. I ask you, President Obama: When it comes to Puerto Rico, who in the world are you listening to? Oscar is a veteran of the armed forces and is serving a grossly disproportionate sentence, and yet he has never been convicted of any act of violence. His only crimes were for conspiracy -- 55 years for seditious conspiracy in 1981, and an additional 15 years for conspiracy to escape in 1987. Serious charges -- but are they worth 34 years of imprisonment? If President Obama does not commute his sentence now, right now, he may not be released until he reaches 80. His call for freedom has been seconded by Nobel laureates Desmond Tutu, Rigoberta Menchu and Mairead Maguire. So, I ask you, Mr. President, after you have crusaded against disproportionately long criminal sentences, who is counseling you to deny clemency to this one senior citizen? He is an avid supporter of Puerto Rico's independence from the United States. In 2016, the island's status as a colony of the United States has never been clearer. Congress passed a law that denied Puerto Rico immediate access to a bankruptcy reorganization of its massive debt and established a seven-person board to completely take over its finances and budgetary authority.
The executive branch argued to the Supreme Court that federal power over Puerto Rico was so omnipotent, that effectively, Puerto Rico's constitution could be undone by Congress if it thought necessary. And the Supreme Court ruled in two cases that Puerto Rico has no sovereign power independent of whatever power Congress decides to grant it because it is an unincorporated territory of the United States. That's code for Puerto Rico is a colony of the United States. It does not control its currency, its economy, its trading partners, its shipping vessels, its immigration, or its borders. The federal courts that operate on the island can impose the federal death penalty even when Puerto Rico's constitution bans it. The 74-year-old prisoner who sits in an Indiana penitentiary has railed against this colonial status of Puerto Rico. He was imprisoned for his ideas and he was previously offered clemency by President Bill Clinton. He refused because the offer did not include other Puerto Rican political prisoners at the time. All of them have been released since. Mercy here is appropriate since granting presidential clemency for prisoners who advocate for Puerto Rico's independence is not a complete rarity. President Harry Truman, Jimmy Carter and Bill Clinton have all done it. When it comes to Puerto Rico, President Obama is not listening to its political or religious union, or civic leaders. They have all demanded the release of this prisoner. He is not listening to the people of Puerto Rico or its diaspora -- in December over 100,000 of them signed a petition supporting executive clemency in this case. He is not listening to Puerto Rican members of Congress like Nydia Velazquez, Luis Guitierrez, Jose Serrano or the representative from the Island they have all demanded immediate release. Mr. President, you are not listening to your own words when you eulogized Nelson Mandela at his memorial in South Africa in 2013. You spoke of Mandela's activism for freedom, inspiring both him and the whole world and then he spoke of Mandela's reconciliatory outlook: "It took a man like Madiba to free not the prisoner, but the jailer as well... to teach that reconciliation is not just a matter of ignoring a cruel past, but a means of confronting it with inclusion, generosity and truth." President Obama, the name of this Puerto Rican political prisoner is Oscar López Rivera. He is widely considered to be the Puerto Rican Mandela, and he has now served more time than Mandela did in South African prisons. I personally met with Oscar López Rivera in prison in 2015. López Rivera holds no rancor, and was the picture of peace and benevolence. His mind was clear and spirit intact. His return to his cell that day as I exited the visiting room was an affront to everything I have learned about justice in our country. Mr. President, listen to him, listen to us. For in commuting his sentence, it will not only free Oscar López Rivera, but also indict very system that unjustly jails him.
Calling all HuffPost superfans!
Sign up for membership to become a founding member and help shape HuffPost's next chapter