I have become vigilant about strengthening my mental resilience to thrive in motherhood, much like I once maintained my body as a professional dancer.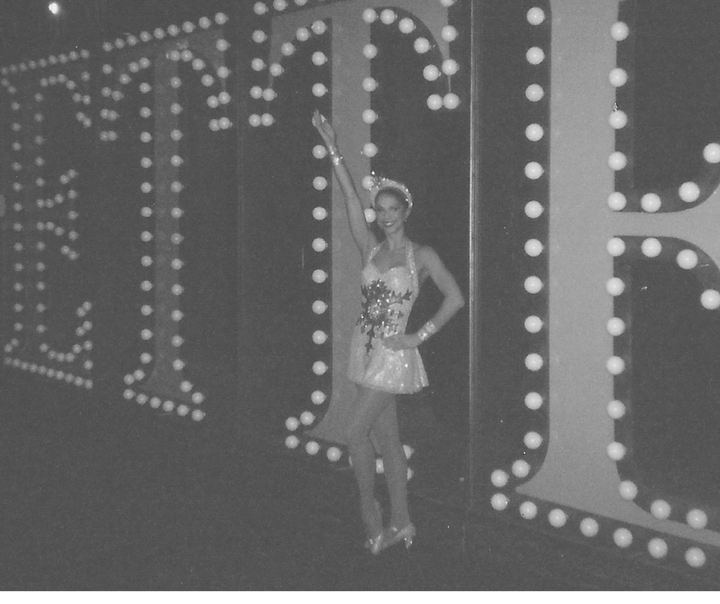 Each time I was pregnant, I had a recurring dream:
The curtain at Radio City Music Hall rises to reveal I am one among 36 Rockettes clad in sparkling costumes. For a moment, I relish the familiar rush of performance induced adrenaline, but panic ensues when I glance down and notice my pregnant belly is protruding out of the line.
This dream was always accompanied with intense feelings of not belonging, and would force me awake in a cold sweat. A Freudian analysis might suggest I was harboring repressed emotions over motherhood prematurely ending my dance career. However, it was my choice to quit dancing about two years before I became a mom.
I stepped out of the spotlight and boxed up my dance shoes at the height of my career for the sake of happiness. The constant uncertainty and rejection synonymous with the business was toxic when mixed with my perfectionist tendencies, so I transitioned into the field of psychology. On this new path, I initially found the stability craved, but motherhood arrived the same afternoon I finished my coursework to earn a master's degree in positive psychology.
Those two blue lines on a stick inspired me to take my studies of happiness, mix them up with perfectionism, and apply this blend to motherhood. Against all empirical evidence suggesting one should be realistically optimistic and maintain psychological flexibility, I set the goal of being the most happy and perfect mom ever.
As the story goes, I crashed into motherhood, and ended up in therapy with postpartum anxiety. While childbirth was traumatic and my lofty expectations set me up for failure, my underlying struggle was about the constraints of motherhood: my daughter was the first thing in life I couldn't run from, avoid, or quit.
Trapped by motherhood and desperate to be both happy and good enough for the baby I loved, I started writing to cope. Word-by-word I pieced myself back together with a more realistic expectation of happiness, surrendered into motherhood, and quickly transitioned from 1-2 kids. Before I could catch my breath after emerging as "Just Mom," two miscarriages knocked me into a downward spiral of rumination. My fifth pregnancy stuck, but the baby had a life-threatening birth defect, which kept me in a negative state until a pot of boiling water came crashing down on my toddler.
When I found myself in an ICU Burn unit with my boy fighting for his life, I was 36 weeks pregnant with a baby needing surgery, and I had a four-year-old daughter at home. In this moment of vulnerability, I sent an email to girlfriends asking for help, because I didn't know how to move forward alone. This is when my writing organically emerged in the world, and I began actively applying the tools of positive psychology to cope.
This renewed vitality inspired me to accept an offer to perform again, but the enormity of this commitment didn't resonate until I made my way into the attic the morning of my first rehearsal. When I opened a long ago sealed bin of dance attire, I was enveloped by the smell of sweat, dust, and leather as the memory of a life I once lived came flooding back.
Wearing my tan high-heeled tap shoes in a dance studio for the first time in 11 years, I was momentarily an insecure girl from a small town in New Jersey who was desperate to succeed. However, my reflection in the mirror revealed a more weathered version of the dancer I once was after seven pregnancies, a few traumas, and parenting the four children I am blessed to have. The juxtaposition of my older self in the shoes of my youth suggests all I have gained in what I have lost: I stand confident with the resilience I lacked in my prime.
Ironically, I am happier now because of the strength I found through adversity. The vulnerability maternal love requires has forced me to grow, and fostered the courage I need to allow the experience of joy in dancing again. I nurture my old and timid dancer spirit with the same voice of self-compassion that sustains me through the uncertainties and inevitable "failures" of motherhood:
A sense of belonging isn't guaranteed with any experience, but rises from within. I also note that happiness is influenced by a synergy of the moments I choose things like joy and gratitude. Therefore, I have become vigilant about strengthening my mental resilience to thrive in motherhood, much like I once maintained my body as a professional dancer.
In a few days, I will find myself standing on stage in a line of former Rockettes. In this real-life experience, which mimics a familiar dream, I'll be pregnant only with the resilience and wisdom I have gained through adversity:
I am good enough. I do to belong, both as a mom and a dancer.