In the home stretch of his presidency, Barack Obama still has some ideas up his sleeve. The latest is his crusade to make sure that every American household and business can become a solar power plant.
There has been plenty of good news about solar energy in recent years. It is becoming much more affordable and it's sprouting up on rooftops nearly everywhere in the United States. Yet we have barely begun to capture its potential. Sunlight is free, ubiquitous, domestic, inexhaustible and clean, but it still provides less than 1 percent of the nation's electricity.
Its potential is much greater. The U.S. Department of Energy's National Renewable Energy Laboratory in Colorado calculates that if every suitable roof was equipped with solar panels, we could get 40 percent of our electricity from sunlight.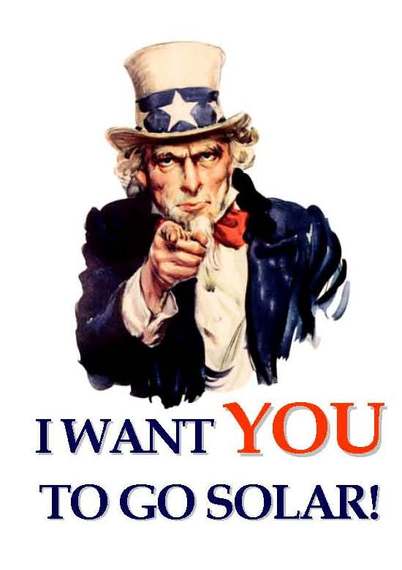 That's a theoretical number, not a plan. But reality will get much closer to theory if solar energy's virtuous cycle continues. The cycle goes like this: Because of state and federal incentives, improvements in technology and state renewable energy mandates, the price of rooftop solar systems has dropped so that more people can afford them. As more people buy solar panels, more must be manufactured. The more that are manufactured, the less expensive they become because of economies of manufacturing scale. As they get even less expensive, more people buy them, more are manufactured, there are more economies of scale, and so on.
However, the virtuous cycle has not yet brought the price of rooftop solar systems down to the point where low-income families or people with low credit scores can afford them. In a study it issued in January 2015, the George Washington University Solar Institute reported that the 40 percent of American households that earn less than $40,000 each year account for less than 5 percent of the nation's solar installations. In other words, we still have a solar income gap in the United States. The study noted that solar energy has the ability to "alleviate the financial burdens of lower income communities, but targeted policies will be necessary for solar to expand into this underserved market."
President Obama responded six months later with some of those targeted policies. In July 2015, the White House announced a National Community Solar Partnership designed to make solar accessible to all income levels. The objective is 300 megawatts of solar power on federally subsidized housing. In addition, because half of the nation's homes and businesses are not suitable for producing solar power, the Administration budgeted $520 million for the development of community solar systems that serve multiple buildings. Several of these arrangements are in place today around the United States so that several buildings can share the capital costs and the savings of a photovoltaic array, including buildings where rooftop solar would not work because of ownership issues, poor solar access and so on.
Many moderate- and low-income families face two other barriers. They may not have the money to pay the up-front costs of a system, and they may have trouble finding affordable financing. The marketplace has spawned some innovative solutions. Today, a homeowner can lease a solar system rather than buy one. The lessor pays all the up-front costs to install the system, plus the cost of maintaining it. The homeowner uses part of the savings on his energy bills and the income from selling solar power to his utility to make lease payments.
Some utilities offer on-bill financing for homeowners to make energy efficiency and renewable energy improvements. The utility loans the homeowner the money for energy upgrades; the homeowner repays the loan with a special charge on his or her monthly utility bills. When on-bill financing is done correctly, the homeowner's energy savings are more than his or her loan payments.
Yet another low-interest option is Property Assessed Clean Energy (PACE) financing. Similar to utility financing, the municipality puts up the money for energy efficiency and renewable energy improvements. The building owner repays the assessment with a fee on his or her property tax bill. This option has worked well for commercial buildings, but PACE loans for residences have been in limbo for several years because of objections from the Federal Housing Authority (FHA) over who gets paid first when the house is sold -- the municipality or the mortgage holder.
The Obama Administration has worked out a solution. Earlier this week, the White House unveiled another initiative called Clean Energy Savings for All. It clears up the FHA's objections to residential PACE programs so that municipalities can create them by designating energy financing districts and issuing bonds so homeowners can add PACE assessments to their HUD and Veterans Administration mortgages.
The goal for this new package of initiatives is 1 gigawatt of solar for low- and moderate-income families by 2020.
The old rap against rooftop solar was that it is a boutique technology that only upper-income homeowners could afford. But because of falling prices for solar panels and innovative financing options, and because of the Obama Administration's ongoing work to make solar power accessible to everyone, distributed solar systems are rapidly becoming an egalitarian technology that gives all of us some choice in where our energy comes from. It also gives us the opportunity to do our patriotic duty and join America's clean energy revolution.
It's time to make America's energy system great again.
Calling all HuffPost superfans!
Sign up for membership to become a founding member and help shape HuffPost's next chapter