Young C.J. Valleroy was first inspired to become an actor watching Angelina Jolie and Brad Pitt battle it out in Mr. & Mrs. Smith's famous kitchen fight scene. How fitting then that his breakthrough role in the upcoming dramatic feature Unbroken (a Christmas Day release in America) would be directed by Jolie, a woman he now considers a friend.
In Unbroken, Valleroy plays Young Louie Zamperini, a troubled youth who channeled his defiance into running and became an international track star at the 1936 Berlin Olympics before enlisting as an Army Air Corps pilot during the Great War. Zamperini went on to survive a plane crash at sea, unspeakable torture at Japanese war camps, and more. A life that is the ultimate survival tale, inspiring the Laura Hillenbrand bestselling biography, Unbroken - on which the film is adapted. Valleroy (15) who met 97 year old Louie just before he passed away this summer, describes this role as "the greatest gift."
This young actor is something special. As impressive a dancer as he is an actor, Valleroy recently danced with the popular Los Angeles group, L.A. Sparks. And when he isn't in school or performing, he does charity work - lots of it! In fact, he has knit hundreds of hats for cancer patients nationwide inspired by a close aunt he lost to the disease. I had a blast chatting with the multi-talented, high energy Valleroy who shared with me some interesting stories about playing Zamperini, one of America's real life superheroes.
Xaque Gruber: You said you're a huge Mr. & Mrs. Smith fan, so what was it like to meet the very actress who inspired you to act in the first place?
C.J. Valleroy: I had a hard time trying to keep my mouth closed when I met her. I was so excited. As a director, Angie is super hands-on. One thing that's cool that makes her different from other directors is how she has the actors act a scene out, and then she'll think about it, and then she'll say - how do you guys want to do it? Give me how you want to do it. And we would. And I could see that she gets this joy from going over scenes with the actors, and that's probably because she's an actor. Working with her was incredible, and I want to do it again.
Angelina Jolie & Louie Zamperini (Courtesy of Universal)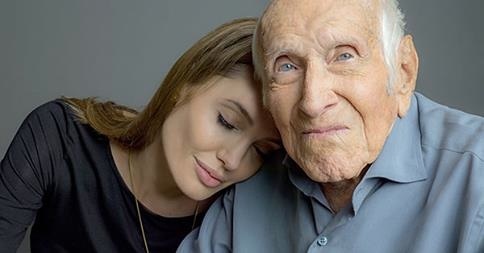 XG: You play Louis in his younger years - did you get to meet Jack O'Connell, who plays Louis as an adult?
CJV: I did get to hang out with Jack - he is so funny - he really is like an older version of me. I also met Garrett Hedlund. Great guys! Garrett was all covered with dirt when I met him. And I became close to the actors who played my family, in fact Maddalena (Ischiale) who was my mother in the movie has actually become good friends with my real Mom.
XG: The scenes where you're running on the track look pretty intense.
CJV: I thought I was a fast runner until I went to Australia where we filmed it. Those Australian guys were running like lightning. I couldn't really keep up, but I tried - and then Johnny, my costar, said 'it's okay. The script says we win." (laughs).
XG: What do you hope people come away with from seeing Unbroken?
CJV: Many people give up. They quit. They do something they think is hard and they stop, but Louie Zamperini never gave up - he never gave in. I hope this movie gives people strength to keep going no matter the hard times. As soon as I landed the audition for the role, I read Louie's book. Everyone should read it. It's so inspiring. He skateboards in his 70s! Playing Louie just felt so natural. He and I actually had a lot in common. He and his family moved to California, and so did I. Louie gravitated to running and I gravitated to dancing. I was bullied, he was bullied. And even though he was tortured in Japanese Prisoner of War camps, he forgave the men who tortured him. And you know what - I want to thank the kids who bullied me, because if they hadn't done what they had done to me back in my hometown in Florida, I wouldn't have wanted to come out here to Hollywood and do what I'm doing.
XG: Why were kids bullying you back in Florida?
CJV: The teacher announced me to the class as a singer, dancer, and actor. And several of the kids felt that was enough reason to make fun of me, gang up on me, trip me, kick me, beat me up to the point where I couldn't breathe and was black and blue and had to go to the hospital. My mother prayed all the way to the hospital and said to me if I'm okay, she would take me to California to dance for one month, and so we did. And in that month in California, we met a talent manager who agreed to take me on as a client if we moved here. And so we moved here for a better life. And life has definitely changed for the better. I completely disagree with violence.
XG: If you were speaking to a room full of teens your age who wanted to get into acting, what advice would you give?
CJV: I would say - smile and relax. That's all you need.
Unbroken opens nationwide on Christmas Day - Follow on Twitter @Unbrokenfilm
Calling all HuffPost superfans!
Sign up for membership to become a founding member and help shape HuffPost's next chapter