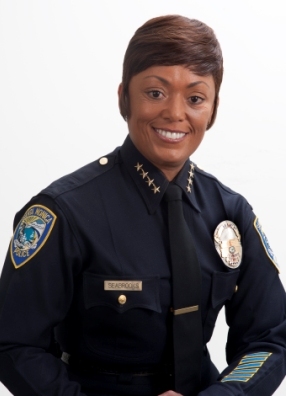 As described by SantaMonicaPD.org, "Chief Jacqueline Seabrooks is a 31-year law enforcement veteran with significant municipal policing experience. As of May 29, 2012, she assumed leadership responsibilities for the Santa Monica Police Department as its 17th Chief of Police."
Robert Gagnier: Under your leadership as Chief of Police in Inglewood, crime rates declined to levels not seen since the mid 1970s. What did you attribute that to?
Chief Seabrooks: Just as we have experienced similar trends here in Santa Monica, I attribute the successful crime reductions to the hard work of the men and women of the Police Department as they focused on effective crime reduction strategies. Their hard work was buttressed by an increasingly supportive community which resolved to make the environment better for residents, business owners and visitors.
RG: In the past week it has been reported that a Russian teen created what is being referred to as the BlackPOS malware and used it to successfully hack Target and Neiman Marcus. The teen sold the software responsible for breaching security at the retailers and affecting as many as 110 million Target customers alone. How would your department go about prosecuting such an individual if an attack of that nature were to be carried out on Santa Monica businesses, or against the city itself -- and does SMPD currently have any internal department or division that is set up and perhaps designed to deal with these types of online based criminal activities?
CS: Cybercrime in on the increase across the globe. In cases like this, which have nation-wide and possibly international implications, we would collaborate with our federal partners and very likely seek a federal criminal prosecution. The Police Department has extremely strong relationships with an array of federal law enforcement agencies. Because we recognize the threat posed by cybercrime, we currently have an experienced detective on assignment with a regional Hi-Tech Crimes Task Force which is composed of a variety of municipal, state, and federal law enforcement officers. This Task Force has the investigative ability to assist the Santa Monica Police Department were similar circumstances to originate within our community.
RG: Roughly a year into your job as Chief of Police in Santa Monica, in June of 2013, a killing spree by a lone gunman occurred in  Santa Monica drawing nationwide coverage and ultimately ending on the campus of Santa Monica College. SMPD got many accolades from both local and nationwide political leaders -- and the community at large -- for their quick response to the scene, which ultimately could have ended with many more lives lost. Could you share some of your thoughts and reflections about that day with the incident coming so soon in your tenure as Chief in Santa Monica?
CS: June 7, 2013 was a day of stark contrasts for the City of Santa Monica.  As we hosted President Barack Obama in the morning, we also responded to the circumstances of the spree shooting. As I reflect on the day, I am proud of the three officers who stopped the threat -- these men are heroes. I am also proud of my law enforcement partners. It was gratifying to see the support we received from federal, state and local law enforcement. While I am certainly saddened by the scope of the tragedy, I am energized by the knowledge that the definitive actions of the three officers ensured that no other innocent lives would be taken. It was also gratifying to see the community's unity and resiliency in the aftermath of what some might call our defining moment. 
RG: On the afternoon of July 16, 2003, George Russell Weller, then age 86, drove his car toward the Third Street Promenade. By the time the car came to a halt, 10 people had been killed and 63 were injured. In what capacity does SMPD work with the city to try to ensure that the odds of such an incident happening again are significantly reduced-especially with respect to Farmers Market days?
CS: The Police Department works collaboratively with all of the City's departments and Municipal Administration to ensure that those activities which are part of the community's fabric are conducted in a way which promotes public safety. We examine our previous experiences as well as those of other cities to cull important safety lessons. We periodically conduct safety/threat assessments to ensure that our approach remains contemporary. In the aftermath of the tragedy at the Farmers' Market, safety measures were strengthened, not just in the Downtown, but in the all of the City's Farmers' Markets. One of those measures was the installation of a catch net placed on the roadway to all entrances of the Farmers Market, downtown. This net, which resembles fencing, will stop moving vehicles from entering the market. We conduct similar assessments and implement an array of safety and security mechanisms for all of our large-scale activities such as the Twilight Concert Series, GLOW and the LA Marathon.
RG: The city of Santa Monica, Calif. remains one of the top destination city's in the U.S., and at any point in time it is filled with tourists from all over the world. What would you say is the biggest challenge that your men and women in the force face on a day to day basis?
CS: We are challenged with balancing the demands of providing effective public safety services in a highly sophisticated, dynamic environment. Because public safety means different things to different people at different times, our largest challenge is to be thoughtful, firm, fair, yet sufficiently elastic so that the environment remains visitor friendly even as we strive to ensure community safety.
RG: Are there any pending directives or plans of action in the pipeline once light rail becomes a reality in Santa Monica?
CS: We are enmeshed in preparing our organization for the changes which will result from the arrival of Light Rail, the companion residential and commercial growth, and the increased number of visitors to our community. We are examining and learning from the experiences of other communities which have a form of Light Rail. We are developing staff training so that our personnel are able to promptly respond to public safety needs on and in the areas adjacent to the rail line.  We are adjusting our internal systems and approaches to ensure that we continue to be responsive to the needs of our community. And we are working with our public safety partners to ensure that the rail experience in Santa Monica is positive.
RG: Drugs, gangs and prostitution seem to be well under the radar, if not almost entirely eliminated in Santa Monica. The homeless don't appear to be everywhere you turn. Since arriving in Santa Monica, have you implemented any special anti-gang injunctions, and are there any actual laws in place with regards to the homeless being able to gather in places of high volume traffic such as the Third Street Promenade?
CS: The Police Department's personnel have been working hard to address those criminal activities which adversely impact the quality of life in our community. While crime related to gangs, drugs and prostitution is less prevalent and less visible than in years past, the Police Department continues to rigorously engage in enforcement, intervention and community education because these are essential to reducing these types of activities. Thus far, it has not been necessary for the Police Department to resort to gang injunctions; however, we recognize this as an invaluable tool in the fight against criminal gang activity.
I want to be careful about placing homelessness in the same conversation as gangs, prostitution and drugs. While there certainly may be an overlap, homelessness in and of itself is not a crime. As you know, homelessness is a nationwide challenge and the City of Santa Monica is not immune from that challenge. The City of Santa Monica has been at the forefront of those efforts to substantially reduce homelessness. The City's resolve in this area has rarely been replicated in other similarly sized communities. The City ensures the availability of an array of services which provide a continuum of care so that those who are homeless may have a pathway to the assistance needed to change their circumstance. Even as the City does this, the Police Department focuses on behavior. Where the behavior of a homeless individual or group of individuals is criminal in nature, then appropriate action, including enforcement, is undertaken.  We must always be mindful that being homeless in no way diminishes one's Constitutional rights to gather or assemble.
RG: What are your thoughts about involving the local neighborhoods and communities in town hall meetings regarding policies that involve SMPD?
CS: The Police Department enjoys a strongly favorable relationship with the array of local neighborhood and community groups existing within the City. The Police Department consistently listens to our community's voices while providing a variety of forums to hear from them directly. We receive community input, and to the degree appropriate, are responsive to that input.
RG: Lastly, let's fast forward to the year 2020. With such a strong, diversified and impressive resume filled with so many career "firsts", what does the future hold for the current Chief of Police of Santa Monica, and where would she like to be six years from now?
CS: Hmmm... that's a loaded question. I have had and continue to have an amazing law enforcement career. My work has enabled me to meet fabulous people including three U.S. Presidents, a famous poetess, some amazing young people, and some really interesting not-so-young people. I've traveled, become better educated, and learned a lot about myself in the process. So, I'm thinking that I'll just enjoy the present with the hope that my future continues to be as bright as things are now.
Calling all HuffPost superfans!
Sign up for membership to become a founding member and help shape HuffPost's next chapter