The phrase romantic realists resonates with a young film making couple, Eric Rino and Roxana Rahnama. In post-production with their passion project Mis'TIC - a silent black and white slap stick comedy set to premiere later this year - it is a reversal on the universal theme of parent and child reunion.
Mis'TIC stars Roxy's father Massud, of eponymous surname, a well-respected Austrian television and film actor. Massud plays a man misunderstood due to a facial tic, until his daughter steps in to assist.
Rino and Rahnama's story could be fine fodder for their own rom-com plot. Boy and girl meet, girl introduces boy to dad. Now they make movies across two continents. A common thread is love of the pioneer era of movie making, think Buster Keaton, Laurel and Hardy, and Charlie Chaplin.
"We can point to 'The Artist,' and say only four years ago it won five Academy awards for best picture, director, actor, costume design and musical score," says Rino, whose real last name is Stern. Justification for changing his name comes from great-great-great grandpa Samuel Goldwyn who is known to have said: "A self-made man is entitled to a self-made name."
Determined to create content, concurrently they also work for others. Tackling the behemoth 'making it,' Roxana is an assistant director, producer and actor. Eric is highly experienced in all departments of film making except for costuming and animal wrangling.
What does the quarter life crisis (QLC) have to do with this story?
Separation and individuation from one's family of origin begins at birth and intensifies in adolescence. Newly minted adults take this further to form romantic and career involvements. With optimism and idealism for building a future, frustrated ambitions can be expected. Lack of opportunity to bring ideas and passions into fruition can take hold in the early to mid-20's.
Successfully navigating the QLC - 'taking the reins' - is proactive, calculated risk taking in motion. Ideas incubate and are tested. The call to inner listening, to manifest yearnings, is to go beyond ideas and talk, which requires sustained efforts to achieve goals with no guarantees either.
Rebounding from errors and building on wins becomes second nature and key to leading a meaningful life. This is good practice for now and later, heading off a less intense infamous mid-life crisis in one's 40's and 50's.
For Roxy this meant a return to her show biz roots switching college majors twice, first from physics and math and second from art history, which she thought would lead to more stable employment than her family's business. Roxy recalls making posters and story boards for her parent's projects after mastering the skill in school, age 10. Roxy's mother produces; Massud's family once ran a Cinema Paradiso in Iran.
Since childhood, Rino has sought out silent films and steeped himself in the history of Hollywood which was practically invented by great great grandpa, the legendary Samuel Goldwyn. Except for Tony Goldwyn (Eric's father's first cousin) and his father, few have been creatively involved in film; dentists, lawyers, accountants and therapists among them.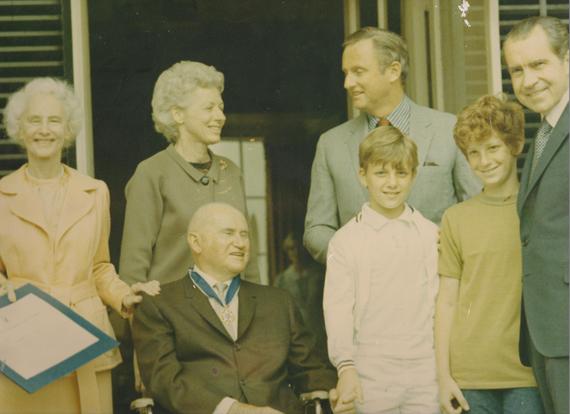 Receiving the Medal of Freedom at his home in 1971. Seated in the wheelchair Sam Goldwyn, holding young Tony Goldwyn's hand. Left to right: Frances Howard Goldwyn, Ruth Capps, Samuel Goldwyn, Jr., Adam Stern (Eric's father), and Richard Nixon
The San Jose Film Shorts festival brought together Roxy from Vienna, and Rino, Los Angeles. Roxy was in her role as assistant director for the short, 'Bootball.' Rino, a festival newbie was there with 'Pineapples,' his first, shot in 5 days in the Art Deco splendor of great grandma's house (Sam Goldwyn's daughter Ruth Capps by his first wife Blanche Lasky) above the Sunset Strip where Eric grew up. Rino knows every nook and cranny of this home, and it shows.
'Pineapples' premiered 100 years after the original 'Squaw Man' did. 'Squaw Man,' was the first Hollywood feature film directed by Cecile B. DeMille and produced by Sam Goldwyn, who was named Goldfish at the time. It was not until Sam mashed up his name with his business partner Selwyn, merging Gold with -wyn to form Goldwyn. The joke is it was better than Selfish, according to Rino.
Funded through Indie Go-go, 'Pineapples' portrays a present concern, explains Rino. A handyman exposes a Ponzi scheme, conceived of as the Bernie Madoff hoax unfolded. "It upsets me the way we punish based on class. I relate to the handyman, a liminal character on the outside of the world he inhabits. If I don't have resources, I can always be resourceful. It's the energy I was drawing on. Embracing one's liminality, instead of being victim to it."
Last summer Mis'TIC was filmed in Austria. Next stop was Greece where they taught a class on how to make-your-own short film on a mobile phone at SOAK, a theater arts and body work camp for all ages run by Wolfgang Löhnert, a German lawyer. They were invited back to SOAK to teach and will also be in residence at Morteza Tavakoli, Roxy's cousin's acting school in Vienna.
Who knew a chance, somewhat random, encounter of mutual attraction would change the course of their lives across two continents America and Europe? They caught each other's eye and introduced themselves a few hours later, taking a long walk after opening night and every evening for the remainder of the festival.
Eric never met a woman before Roxy who shared his passions so completely. Neither came to San Jose with romantic intentions. Both were freshly out of relationships. Eric was puzzled, tried to figure out if Roxana single, played it cool, without revealing he was too interested. He kept a low key profile, emotionally guarded. Experience taught Rino not to rush in.
Roxana thought she conveyed being available, but also recalled dad's voice in her mind, "My only child, America is a big place. Be careful." Roxy traveled back to Los Angeles alone, the first time journeying by herself in the U.S. Eric wanted to touch base upon her arrival, which she found touching, along with Rino being interesting, empathic and cute.
Before Roxy fell in love with Eric, she fell in love with LA in 2012, winning a slot in an international student film festival to debut, "How to Carry a Package." No plans to come back to LA, Roxy returned for a third time on her own dime to further study English.
Eric, a graduate of Pitzer College in Claremont knew he wanted to be in LA. Tired of only working on lackluster, he was encouraged by seeing college buddy, Matt Berkowitz, made waves in the Indie world. 'Pineapples' was made with help from these friends and others met on sets, skilled professionals willing to donate time.
Not be idealized, one reason Rino can pull off his life, like a significant number of millennials, he lives with his parents, which can be stressful. Hard enough breaking into showbiz, Rino graduated in the depths of the last great economic bust. Moving home was mixed with regret. His first job in the business occurred the summer before college, handing out paychecks on Sarah Silverman's show.
Rino was offered to direct a 'making of' documentary of an Indie feature. He deferred to attend college, graduating in 2010, eager to apply his craft. In retrospect Rino wonders, should he have taken the offer and had a legit directing credit at age 18? Not one to wallow in regret, this took until 2014 with 'Pineapples' to achieve, while working in lighting, art directing, set carpentry, sound, editing, special effects make up and red carpet interviews, inevitably paying dues as a production assistant. "Atrocious hours, to wait two months to get paid," says Rino.
Not ones to slow down, Rino and Roxy just wrapped another short, 'Gadfly,' and have a dozen more projects in various stages of completion. Call it realistic, call it romantic. Together they have settled on jobs where they can grow, be independent and employed.
This blog should not be construed as advice or therapy. If you, or someone you know, are dealing with a QLC, meeting with a mental health professional could be useful. If you or someone else is suicidal, do not hesitate to reach out for help.

Popular in the Community