Historical dramas have an intense appeal for many audiences. To some, there is the vicarious thrill of witnessing history come alive. For others, such dramas offer an opportunity to apply their creative skills to the design of period-specific costumes and scenery. While famous women such as Cleopatra, Joan of Arc, Sacajawea, and Harriet Tubman have been portrayed on stage and screen, the three Tudor queens (Elizabeth I, Mary, Queen of Scots, and Anne Boleyn) hold a special place in the arts.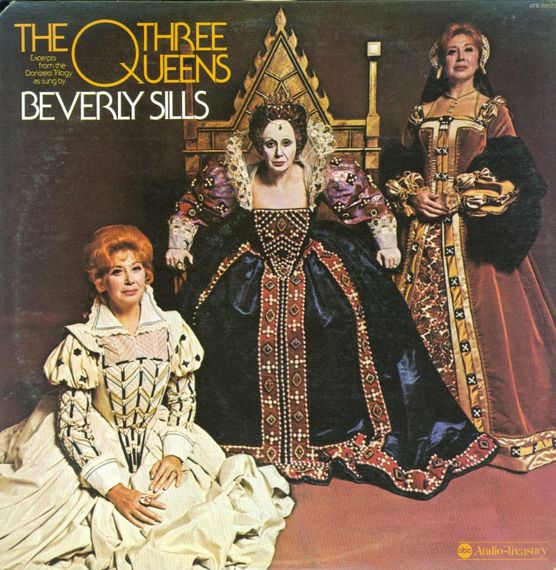 Elizabeth I may be the most famous, having been portrayed by such artists as Bette Davis, Leyla Gencer, Beverly Sills, and Mariella Devia. Mary, Queen of Scots has gotten her fair share of attention thanks to Friedrich Schiller's play, Mary Stuart (1800), and Gaetano Donizetti's opera, Maria Stuarda (1836). But what about Anne Boleyn?
On December 26, 1830, Donizetti's opera, Anna Bolena, had its world premiere at Teatro Carcano in Milan. Late in her career, Joan Sutherland (shown here with Judith Forst) toured extensively in a production that premiered at the Canadian Opera Company in Toronto.
In the following clip, Sondra Radvanovsky (who is repeating Sills's feat of singing all three Donizetti queens in one season) performs Anna's final aria during a dress rehearsal at the Metropolitan Opera.
On March 5, 1883, a new work by Camille Saint-Saëns premiered at the Paris Opera entitled Henry VIII. The following clip from a 2009 production at the Théâtre Impérial de Compiègne features Philippe Rouillon as Henry VIII, Lucile Vignon as Anne Boleyn, and Michèle Command as Catherine of Aragon.
In 1911, Violet Vanbrugh and Arthur Bourchier co-starred in a British silent film entitled Henry VIII.
In 1912, Clara Kimball Young portrayed Boleyn in a silent film about Cardinal Wolsey.
In 1920, Ernst Lubitsch directed a silent film version of Anne Boleyn starring Emil Jannings as Henry VIII and Henny Porten as Anne.
In 1933, Merle Oberon portrayed "the harlot Queen" opposite Charles Laughton in The Private Life of Henry VIII.
In 1953, Elaine Stewart portrayed Boleyn in Young Bess.
In 1966, Vanessa Redgrave appeared as Boleyn in the film adaptation of Robert Bolt's play, A Man For All Seasons.
In 1969, Geneviève Bujold starred opposite Richard Burton in Anne of The Thousand Days.
In 1970, Dorothy Tutin portrayed Anne Boleyn in a BBC mini-series entitled The Six Wives of Henry VIII (Charlotte Rampling took over the role in the 1972 film adaptation entitled Henry VIII and His Six Wives).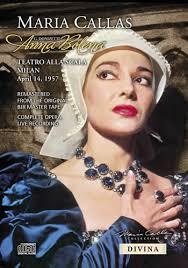 In 1957 Maria Callas starred as Anna Bolena at La Scala
In 1979, as part of the BBC Television Shakespeare project, Barbara Kellerman appeared as Anne Boleyn in The Famous History of the Life of King Henry VIII.
In 2001, Julia Marsen portrayed Anne in David Starkey's documentary series entitled The Six Wives of Henry VIII.
In 2003, Jodhi May appeared in a British television movie entitled The Other Boleyn Girl.
In 2003, Helena Bonham Carter appeared in another British television movie entitled Henry VIII.
Natalie Dormer portrayed Anne Boleyn in the Showtime television series (2007-2010) entitled The Tudors.
In 2008, Natalie Portman portrayed Anne in The Other Boleyn Girl.
In 2009, David Starkey's television series entitled Henry VIII: Mind of A Tyrant featured Sophie Hunter as Anne Boleyn.
In 2015, Claire Foy portrayed Anne Boleyn in the six-part BBC series entitled Wolf Hall.
Violet Vanbrugh and Arthur Bourchier in a scene
from the 1911 British silent film, Henry VIII
The Marin Theatre Company recently presented the West Coast premiere of Howard Brenton's play, Anne Boleyn. The company's artistic director, Jasson Minadakis, explains that:
"I love history plays. Maybe it's the long association I have with Shakespeare and his incredible skill with dramatizing historical material. My particular interest in history plays centers around contemporary writers exploring an important moment in time and finding a new wrinkle. Until I read Anne Boleyn I don't think I realized how many of the contemporary history plays I am so fond of focus on the historical record as told by men. For our history is, without question, written by men. When one reads the chronicles of human existence (in one form or another) it's sometimes hard to imagine there is more than one sex on this small rock of ours. It is nothing short of shocking at how little women are written to have had any hand in or influence on events."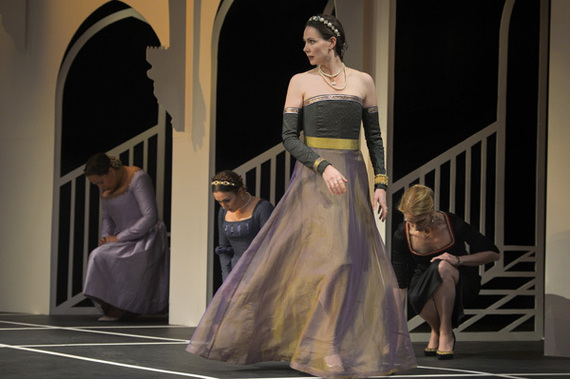 Liz Sklar stars in Howard Brenton's Anne Boleyn
(Photo by: Kevin Berne)
"Brenton has taken a completely different approach. When commissioned by London's Globe Theatre to write a play celebrating the 400th anniversary of the King James Version of the Bible, he looked to the beginning of the Church of England and imagined a new history for his country's church that placed Anne Boleyn, the harlot queen, at its very center. Could it be possible that a woman who history remembers as a scheming plotter and seductress could have had revolution, reformation, and perhaps salvation for her country on her mind? Brenton invokes many of the major players in the creation of the Church of England into his history: King Henry VIII, Cardinal Wolsey, Sir Thomas More, Thomas Cromwell, Martin Luther, Dean Lancelot Andrewes, Doctor John Reynolds, William Tyndale, King James I. But he also asks us to consider how the women of Tudor England were playing a deadly game by altering the course of history, all so that what they desired for the spiritual and political future of their kingdom might possibly become a reality."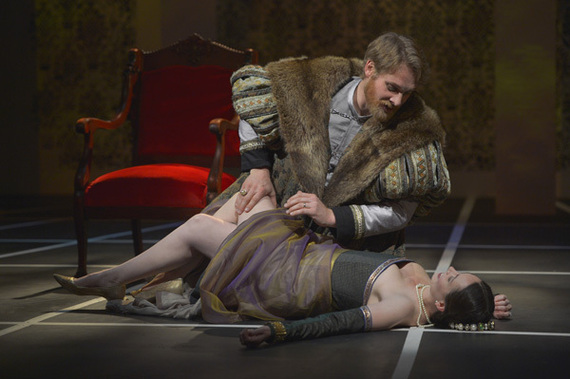 Henry VIII (Craig Marker) and Liz Sklar (Anne Boleyn) in a scene
from Howard Brenton's historical play (Photo by: Kevin Berne)
Brenton's play received its world premiere on July 24, 2010 and subsequently toured the United Kingdom and Scotland. Anne Boleyn received its American premiere in 2013 at the GAMM Theatre in Pawtucket, Rhode Island in 2013.
The playwright took a daring, almost heretical approach to reshaping the story of Anne Boleyn. Brenton follows the action along two dramatic tracks.
The primary track takes place in the court of King Henry VIII (1527-1538) and follows the well-known history of Henry's quest to produce an heir to the throne. In order to do so (and with the help of Thomas Cromwell), he finds a curious legal way to maneuver around both the Pope and Cardinal Wolsey. After Henry's efforts lead to the separation of the Church of England from the Roman Catholic Church, he is free to annul his marriage to Catherine of Aragon so that he can marry the younger (and more fertile) Anne Boleyn.
The secondary track takes place in the court of King James I (1603-1604), some 70 years following Anne's beheading. After King James I acquires long-lost copies of two previously banned books by William Tyndale that belonged to Anne prior to her death, he embarks on a ghost hunt to learn about Anne's motivations (which eventually leads to the King's decision to settle England's nagging "religious question" with the creation of the King James Version of the Bible).
The play begins with Anne's ghost teasing the audience with the contents of a bag she carries. Is it her severed head? Or is it the book which got her in so much trouble? Liz Sklar maintains a firm grip on Anne's ambition, sexuality, lust, and eventual demise. At the end of the play, her ghost teases the audience with an implied "Told you so!"
I tip my hat to dialogue coach Lynne Soffer for her work with Craig Marker to delineate the accents of the English king (Henry VIII) and the Scottish king (James I). Brenton's script also has lots of fun demonstrating that James (who was rumored to have had George Villiers, the First Duke of Buckingham, as a male lover) had sufficient randiness and queer sensitivity to have enjoyed trying on one of Anne Boleyn's dresses. In 1617, when speaking to the Privy Council, he stated:
"You may be sure that I love the Earl of Buckingham more than anyone else, and more than you who are here assembled. I wish to speak in my own behalf and not to have it thought to be a defect, for Jesus Christ did the same, and therefore I cannot be blamed. Christ had John, and I have George."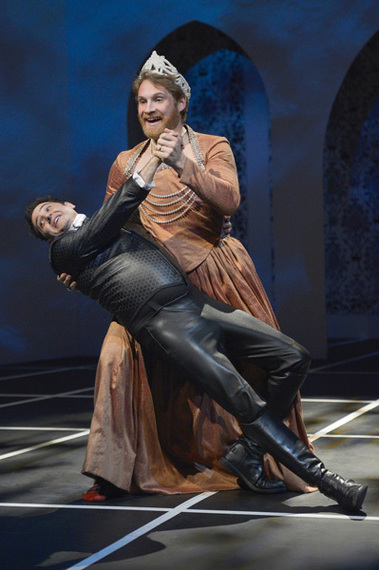 George Villiers (David Ari) and King James I (Craig Marker)
in a scene from Anne Boleyn (Photo by: Kevin Berne)
Appearing in supporting roles were Arwen Anderson as Lady Jane Rochford, Lauren Spencer as Lady Jane Seymour, Carrie Lyn Brandon as Lady Celia, and Howard Swain as Dean Lancelot Andrewes. Dan Hiatt doubled as William Tyndale and Doctor Jon Reynolds; Charles Shaw Robinson portrayed Lord Robert Cecil and Cardinal Wolsey. David Ari was appropriately mischievous as George Villiers and manipulative as Thomas Cromwell while Ryan Tasker took on multiple roles, including Parrot, Simpkin, and Henry Barrow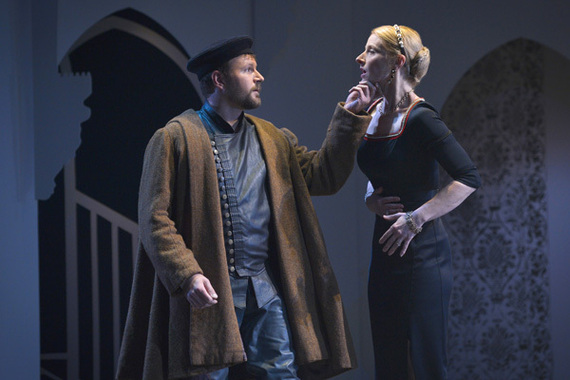 Simpkin (Ryan Tasker) and Lady Rochford (Arwen Anderson)
in a scene from Anne Boleyn (Photo by: Kevin Berne)
A quick word about the physical production. While Ashley Holvick's costumes put Craig Marker and most of the men) in period dress as both Kings, most of the women were clothed in semi-modern dress. The forced perspective of Nina Ball's unit set made clever use of optical tricks and was handsomely lit by Kurt Landisman. As always, Theodore J. Hulsker's sound design was excellent.
REAL LIFE. REAL NEWS. REAL VOICES.
Help us tell more of the stories that matter from voices that too often remain unheard.