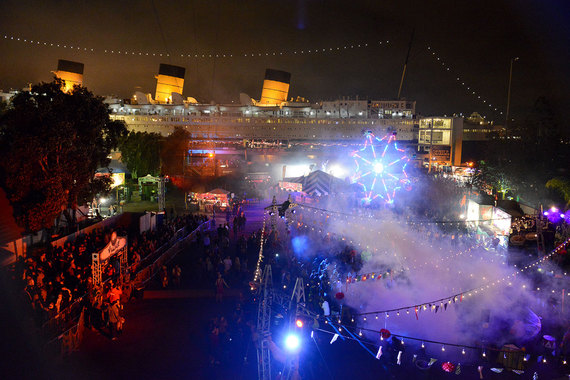 Dark Harbor Takes over the Ship and Village Oct. 2 Photo: Queen Mary PR
Cher is 68; Madonna 56; Patti LaBelle, 70; Streisand, 72; Sophia Loren, 80; Betty White, 92; Queen Elizabeth, 88 and the as of September 26th, 2014, RMS Queen Mary, 80. All of these great ladies are better than ever -- Streisand just making history with Partners going #1 making her the only artist to do such every decade for six decades; Cher selling out stadiums everywhere; LaBelle touring PLUS having sauces in WalMart and other stores, Madonna about to hit the charts with Katy Perry; White being, well, a national treasure, HRM Elizabeth still beloved and ruling.
Like the above ladies, the RMS Queen Mary has had to reinvent over the years. And, like many, at times fell out of favor or on harder times. Cher once famously said when accepting an award for a hit album (because it caused a court battle after), "...I've also had critics for the last 40 years saying that I was on my way out every year. Right. So F-em..." And ever since October 31, 1967 when the Queen Mary set sail from Southampton to Long Beach, CA where she would moor and become a tourist attraction, critics have counted her out.
Yet, as she turns 80, there she sits, a defiant reminder of a times past; a luxurious venue for times present and through several reinventions currently underway will be a part of the Long Beach skyline in times future.
The Queen Mary has only been in Long Beach 10 years longer than myself; over those years, I've seen it go through times of great attention and neglect. It's a hard proposition, to create a venue that locals will want to frequent and one that gives tourists what they want and expect as well.
Steve Sheldon, Director of Entertainment Events at the Queen Mary, faces these challenges daily.
"The ship is a lot of different environments all inside one area," he commented on The Karel Cast recently. "There's the hotel, the tours, restaurants, bar, tea house, shops, wedding facilities, major events venue as well as an entire off-ship ecosystem of the village area. It's a lot to coordinate and make function smoothly, as a well-integrated unit. That's what we hope to do with the events; to make it so the ship is seen as a place for a variety of uses that appeal to a large array of people," he added.
Over the years permanent exhibits like "Cousteau's Living Sea" have been replaced with rotating ones like "Diana: Portrait of a Princess." And the ship has worked on cornering the market on some major annual events: New Year's Eve it is the party to attend, complete with fireworks; The Fourth of July it is the place that shoots off the fireworks for the entire city; Christmas on board in now complete with a tree lighting and Santa; "Chill" turns the village in to a skating rink and the Spruce Goose Dome (Now used by Carnival Cruise Lines) in to an ice palace. And of course, the Sunday Brunch in the Grand Ballroom is still the classiest (and premium priced as such) in the area. Harpists, endless sumptuous buffets of fresh seafood, meats, omelette bars, a desert area that should be illegal...at around $40 a person it's the place for birthdays, anniversaries, first dates to impress.
"It's by mixing up the events that we are able to start bringing new generations of Long Beach residents over to the ship," Sheldon continued. "Chill is an event for everyone, kid or senior, who wants the fun of ice skating in Southern California. It gives parents a chance to rediscover the area and kids a chance to get used to using the ship as an entertainment center. Millennials will love the food and music events that we have upcoming and have been doing, we even do outreach to the GLBT community with major dances and events during Pride," he added.
Dining is still a big thing ship board. There's everything from $ to $$$$ places. Sir Winston's is the upscale diner with the best view in the city, located on the stern overlooking all of Long Beach. Again, it's upscale five-star dining so that means dress and prepare the wallet appropriately. The Observation Bar is still one of my favorite places to bring guests. Located high at the front of the ship the grandeur of the original art deco fixtures, wood work and craft cocktails (often with entertainment) prove that it is all about location location location when it comes to some businesses. There's a Barrel Series of Scotch, Rum, Whiskey and Tequila themed events here as well.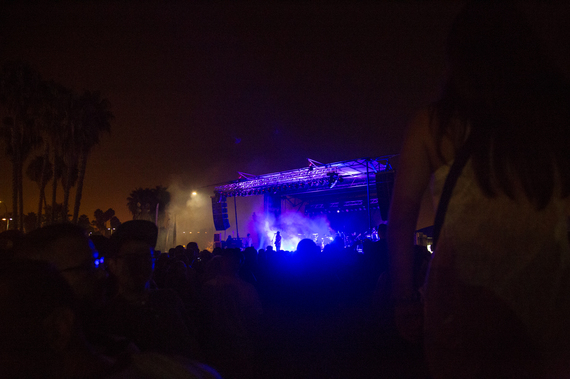 Major Musical Acts are being considered and brought in along with other concert events. Photo: Queen Mary PR
There's an event park near the ship and everything from Reggae Festivals to a Scottish Festival and Highland Games gets held on site. The Tea Room can't be beaten for the real High Tea experience. Again, there are other tea houses in Long Beach with more affordable teas, but the grandeur of the ship, of the service, the view, it's the perfect place to give that young little boy or girl their first high tea experience (as everyone should have one) and a great place for old friends to gather for a special tea.
One of the biggest events, "Dark Harbor" has gone from a weekend to a full month. The ship is located in the registry of haunted places and many will claim they've seen the girl by the pool inside the ship, or felt a presence in the halls of the hotel. The village next to the ship is turned in to mazes, the dome gets involved, and then, the ship. It rivals Knott's or any other offering and has become a must-stop in Southern California for Halloween frights. Media preview is October 2nd, so stay tuned. There's a Sir Winston's dining experience coupled with a paranormal tour. For a complete list of events go to here.

With all this to offer, why has it struggled so over the years? Bad management, corporations that owned it and didn't know what to do with it (Wrather/Disney owned it at one point), lack of funds from the city during lean times to help develop, the location is across the bay and many locals don't go over...there's been a lot of challenges. The Queen has a rich history, it served the allies in WWII and was the fastest ship on the sea, Hitler put out a bounty on it. Known as the Grey Ghost because they painted her, she kept soldiers safe from the U-Boats while crossing the channel in England. Later, her amenities were world class, hot and cold running sea water in many of the bathrooms, day care for all there classes on board, pools, sun deck, grand halls and parlors, she was the fastest, most luxurious boat of her time. That history should be preserved. And while much of her is gone, one steam room, three propellers, the smokestacks and many other items are either gone or replacements, the history is still there.
So, enter another reinvention. Not only are the events now coming fast and furiously in all forms to engage tourists and locals, but the shops on board are being completely redone by a company specializing in running attractions, Event Network, based in San Diego, CA. The Queen Mary has signed a five year lease with this company and they will run the shops. This means businesses that have been on board for decades, like the Scottish Heritage Center, have to leave. Many are saddened and there's been some upset, but the shops need reinvention. In 35 years I've never bought anything on board because there wasn't much there to really interest the average shopper. Hopefully, that will change.
"Our goal was to really give it to the experts that do it well," said John Jenkins to the Long Beach Press Telegram 09/19/14. He's the general manager for the Queen Mary. "To get a company such as Event Network to come in, revamp all of our retail activities, ... they're going to put some much needed money into the retail spaces, which good, bad or indifferent, the Queen Mary has not been able to afford over the years."
So, she's turned 80 and now she's going through another incarnation. Events are ongoing, even during renovations and all ship-board facilities are going full steam ahead. The city needs the attraction to work financially as well as a draw to the city through the events scheduled. Tourism is a big part of the Long Beach economy and the Queen Mary is a part of that picture.
To hear this interview with Mr. Sheldon with Karel get the Karel Cast App, subscribe in iTunes to the Podcast or simply go to the most incredible website on all the planet, save this one, iamkarel.com
Related
Popular in the Community