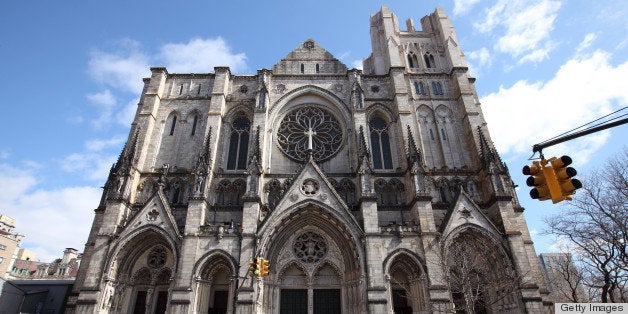 This past Sunday a small group of gay Catholics and their allies arrived at New York City's St. Patrick's Cathedral but were barred from entering and then threatened with arrest by the New York City Police -- unless they washed their hands. In Timothy Dolan's April 25 blog post "All Are Welcome!" he told gay people who want to participate in the Catholic faith to "wash your hands!" This group refused. It was yet another reminder that LGBTQ people are welcome in many places of worship -- but not exactly as equals.
This was made even clearer last week in the wake of Jason Collins' historic announcement. Yes, there was an unexpected telephone call from President Obama, many inspiring blogs and op-eds lauding his courage and a huge collective sigh of relief as the sports world acknowledged what we all know, that gay is here to stay. But the homophobic wasted no time in raising their voices. Spokesmen for the religious right used the opportunity not only to decry Mr. Collins' actions but to underscore the general downward trend toward hell and damnation. The Westboro Baptist Church has vowed to picket future NBA games (whether Jason Collins is playing or not) and encouraged us all to use this opportunity "to lift up [our voices] against this awful sin." Even an ESPN commentator, Chris Broussard, jumped into the fray and announced that Jason Collins was "in open rebellion to God" for coming out. And it's official: Pat Robertson has given us on-air OK to label Mr. Collins "an abomination."
While young people might not be paying much attention to the rantings of a half-cocked ESPN commentator and a septuagenarian televangelical -- hating is so uncool -- or following Cardinal Dolan's blog, some impressionable adolescents will find their words distressingly hurtful and confusing. What these men want them to know is that homosexuals are not welcome on Earth -- or in heaven. Not only are we expected not to love one another, but we can't expect God to love us either unless, of course, we hate ourselves as they do.
Growing up in a New Jersey suburb, my Catholic faith was an important part of my young life, shaping the way I approached the world. Long before I knew how to express my love in sexual terms, Jesus was there teaching me how to love with my whole heart -- and teaching me not only how to love this imperfect world but how to love all of myself, even those aspects that were allegedly beyond the pale. I knew that Jesus loved me, not because the Bible told me so but because my heart was informed by love. And later, for that same reason, I knew I was attracted to boys.
Then, of course, I heard the news: I was a "homosexual," a "sinner," an "abomination." And the deal for people like me went something like this: As long as I despised the sin, saw the error of my ways and abstained from acting on that sin, I would be a welcome member of the church. To me, this was a crazy proposition. My sin was love, and I couldn't figure out how to go anywhere without it. You might as well have told me to cut out my own heart. And so instead, I walked away from the church, with all its hypocrisy, unwelcoming remarks, scriptural dictates and offerings of pity and hate. And I took my heart with me.
However, as I've traveled around the country over the past year talking with LGBTQ young people, I've been surprised to discover that many of them are not so willing to walk away as I once did. They refuse to leave their churches and mosques and temples, and they will not allow themselves to be persuaded to turn away so easily from the promise of God's love or to deny their own innate sense of spirituality. As far as they're concerned, faith is as much a part of themselves as their sexual orientation or gender identity -- all of it complex, mysterious and ultimately unknowable except through experience. They are more likely to wonder what's ailing the institution that has closed its doors and heart against them than they are to question the validity of their own love. Certain that God does not want them to be cast out of anything, they are hanging in there, challenging their pastors and priests and continuing to be a burr in the side of their congregations.
For these young people, "love the sinner, hate the sin" is no longer an acceptable response to the complex reality of their lives. They want more. Like anyone else in this world, they want the opportunity to love and to be loved, and they are ready to fight for that right. Even when parents send them packing, a few are able to hold to the idea that God won't give up on them so easily. Their courage is equal to Jason Collins'. As one young woman explained to me at an LGBTQ youth conference, "If we're all going to hell, like some people tell us, I think hell is going to be such a beautiful place."
All of us, regardless of how we identify, need a community in which to grow our faith. We require the tangle of other souls to enlarge our hearts, to perfect our relationships with one another and to help us understand more deeply our better Selves (big "S"). As a practicing Buddhist, I've learned over the years that the only way for me "to cast off the transient and reveal the true," as Shakyamuni Buddha has recommended that we do, is by constantly putting myself in the midst of fellow believers -- and not just those who believe in Buddhism. Anyone who believes in the value of human life knows that there is no victory in this world (or in any other) without the possibility that all of us will be included. All of us.
With this in mind, I recently approached the Cathedral of St. John the Divine, the largest in the world, and proposed to them an event where queer young people and their families might gather to be affirmed, celebrated and empowered to live boldly in the world. For decades, this cathedral, located on the Upper West Side of New York City, has used its prominence to create space for important interfaith and secular conversations and provide a stage for creative expressions about justice, equality and peacemaking. Since the days of Stonewall, they've been committed to justice for LGBTQ people, especially at the beginning of the AIDS pandemic, when they became the center for the National AIDS Memorial.
On June 1 St. John the Divine will throw open its doors for Queer First, an event that we hope will be annual, to demonstrate to LGBTQ youth citywide that we've got their backs, and to connect them to the Spirit in the most ecumenical way. The evening will feature a variety of performers, poets, activists, choirs, dance performances and guest speakers.
The rift that exists between those who believe that homosexuality is fundamentally corrupt and those who hold to the notion that being lesbian, gay, bisexual or transgender is a natural expression of our human nature shows no sign of healing anytime soon. But for one evening, we are inviting everyone to lay down their differences and come together under one roof where we can offer support and encouragement to our LGBTQ youth.
"I take the teachings of Jesus seriously," Jason Collins wrote in the recent issue of Sports Illustrated, "particularly the ones that touch on tolerance and understanding."
I can't think of a better role model than Mr. Collins. He has come forward not simply to declare his sexual identity but, more importantly, to demonstrate his desire to be a person who is fully engaged with the world, proud of who he is and capable of encompassing love and enduring faith.
Do we want any less than that for our youth?
Calling all HuffPost superfans!
Sign up for membership to become a founding member and help shape HuffPost's next chapter