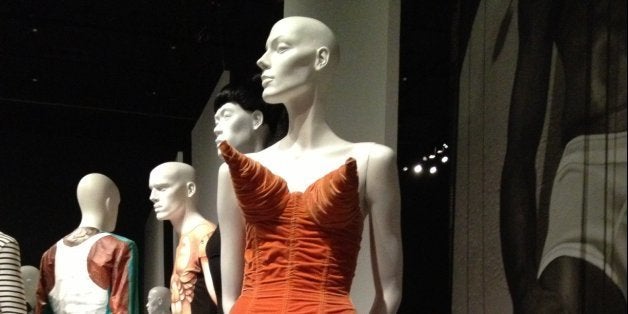 "Fashion is a form of ugliness so intolerable that we have to alter it every six months." These few facetious words of Oscar Wilde were playfully in mind when I entered the groundbreaking exhibition "A Queer History of Fashion, From the Closet to the Catwalk," which opened last week at the Museum at the Fashion Institute of Technology (FIT) in New York.
When my friend Stephan first told me about this exhibit and invited me to attend the opening event, I immediately said yes. I was always fascinated by the power of fashion in society, and by how designers' unique personalities, eccentricities and even their sexualities give dimension to their creativity.
Curator Fred Dennis, and Valerie Steele, director and chief curator of the Museum at FIT, envisioned this show over two years ago, and they have spent countless hours researching, planning and bringing to life a unique collection. "This is about honoring the gay and lesbian designers of the past and present," said Dennis. "By acknowledging their contributions to fashion, we want to encourage people to embrace diversity."
The result is captivating, and indeed diverse. Over 100 displays, meticulously arranged and organized by different historical periods, provide a retrospective view of the fashion contributions of LGBTQ individuals over the past 300 years. I pretended I was accompanied by my beloved Wilde wearing a bright velvet cape, and I, quite shy and discreet, in my favorite pink socks.
Big names from the past and present fashion industry are part of the show: Adrian, Balenciaga, Balmain, Beene, Chanel, Dior, Ellis, Gautier, Halston, McQueen, Moschino, Saint Laurent, Versace and many others. To have them all together in a common space is not only aesthetically provoking but a powerful acknowledgement of the impact of their sexuality on their creations and surroundings.
The exhibit begins with the 1700s, when, according to the organizers, "three categories of men received particular attention in the 18th century press: the 'mollies' (effeminate, cross dressing 'sodomites'), the 'macaronis' (stylish men whose foppishness called into question ideas of masculinity), and the 'man-milliners' (men in the fashion trades who made or sold women's clothes, described as a 'club' of 'young bachelors ... who invent fashions for ladies')."
From there it moves to the 1800s, when Victorian fashion forced menswear into dark colors, certain simplicity, and formality, hiding all elements of sexuality, until, of course, a daring Wilde subtly forced his particular aesthetic style of dress, influencing a whole generation. I paused here. Sadly, Wilde paid a very expensive price, ending up in prison, but his legacy encouraged many to exit the closet and ultimately dressed the catwalk.
Lesbian fashion of the late 19th and early 20th centuries is also included. Suits evoking menswear but adapted for ladies were en vogue among lesbians, a trend that evolved later with suits like those worn by iconic actress Marlene Dietrich, many of them on display.
Sexual freedom of the late '60s and '70s, after the Stonewall riots, pushed for a new way of gay dressing, especially in urban spaces. Discretion and invisibility gradually faded and became a personal choice. What I would call "cruising wear" -- shorts, bandanas, and other accessories -- were for many men a fashion statement related to coming out of the closet and a silent yet effective way to communicate with each other their sexual preferences.
The AIDS crisis and its impact on the gay community cannot be left out of an exhibit of this nature when so many designers, like Perry Ellis, Halston, and Bill Robinson, fell victim to this disease. AIDS activism at its peak is reflected in a collection of T-shirts with messages like "Safe Sex Is Hot Sex" and other powerful health and political slogans.
Can we ask if there is such a thing as "queer fashion" when it is evident that each designer kept his or her individuality? Steele explains her point of view in the exhibit brochure, writing, "Not all gay and lesbian designers have embraced transgressive and political styles. Many have strongly idealizing aesthetic that focuses on the creation of beauty and, especially, beautiful things for women."
As I kept walking the gallery, my beloved imaginary Victorian reminded me of another of his famous quotations. "You can never be overdressed or overeducated," he murmured as I was looking at a multi-author book that accompanies the exhibition, A Queer History of Fashion: From the Closet to the Catwalk, published by Yale University Press and edited by Steele. The book features essays by eminent fashion and gay history scholars like Christopher Breward, Shaun Cole, Vicki Karaminas, Jonathan D. Katz, Peter McNeil, and Elizabeth Wilson. Free lectures and exhibition tours, a two-day symposium (Nov. 8 and 9, 2013), and an expanded educational website complement the show.
"We hope that this exhibition will transform our understanding of fashion history," remarks Steele. "For many years, gays and lesbians were hidden from history. By acknowledging the historic influence of gay designers, and by emphasizing the important role that fashion and style have played within the LGBTQ community, we see how central gay culture has been to the creation of modern fashion."
The final point of the exhibit focuses on gay marriage, showing wedding fashions. The last two ensembles consist of a pair of male mannequins holding hands wearing very traditional, mainstream, and perhaps somewhat boring dark suits that any man, gay or straight, could wear. I left the event stepping out into the rain with my imaginary fashionista friend Oscar, thinking of these two last looks and experiencing a bittersweet feeling, asking myself, "Is this the fashion the future generations of gay people want as an expression of equality?"
PHOTO GALLERY
Images From The FIT Museum's 'A Queer History Of Fashion, From The Closet To The Catwalk'
Calling all HuffPost superfans!
Sign up for membership to become a founding member and help shape HuffPost's next chapter