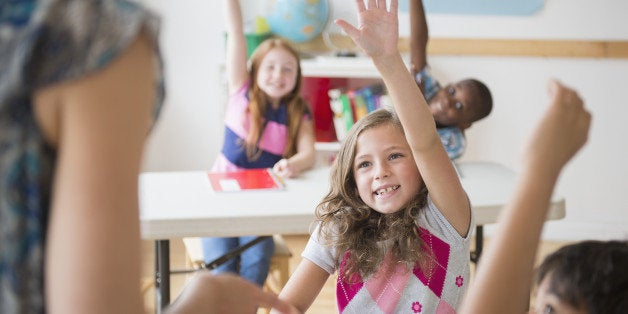 There is a quiet movement underway across America. A revolution of potential, of hope, of inspiration. It is led by parents committed to understanding how their children learn best and advocating to give them every chance to benefit from the opportunity of education. It is led by students standing up and saying 'count me, I deserve to learn, I want to work for my piece of the American Dream.' It is led by teachers dedicated to navigating students' experiences with poverty, trauma, and learning differences to ensure that their students comprehend academic content and furthermore, comprehend their own limitless potential.
It's easy to get caught up in the headlines that paint the education world as a black and white battle field; 'for this,' 'against that,' a slew of divisive buzz words detracting from the work we can do best together. We're here to put an end to that paradigm.
For two years, we've been bringing together diverse stakeholders from across the country; students, educators, social entrepreneurs, policy influencers and funders to fundamentally reimagine the way that learning happens in America so that all children can achieve academic and life success. United by a powerful shared vision, our group has committed to work together across sectors to generate transformative change informed by the lived experiences of students and parents, guided by the insight of thoughtful educators, and scaled by innovative social entrepreneurs.
Our work comes at a critical time. A 2014 Gallup poll of youth in grades 5 - 12 showed that 50% lack hope for the future. The status quo is quickly scripting a story of lost potential; with 51% of students in public schools struggling with poverty and 20% of students navigating a learning disability, the old partisan conversations are not enough to turn the tide. It is critical that we start a new conversation together. Students face very real barriers to learning; they also possess amazing strengths and potential. Imagine an America where the norm was recognizing that every learner is different and our learning systems were built to embrace and leverage that. We are an entrepreneurial nation filled with strong communities and resourceful solutions. If there is one thing that's clear, it's that we are at our best when we embrace what works and work together.
Over 100 organizations are engaged in our Reimagine Learning effort. Driven by a $30 million fund, we are actively collaborating on projects to move the way we think about student centered learning forward. Projects like a collaboration to bridge research and practice and equip teachers with instructional resources, led by the New Teacher Center and the University of Kansas Center for Research on Learning. Projects like the launch of a powerful parent advocacy network, Understood.org, a comprehensive, free resource for parents of students with learning and attention issues led by 15 non-profit organizations. Projects like Compass Academy, a school designed from the student out, led by City Year and building off of the powerful best practices they've identified through working with at risk students for over two decades. Projects like the MIT Media Lab's Learning Over Education initiative that advances technological solutions to diversify and personalize learning for students. Across the country, impactful efforts have begun to reimagine learning. Moreover, we're working as a collaborative to accelerate our work and drive towards our ambitious vision together.
Our movement is underway, led by those willing to push the boundaries of what's possible and work to ensure every student is empowered to learn. On February 17, in New York City, we will announce our vision. It's time we turn learning inside out and work together to empower all young people to rise above the very real challenges they face and realize their amazing potential. Together, we can Reimagine Learning and let everyone's light shine.
REAL LIFE. REAL NEWS. REAL VOICES.
Help us tell more of the stories that matter from voices that too often remain unheard.