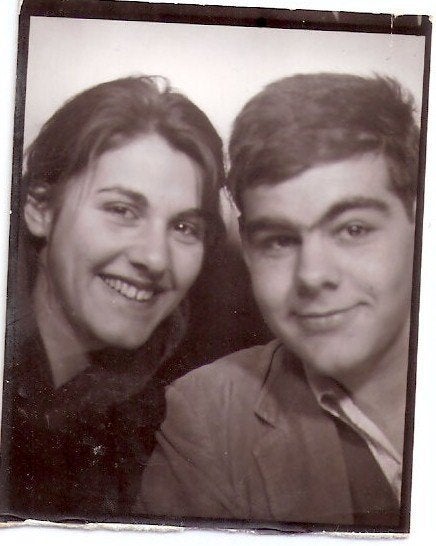 When my brother Charlie died of AIDS in February 1985, the epidemic had barely begun. The disease, first reported in 1981, had come out of nowhere, and no one had any idea what caused it or how to treat it. But there was plenty of uninformed panic and prejudice.
Some called it "gay cancer" and preached that it was God's punishment for the sin of homosexuality. Even professionals were afraid; Charlie couldn't find a dentist willing to look at a painful wisdom tooth because none dared expose themselves to his saliva. Even the heroic people who did care for those with the disease couldn't do much more than help them die. And more than 600,000 have died since then in the U.S. alone.
Many of them are commemorated in panels of the amazing quilt assembled by The NAMES Project Foundation. Started by the gay community in San Francisco's Castro neighborhood (which was ground zero for activism back then) the quilt is composed of three-foot by six-foot sewn panels created by friends and family to celebrate lost ones. It was first displayed 25 years ago on the National Mall in Washington, D.C.
Charlie's partner, a wonderful artist and devoted care-giver named Dick Obenchain created a panel featuring a brown cow and the names of the animals Charlie had loved, the people who had loved him and the Indian deities to whom he felt especially close. It appears in The Quilt: Stories from the NAMES Project a collection of images published in 1988. The caption reads: "Charlie Braun, psychology professor at U.C. Santa Cruz for seven years, spent most of his adult life living on his 42-acre ranch in Boulder Creek, California. 'He loved nature, solitude and the gentleness of cows,' writes his friend Dick Oberchain." His name is actually Obenchain. He is still doing amazing art work and has a gallery in Arizona.
I visited The Quilt back in 1987 with my mother. As we threaded our way through the endless patchwork, I was overwhelmed by how many were for children, incorporating teddy bears and teething rings. My mother died two years ago, never having recovered from the loss of her son. This time I'm going with my friend Sean Strub, a survivor and early AIDS activist, who also founded POZ the magazine for HIV-positive men and women, which is a sponsor of the display that runs from July 21 to 25.
There are now 47,000 panels in the quilt. Fewer and fewer are new ones. In this country a diagnosis is no longer a death sentence. The "cocktail" of medications that was introduced in 1996 makes it possible to live a normal life, though some suffer debilitating side-effects. It is estimated that over a million Americans are living with HIV. There is still no cure or vaccine. The epidemic is rampant in other countries. And HIV positive people are still discriminated against in many ways.
It is particularly distressing to me that women -- including women in my age group -- are a growing population of new cases. Many people past menopause don't understand that just because they can't get pregnant doesn't mean they don't need to practice safe sex.
A disproportionate number of those who died of AIDS were, as the messages on the quilts attest, gentle, loving people. Charlie was a wonderful artist, a devoted teacher, and, having spent several years in India, lived by Hindu principles of acceptance, generosity and wonder. He was solitary by temperament, but humane in spirit. At the gate to his property in the hills above Santa Cruz, hung a homemade sign; "Please Respect My Privacy" it said. Someone else would have written, "Keep out."
Join The NAMES Project Foundation and POZ to view The Quilt on The National Mall and numerous locations throughout the Washington, D.C. area from July 21-25, 2012. For more information, see Guide to Quilt in the Capital.
PHOTO GALLERY
Remembering A Brother Who Died Of AIDS
Calling all HuffPost superfans!
Sign up for membership to become a founding member and help shape HuffPost's next chapter