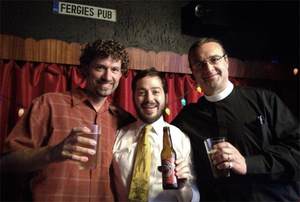 ...and a genuine discussion about beer and faith broke out. Maybe not the punch line you were looking for, but when Rabbi Eli Freedman, Father Kirk Berlenbach, and Rev. Bryan Berghoef (yours truly) took the stage at Fergie's Pub in Philadelphia on Saturday afternoon, it was no joke.
The event, one of hundreds during Philly Beer Week, drew a packed house, including several folks in the brewing industry. One brewer noted, "This is such a refreshing change from many of the events I've attended this week."
"I grew up in a family that loved to debate on all topics. I think it's really great to see people connecting their faith with beer, and discussing religion with people who may think differently than they do. When I saw this event, I knew I had to check it out."
So what exactly did happen when these three clergymen got together on Saturday?
The rabbi, appearing very comfortable with a beer in his hand, shared stories and incidents in which the rabbis of old engaged with beer and brewing. Freedman expounded on the text, in good Jewish fashion, highlighting all the instances in which beer is mentioned and discussed in the Talmud. Questions such as: "Is beer good for us or bad for us?" and "Is beer kosher?" were among the topics discussed.
As for the health effects of beer, Freedman shared an insight from R. Johanan, who stated: "Why are there no lepers in Babylon? Because they drink beer and bathe in the waters of the Euphrates."
When one attendee doubted whether Abraham would enjoy a beer, Freedman aptly shifted gears. "I'm not sure if I can speak for Abraham, but Abraham Joshua Heschel, one of the great rabbis in recent history, spoke of a theology of amazement: a rediscovery of the wonder of our world and the fact that we are even alive to experience creation at all. And if you think about it -- fermentation is an amazing thing! That you could leave some hops and barley and yeast in water ... and over time ... something called fermentation happens, and you have an amazing beverage! Heschel called us to marvel at the creation God has given us, and I think we have to include brewing and beer in this amazement."
The rabbi handed the mic to Father Kirk Berlenbach, who took the stage asking, "Why have we created a division between something so enjoyable as a good beer, and our ability to worship God or be a good Christian? Why do we say, 'You can't enjoy a couple of good beers and still be honoring God?' Why do we deny such a beautiful and enjoyable part of God's creation -- of which God said, 'It is good.' It's time we embraced beer as a means to foster communion with each other, and with God. It's time we say it's OK, even good, to be a participant in the creative process of brewing something unique, savory, and meaningful."

Several amens arose from the crowd as the priest, in good homiletic fashion, waxed poetic about the beautiful ways in which a good brew can enhance our relationships both within our faith communities and outside of them.
Berlenbach coordinates a monthly beer appreciation club at St. Timothy's Episcopal Church, in which they brew good beer (I've seen firsthand the hops growing up the side of the church exterior) and hold tastings and food pairings. His parish made T-shirts available at the event stating "Church Basement Brewery" on the front, and "Serving God's love, twelve ounces at a time" on the back.
I was also given a few minutes to share about my own experience in bringing people together at the intersection of beer and faith over Pub Theology discussions. I wrote about this in a prior HuffPost column, "Pursuing Faith Over a Pint," so I'll be brief here. Simply put, Pub Theology sessions create a space for people of faith or no faith to gather and learn from each other, while enjoying a good, (preferably local) craft brew. And as we sit down from someone of a different perspective or religious tradition what we often discover is that many of our stereotypes simply aren't true.
Throughout the afternoon the crowd was engaged as each of us spoke, and offered great questions during the Q & A time that followed:
How did you get the OK to incorporate beer into your ministry from your tradition/denomination?
What do you do about folks who are in recovery?
How do you share perspectives without having everyone simply agree with each other?
Where do you draw the line on allowing substances to facilitate community?
Could you have a marijuana theology group?
And perhaps one of the most meaningful comments came right at the end, as a gentleman near the front declared, "Thank you, all three of you, for your genuine comments and honest sharing. I'd follow any one of you as a spiritual leader."
As the time came to a close, people continued to mill about long after the official presentation closed, and more than a few great local pints were enjoyed. It was my first official beer week event, and I certainly hope it's not the last.
What fruit is borne out of such a gathering? Well, as Father Kirk notes on his own recap of the event, the 60-odd people who showed up equals the average Sunday attendance in the Episcopal Church. So perhaps we've unwittingly tapped into (pardon the pun) an avenue outside of the usual channels in which people's thirst (ahem...) to connect over matters of faith can be met.
And as the rabbi and priest enjoyed a pint and further conversation afterward, talk of brewing an interfaith beer arose. Other folks milling about the bar were dreaming and imagining Pub Theology-style gatherings in their own neighborhoods, and there was no lack of smiles and conversations among people -- of many different religious and philosophical traditions -- who walked in as strangers and left as friends. I think we can all drink to that.
Support HuffPost
The Stakes Have Never Been Higher
Related
Popular in the Community