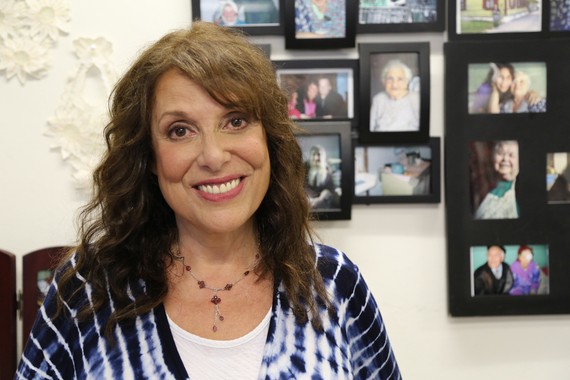 "We are living in a unique moment in time. A tipping point. We are witness to the last generation of Holocaust survivors, and we are the last generation to have the opportunity and the honor to help them. These are people who endured the darkest days of human history, and they are out there right now -- still suffering over 75 years after the start of the War. Where is the mass movement to help them? There are millions of dollars being spent on monuments and museums (certainly important endeavors), but we have plenty of time to do that. Right now, people who survived the Holocaust are unable to keep on surviving without our help. Future generations will look back at this time and be shocked that there were still Holocaust survivors suffering in 2014. And we will be able to say, 'Yes, there were, but when we found out about it, we helped.'" -- Statement by Zane Buzby, founder of The Survivor Mitzvah Project, a non-profit grass roots effort to bring emergency aid to the last survivors of the Holocaust in Eastern Europe who are in desperate need of food, medicine, heat and shelter.
CNN named Buzby a 2014 CNN hero for her tireless philanthropic work, which has unequivocally now become her life's work. Born in New York, Buzby came to Hollywood in the mid-'70s as an actor, appearing in the cult classics Up In Smoke, This Is Spinal Tap and then transitioned to full-time comedy directing, amassing hundreds of credits on shows like Golden Girls, Newhart and Married with Children. Her rendezvous with destiny came in 2001 after wrapping a TV pilot, when she decided to spend her 10-day vacation searching for her grandparents' villages in Lithuania and Belarus. Arriving in Lithuania she encountered Brooklyn-born professor Dovid Katz, who asked Buzby to visit eight elderly Holocaust survivors he knew and bring them food, medicine and American dollars when she ventured across the border into Belarus. For Buzby this trip was life-changing and left her with, "One foot in comedy, one foot in the Holocaust."
Hollywood has provided the world with innumerable hours of heart-breaking films about the Holocaust, nobly expanding the notion of "never-again" for time immemorial. Even Academy-Award winning director Steven Spielberg kick-started a herculean initiative to video-tape the testimonies of Holocaust survivors, and helped establish the much needed repository at the USC Shoah Foundation -- The Institute for Visual History and Education. There is no shortage of Holocaust memorials, museums and foundations dedicated solely to preserving the history of Nazi crimes against Europe's Jews during the Second World War.
Yet there is a shortage of funds for financial aid for survivors. The Survivor Mitzvah Project is the only organization providing immediate, direct and continuous financial aid for survivors in Eastern Europe who have no other life-line.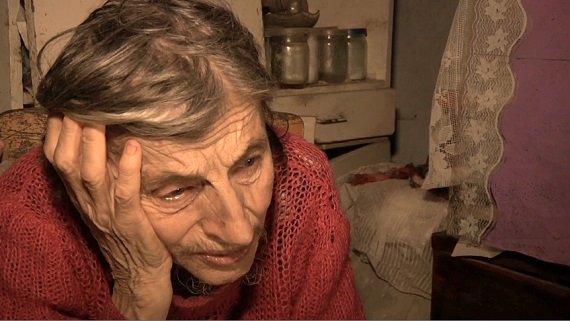 Survivor Tzilya Koifman, Ukraine
There in the shadow of the world's many museum facades, statues and monuments memorializing the six million exterminated Jews of Europe, are thousands of ill and elderly Holocaust survivors living out their final years in Belarus, Estonia, Latvia, Lithuania, Moldova, Ukraine and Russia, in desperate need of financial assistance.
"The Survivor Mitzvah Project will go down in history as having fulfilled a beautiful and angelic role for the few brief years of the final days of a relatively modest number of survivors discovered by myself, other Yiddishists, and other networks," said human rights activist and Yiddish scholar Dovid Katz who founded the Yiddish Studies program at Oxford, the Vilnius Yiddish Institute, and now is the head of DefendingHistory.com."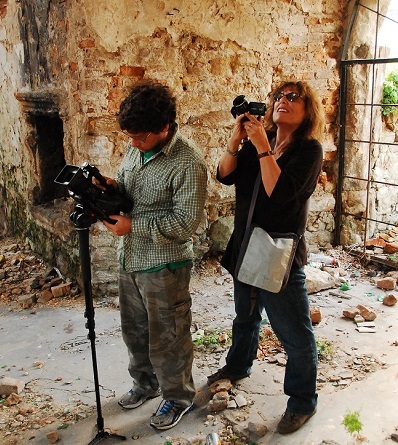 Noam Osband and Zane Buzby film synagogue ruins in Ostrog, Ukraine, 2012
Fate first led Buzby to the doorstep of the dilapidated hut of 80-year-old Zeydl Katz in Belarus, who was hunched over digging potatoes out of the earth, so he would have a meager winter food supply. From out of nowhere he heard Zane's unexpected, but most warm greeting: "Shalom Aleichem." From that encounter, as well as several others, grew friendships and meaningful correspondences (she enlisted the help of volunteer translators back in LA) which gave Buzby a renewed sense of purpose. She was compelled to help, making numerous expeditions overseas to bring thousands of American dollars to survivors and seek out and identify more survivors in need. And always, Buzby recorded every encounter with a survivor on videotape, also filming a vanishing world: the Partisan bunkers in the forests, the old wooden Synagogues barely standing, the unmarked killing fields, and the numerous empty villages once vibrant centers of Jewish life -- which are now literally ghost towns. She has amassed a unique Holocaust video archive of hundreds of hours of never before recorded material.
Buzby calls the survivors the "Unluckiest Generation."
"The oldest of them experienced the Russian Revolution and WWI as children -- civil war, evacuations, wide-spread violence of pogroms, the enforced famines of the '30s, the rise of Nazism, and the full-blown Holocaust. And if they survived that then came the Stalinist purges, Chernobyl and Perestroika. Every decade a litany of horror and heartbreak, leaving them penniless and without hope."
The Survivor Mitzvah Project helps support and correspond with an expanding roster of elderly survivors. A chance encounter with Los Angeles-based philanthropist and Yiddish enthusiast, Chic Wolk, resulted in a generous contribution, which jump-started the project and helped it expand. Currently, the SMP helps over 2,000 elderly survivors in eight countries and is still growing as more survivors are identified on Buzby's expeditions through Eastern Europe. And every penny donated goes directly into the hands of an elderly survivor in need.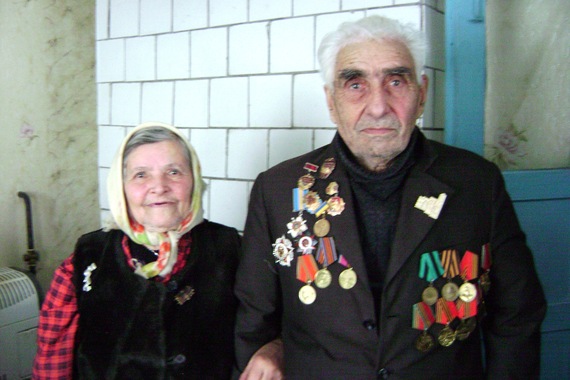 Malka and Abramas, Ukraine

"Jewish survivors in the East had it worse," Katz told us. "Their civilization had been destroyed in the worst genocide in human history and they now found themselves in countries that forbade free expression of their religion, their culture, their language... And on a more personal level, the survivors had most often lost their close relatives, leaving them lifelong mourners bereft of the usual networks of extended families and circles."
"This is a project about doing the right thing, while there is still time," says Buzby. "We have become their families. Everyday we find more survivors in need, yet we do not have the funds to help all who are suffering. Many elderly survivors are out there alone and ill, just waiting for help that may never come. We are hoping, as more people learn about the plight of the survivors, people will donate generously at survivormitzvah.org."
All donations large and small are lifesaving. It costs $150 per month to help one survivor, so the goal is to raise $2.5 million every year for the next 10 years. "To truly make a difference, we need everyone to help. In 1939 the world turned its back on these people, but today we can all be rescuers. This is an opportunity to actually do something about the Holocaust," says Buzby.
The Stars Come Out For Survivors, a fundraising event filmed at the Museum of Tolerance, included a stunning array of musicians and legendary Hollywood actors -- Ed Asner, Frances Fisher, Elliott Gould, Valerie Harper, Lainie Kazan -- who read letters the survivor's have written to Buzby -- words of thanks -- and stories of their Holocaust experiences, combined with footage of the survivors from Zane's humanitarian expeditions.
Buzby leaves us with this thought, "If righting a wrong is something that interests you, if you want to bring friendship and hope to people who live in poverty and despair, if you'd like to save a life with a simple click and help write a more hopeful final chapter to the Holocaust, one of kindness and compassion -- click here at The Survivor Mitzvah Project. You can make a difference."
Popular in the Community