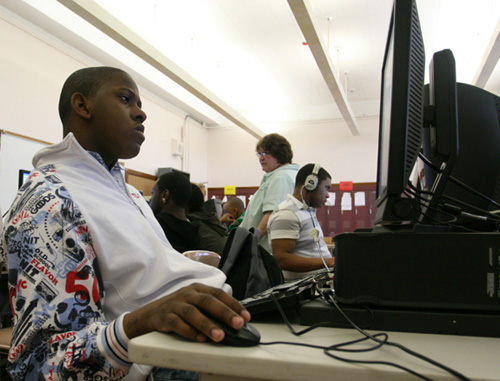 Triston Williams works on a credit recovery course at Samuel J. Tilden High School. The school is using credit recovery to help students who are behind graduate on time before it closes for good in June. (Photo by Vadim Lavrusik)
A dean at Samuel J. Tilden High School slipped into a computer lab during school hours where a dozen students were working on online courses to make up credit for failed classes.
"We have to accelerate," the dean shouted to the students, most of whom are 18 and older. "Time is running out, you guys, the school closes in two months."
It was mid-April, weeks before the 81-year-old Brooklyn school would hold its final graduation ceremony. The Department of Education had ordered the East Flatbush school to phase out three years ago because of its low performance.
The last of its 159 seniors were desperate to collect enough credits to get their diplomas. Among them, 55 (or 34 percent) are registered for credit recovery courses. Most had previously failed a class at Tilden, where the majority of the students are new immigrants from Haiti. Stevenson Petit, a guidance counselor at the school, claims that the school is on track to graduate between 75 to 80 percent of the students - an incredible number considering it only graduated 39 percent of its students in 2009.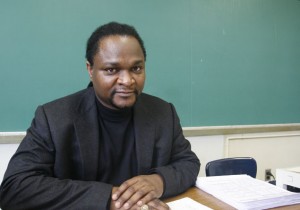 Stevenson Petit and other staff at Samuel J. Tilden are worried the students who don't graduate in June will fall through the cracks at other schools. (Photo by Vadim Lavrusik)
Critics worry that the students are accumulating empty credits at the expense of learning, and that credit recovery programs do not adequately prepare students for college.
Tilden staff members worry that students who don't graduate will drop out altogether after being transferred to another school - putting them at more risk for fewer opportunities. They feel obligated to help them at least get a diploma, since the DOE abandoned them three years ago.
"No one else is going to be able to help them," Petit said. "They've given up on them, but we haven't."
Students work on their online classes - contracted through Aventa Learning - in a computer lab set up for this purpose. Or, students can work on the classes from home. "Some students are able to complete a course in four to five weeks, and so they can complete more classes in a shorter amount of time," said Petit, who makes sure to remind struggling students to go to their credit recovery class when they visit him in his office. "It helps them accelerate."
Triston Williams, a senior taking three online credit recovery courses was working on an online quiz for a civil law course he said he had failed several times before. He said the computer coursework is more visual, whereas being in a classroom setting with a teacher was more hands on.
After reading a quiz question, he would click to a second browser where he had the session's information available so that he could look up the answer.
"Even though it's kinda of cheating, it's easier for me to learn this way," Williams said. After completing the quiz, he was given an option to retake the quiz if he wasn't happy with his score. In fact, each student can take each quiz up to five times, using the last score as the final one. Williams was happy with his score. He answered 6 out of 10 questions correctly- students only need a 60 percent to pass on their online courses, which amounts to an "F" in normal graded terms.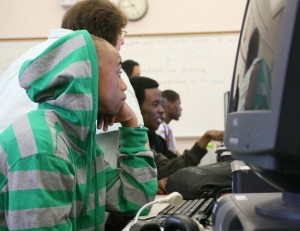 Students work on their credit recovery courses at Tilden. (Photo by Vadim Lavrusik)
He continued on to a second session, mumbling the content out loud.
But despite Williams' valiant efforts, he still will not be able to graduate in June. Even if he passes these three online courses by June, he will still be four credits short.
He said he will likely have to go to summer school, somewhere else. He is conflicted about the prospect of a new school. "It's exciting 'cause I get to go somewhere new, and go outside of my boundaries," said Williams. "I still can't wait to be done with school, though."
Because students are able to work on their online courses from home, some students are able to make up credits quickly - finishing classes in half the time it would take them in the classroom.
Treon Gittens, a 19-year-old senior who is anxious to graduate in June, was able to complete five courses through credit recovery this term alone, and is also enrolled in other regular courses. Gittens said he entered this spring term needing nine credits. Because of credit recovery, he will have enough credit to graduate in June, he said.
"I'm 19 years old, I want to be done with school," Gittens said.
Gittens attends three hour-long class periods dedicated to credit recovery courses as part of his school schedule, and three hours every night working on the courses from home. The home option was the reason he will likely catch up, he said.
Teachers encourage students to work on courses from home. Mr. Steve Lampert, a social studies teacher who is assigned to keep students on track in the credit recovery program, said Gittens is an example of how the program can work well for motivated students. Gittens was able to complete so many courses because he put in the time, Lampert said. The program estimates 34 hours is spent to complete one course.
Lampert concedes that Gittens' grades could be higher. But when the goal is to graduate, Gittens said he has only one regret: "I wish I would have done this earlier."
The program, Lampert said, isn't perfect.
"It's a boondoggle," He said. "But we're trying to give these kids every chance to graduate, or get them as close as possible to graduating."
Lampert said after the school was announced to be phased out, a lot of the top students transferred out and the kids that are left, are the ones that need the most help. "Most of these kids aren't Rhodes scholars," he said.
Because the school was being phased out, so were the resources, which included teachers, he said. Credit recovery is one of the only resources the school had left to help its students before it closes, Lampert said.
The online courses can never replace in-classroom learning, Lampert said. But they are not without their benefits.
For example, he said, the online courses give students a sense of ownership in their classwork. Each student has a customized program with their own assigned Aventa Learning instructor who helps facilitate questions from the student and communicates progress to a supervisor. He also said the environment of the online classwork is less distracting. It's just them and the computer.
Tyce Johnson, a senior in the credit recovery program, said he appreciates the ability to concentrate only on the coursework.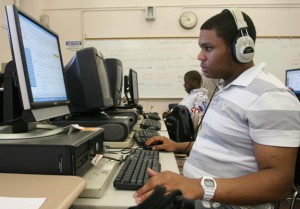 Tyce Johnson works on his credit recovery course. (Photo by Vadim Lavrusik)
Johnson is taking an online American history course to make up for the class he failed. Many of the students use headphones that allow them to listen to the audio reading of the course content. Johnson had his headphones on as he worked on a quiz. He said it helps him block out any noise and concentrate. It's his only credit recovery course and he's set to graduate on time.
The structure of the program also gives students back their confidence in learning, Lampert said, which is one of the reasons for giving them five chances to pass each quiz.
"All of the sudden they are thinking, 'I can do this," Lampert said. "It gets rid of their fear of not succeeding, and they are then more willing to take other academic risks."
Erica Lively is one of those students. Despite under-performing in high school, Lively has dreams of going to college, but she said she's realistic too. She knows she might not have the best grades, and paying for college would be "almost impossible," she said. Right now, the pressure is on graduating high school on time.
"My whole family knows I am supposed to graduate and that it's my last year," she said. "I hope I can."
The 18-year-old needs to earn seven credits this semester, several of which she will earn through credit recovery courses. She said her mom, who dropped out of college in order to take care of her, is pushing Lively to graduate and think about college.
"She just wants me to have a better life than she had," Lively said.
Unlike some of the other students in the program, Lively said she still prefers in-classroom teaching. She said she has a hard time absorbing all the information, and said she feels like she learns more from a teacher. So why did she fail the classes she's working to recover credit for?
"I was doing more talking than actually working," she said.
But Lively said she learned her lesson, and is determined to get a job and save money for college. She wants to be a pediatrician because she's good with kids and has a lot patience.
Though credit recovery can help put kids like Lively on track to graduation, Lampert admits, it works a lot better when there isn't the added pressure to graduate everyone at the end of the year.
Even with credit recovery, the students have to first show up. And like many other under-performing schools, Tilden's attendance is low - hovering around 50 percent in early April, according to school records.
Lampert worries that as the weather gets nicer, fewer students will show up. He noted some of the later periods during the day already starting to see fewer students come to class.
With time running out, the reality is sinking in that many of the students will still not be able to graduate, and so the school is hoping to prepare those students by at least having them pass all the state regents exams, which they will take in June.
The school provides tutoring for regents tests, and is beginning a three-day a-week after-school regents prep program for students to get one-on-one tutoring from teachers.
So far, Petit said, the turnout is low, but they have a list of 30 to 40 students they are recruiting to come - students that either haven't passed a test or some that are hoping to raise their score to a 65 for a regents diploma.
As students walked in to visit Petit in his office, he asked each one about their regents scores, encouraging them to come to the after-school regents prep; each time reminding them of the score required for a regents diploma, or the number of credits they have left to graduate. And each time, they would nod. They've heard it all before.
"If they don't graduate here, their needs won't be fulfilled elsewhere," Petit said. "They'll fall through the cracks and so we're doing all we can. We gotta get them to graduate."
Vadim Lavrusik reported on immigrant student issues in the Spring of 2010. He was embedded in Manhattan International High School in the Julia Richman Complex.
Read more articles like this at School Stories, a publication produced by students at Columbia University's Graduate School of Journalism.
Related
Popular in the Community