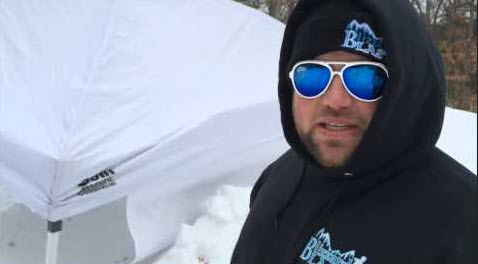 Anyone can be an entrepreneur, but only a rare few build massive empires. Those that do are usually the ones that somehow change their industry. Think, for example, of Guy Laliberte and Gilles Ste-Croix, creators of Cirque de Soleil. They didn't enter the circus industry with plans of competing on the same playing field as other circuses. No, they created their own field, one with little competition.
I recently met with a business leader in Massachusetts who is changing the playing field in his industry and making a name for himself as he builds brand recognition, community, and fun. Fred Smith is 35 years old and is the founder of SmithFest, Panic in the Dark, and Blizzard Blast, to name just a few of the races he hosts annually. SmithFest is a scavenger hunt race which was launched 7 years ago. It grows steadily each year. In 2014 there were 100 teams of 4 people each who will competed in crazy antics throughout the day in order to raise points. The teams all compete for a cash price of $4000. There's only a 1 in 100 chance of winning and so most that participate aren't in it for the money. SmithFest offers much more than an opportunity to win money, something priceless in fact. It offers an experience.... a one-of-a-kind day filled with fun and laughter amongst friends.
As the popularity of SmithFest has grown over 7 years, Fred Smith decided to launch additional races throughout the year. Two of his most popular races are Panic in the Dark and Blizzard Blast. Panic in the Dark is a 5K Nightmare Obstacle Course in the dark at night in Lowell, Massachusetts. The runners wear head lamps as they run into the Haunted Woods infested with zombies, monsters, and ghosts. Panic in the Dark, only 3 years old, attracts 1100 runners each October.
Blizzard Blast is a 4-6 mile Winter Obstacle Run in January where runners compete in the cold through obstacles like carrying a Christmas tree for a half mile or maneuvering across Keg Kingdom, a monkey bar type obstacle rigged with kegs to knock you down. In 2015, Blizzard Blast was the largest winter race in New England with 1500 runners and 2000 patrons participating. SmithFest is a charity event which contributes to Smith's non-profit organization while Panic in the Dark and Blizzard Blast are corporate for-profit events which partner with local charities to help raise funds and awareness about the organizations. Smith's events contribute more than $30K each year to worthy charitable causes.
I always enjoy interviewing the entrepreneur behind the empire and so recently I sat down with Fred Smith to find out 4 lessons on building an empire, not by playing on the same playing field as the competition, but by creating your own.
1. Make Your Passion Your Career: Fred Smith says that his passion is making people happy. He's happiest when he sees others having a good time. In 2012, Fred Smith quit his decade long career as a prison guard. He admits that he was making great money, more than he'd make each year as he built his event business. However, Fred felt that he was losing himself and losing his life by sticking it out in a job where he was surrounded by misery, so he quit. He said that the money was good at that job, until you realize what it's paying for....your life. Today he wakes up excited to go to work each day because he loves what he does. He says that building a business is not easy, but when you love what you do to your core, it makes even the bad days kind of fun.
2. Fail: In 2012, Fred Smith, attempted to break the Guinness Book of World Records competition for musical chairs. His goal was to get 10,000 participants, lots of media, and paid advertisers. In the end, he got about 1500 participants and didn't break the world record. He lost $100,000 of his own money. It was a devastating loss, said Smith. It made him question his ability to be an entrepreneur. He didn't know if he had what it took to continue creating massive events. After he paid all of the vendors involved in the musical chair competition there was a massive sized crater in Smith's bank account. Instead of quitting his business as an entrepreneur, he decided instead to examine closely where he went wrong promoting the musical chair event. He realized that although it was expensive, the musical chairs fiasco was a lesson in entrepreneurship for him. He vowed to learn from his mistakes so that he could keep on building his empire.
3. Mentors: Fred Smith says that it takes a village to run any business. Success, he says, requires mentors. You need people that absolutely believe in you and who have experience building businesses so that they can offer a sense of direction when you feel like you are veering of course. For Fred, he says he wouldn't even be an entrepreneur today if weren't for his mentor, David Gorofalo, owner of Two Guys Smoke Shop, a massive cigar and tobacco online and storefront retailer. David has been like Fred's personal GPS when it comes to entrepreneurship, showing him the ropes of running a business and dodging speed bumps along the way. Fred says that it's absolutely essential to have expert council so that when you feel stuck or unsure, you have a go-to person that will take your call and talk through your ideas and concerns.
4. Be An Opportunity Hunter: Fred is the chief cook and bottle washer for SmithFest. He literally does everything from selling sponsorships, designing the courses, promoting the events, and securing vendors. Fred says that he's constantly looking for opportunities and it's never hard to find them. If he sees someone wearing a branded logo shirt, he will start a conversation, trying to find out if the person wearing the shirt works for a potential sponsor of his events. One time, while at a Red Sox game, he was helping a stranger pull out of a tight parking spot. He noticed that the stranger hat a Deutsche Bank sticker on his car, so he asked if the person worked there, thinking maybe they'd be a potential sponsor for SmithFest. It turns out that the stranger was PGA Tour champion golfer, Ken Duke. That chance conversation didn't result in a sponsorship package being sold, but it did result in a lifetime friendship with Duke. Fred has even been a guest of Duke's at The Masters tournament. Smith says, that you never know what good might come out of a conversation with a stranger, so don't be shy, start talking.
5. Support The People That Believe In You: Fred Smith says is that one of the things he is most proud of is how he supports the people who support him. While most race promotors in his business collect sponsorship money and then stick a company logo on a shirt, Fred sees sponsorship of his races as a real partnership. For SmithFest, competitors earn additional points by visiting, buying, and eating at the places that sponsor his events throughout the year. As well, Smith says that he refers his friends, family, and employees back to the companies who support SmithFest. Fred says that if Coke is a major sponsor of your company, then shame on you if you get caught drinking Pepsi. A sponsorship of an event is one person telling another... or one business telling another, "I believe you," and the support must be reciprocal.
At 35 years young, Fred Smith has already created a revolution in the event planning and racing space. His events are unorthodox for sure, just like the entrepreneur behind them. But, that's the point. It takes someone special to build something great and Fred Smith is racing to happiness.
Photo Courtesy of Caley McGuane/The Lowell Sun
REAL LIFE. REAL NEWS. REAL VOICES.
Help us tell more of the stories that matter from voices that too often remain unheard.