As Chicago starts to emerge from a particularly grey May, one can find a true ray of sunshine at the Edge Theater, going by the name of Sophie Kaegi. As the eternally optimistic Olive Hoover in the charmingly musicalized version of the quirky comedic film, Little Miss Sunshine, Kaegi radiates so much energy and unvarnished spunk, it's amazing Chicago Theatre Workshop's production is still standing.
The source material seems an ideal fit for the prolific William Finn (music and lyrics) and James Lapine (book). Both Finn and Lapine, who've enjoyed great success with The 25th Annual Putnam County Spelling Bee and Falsettos (the Tony-nominated revival, which will be broadcast on PBS later this year), to name a few, revel in stories that celebrate the underdogs and the quirky – and the sweet and offbeat 2006 film, written by Michael Arndt, hits both of those notes.
Yes: no doubt, Finn and Lapine are the ideal talents to make this film sing. But the core question always remains: does the source material need to be musicalized? In some ways, yes – by all means. Finn finds ways to elevate the unexpected emotional moments with his characteristic bittersweet sensibilities. More importantly, it inspires songs like "Something Better Better Happen," which is one of Finn's finest musical accomplishments, IMHO.
However, the source material is so quirky and singular on its own merits, layering over the idiosyncratic charm of Finn + Lapine feels, at times, almost too twee.
But then the effervescent Kaegi concludes the show with "Shake Your Badonkadonk," and all sins are forgiven. Almost.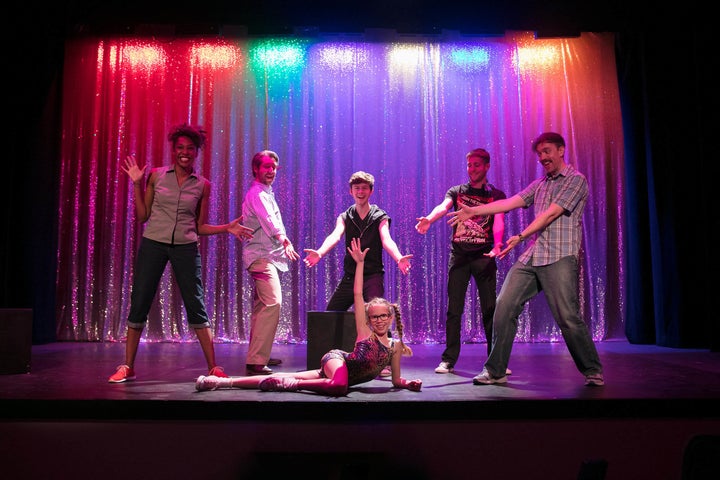 Chicago Theatre Workshop's production, deftly cast and directed by Maggie Portman, hits all the sweet spots. Sharyon A. Culbertson and Greg Foster as Olive's struggling parents humanize roles that could easily dissolve into characterizations, and each sing Finn's score with humanistic flair.
And Kyle Klein II, who plays Olive's willingly mute brother, is a real talent. I expect we'll see more of him in Chicago, or elsewhere. Ken Rubenstein and Greg Foster support with aplomb.
Music direction by Nick Sula teases out the beauty in Finn's smart score, with a tight trio playing with professionalism. I look forward to future Chicago Theatre Workshop productions.
"Little Miss Sunshine," presented by Chicago Theatre Workshop, plays through June 4 The Edge Theatre. More info here >