The music we are introduced to as children will forever hold a very special place in our hearts. For me, that music included an album called "Paint a Rainbow in Your Heart." Recorded as a companion to Hallmark's Rainbow BriteTM property, the album was a fun an fanciful journey through a world of sound painted with color and friendship. With all the excitement about the new merchandise, I thought it might be fun to kind of explore some of the product that came before -- fitting for a #ThrowbackThursday.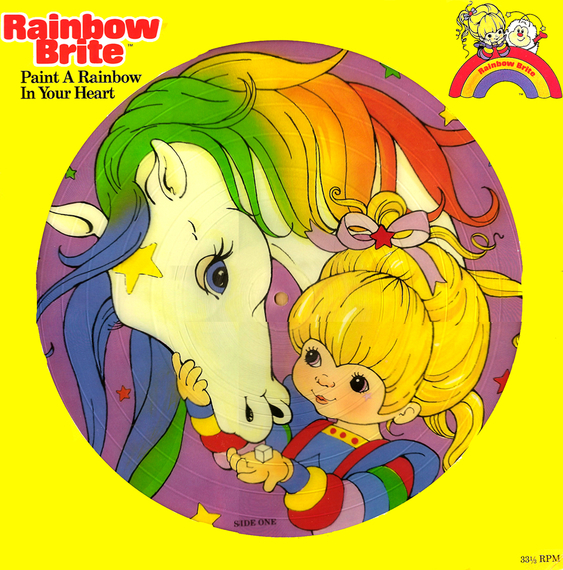 Produced by Jym Magon and Jim Andron, the album was released through Disney's Buena Vista records and consisted of ten original songs, most of which were written by husband and wife songwriting duo, Michael and Patricia Silversher. The Silversher's, who have written some of Disney's most memorable theme songs (including Disney's Adventures of the Gummi Bears and Tale Spin), contributed five of the album's ten tracks, which also included songs by Lois Blaisch and a songwriting team credited as Patrick, Bourland, Gift & Hughes. "I had a recording set up in the garage," Michael recalls, "in back of the house and we wrote and recorded a bunch of songs in that two-week period, and every one of them made it onto the album. Those songs included "In the Twink of an Eye", "A Color Symphony", "The First Part of Friendship is Friends," and the album's title track "Paint a Rainbow In Your Heart." I personally love "Paint A Rainbow In Your Heart," Silversher says of his favorite tune on the disc.

"The Disney Music Company was looking for properties other than Disney," producer Jym Magon recalls about how the album was pitched to him. "Somehow we connected with Hallmark, so we said, 'We can do some story books and maybe even a song album, if you want.' And it went from there."

The story tapes, which included many of the voices used for the animated series, resembled radio plays that were very popular in the eighties, and Disney dominated the market. Those story tapes, most notably those centered on Rainbow Brite, were how my parents taught me to read. The series consisted of six read-along stories, my favorite being "Rainbow Brite and the Big Color Mix Up" which included the Silversher's song "A Color Symphony" after the story was finished. Each book had its own song and while Symphony was the album version of the song, two of the stories, "Rainbow Brite Saves Spring" and "Rainbow Brite and the Brook Meadow Deer" included demo versions of the songs "Rainbow Land" and "Paint a Rainbow in Your Heart" respectively - something both Magon and Silversher find funny and strange. "I don't know why they did that," Magon laughs. "I believe it's Patty singing, "Paint a Rainbow" and I think "Rainbow Land" is Lois' voice slightly sped up."

The albums were put into production at the same time as the story-tapes. "We were called by Jymn Magon," Silversher says, "and he told us that this was a co-production with three companies: Hallmark, who had created the characters, Mattel, who made the toys, and Disney for the music. Mind you, this is way before Haim Saban and company did any of their TV stuff."

"I remember Bettina," Magon says of Bettina Bush, the actress who provided the voice of Rainbow Brite. "I recall her as very sharp and talented. She was doing a lot of cartoon voice work at the time." In addition to songwriting, Michael also provided the voice of Twink (Rainbow Brite's Sprite side-kick, voiced by Robbie Lee in the series and story tapes) in three of the songs "Twink of an Eye", "Bink! Bonk!" and "Prismatistm" which was written by Patrick, Bourland, and Gift.

Lois Blaish, who wrote Tiffany's hit song "Could've Been," contributed (and sang) one of Magon's favorite songs on the album, "Rainbow Land". "I'll never forget when the head of the Disney Music Label called me and said 'If ever there were a song I would want sung to my child, that would be the song and I would want you to sing it!'" Blaish said in a Facebook post. "That was the sweetest thing a music biz executive ever said to me."

Based on a statement posted on Lois Blaish's website, the album was certified gold by the RIAA (though no other information on that can be found). The album was so popular that a second album "A Rainbow Brite Christmas" was also produced. Though Andron continued on as a producer, Magon did not, but the album did include a few tracks written by the Silversher's.

As mentioned, these songs are very special to me. They got me through some very dark times in my life. They, in part, sparked my love of music and are some of the reasons why I myself got into music. To the many men and women involved in this project, I can't thank you enough. You have inspired me, you have taught me, and you have saved me.
Support HuffPost
The Stakes Have Never Been Higher
Popular in the Community