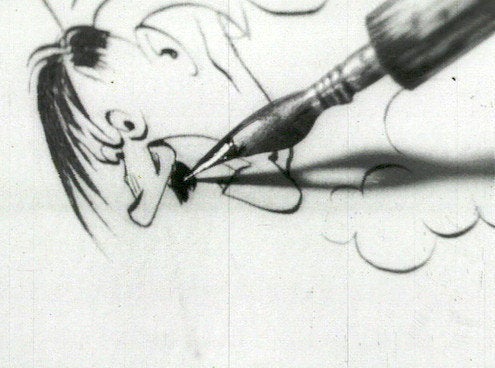 When I was a child, our family had a prize possession that my sister and I could only use on special occasions. Known as "the sick puzzle," it contained 81 one-inch wooden cubes whose individual sides had been painted red, white, blue, or yellow. The house rule was simple: the only time you were allowed to play with the sick puzzle was when you were actually sick.
Although my sister and I knew exactly where to find the sick puzzle, we always respected the rules of usage. As such, there was one toy that became a family heirloom and was put back into use soon after my niece and nephew were born. To this day, the mere mention of the sick puzzle can provoke a twinge of nostalgia for something that held a very special place in our hearts.
For many people, cartoon art holds a similar function. Different generations embrace different cartoons. Thus, the people who grew up reading Peanuts, Archie, B.C., and Dennis the Menace may have very different tastes and sensitivities than those who were raised during the heyday of Blondie, Ferd'nand, Pogo, and The Little King. While I'm currently drawn to Pearls Before Swine and Get Fuzzy, there is a special place in my heart for Berkeley Breathed's ferociously brilliant Bloom County and, of course, Bill Watterson's hilarious Calvin and Hobbes.
Whenever I'm feeling down or need a pick-me-up, all I have to do is open up one of my coffee table books of Calvin and Hobbes cartoons to be brought back to "a happy place." Fifteen years after Watterson chose to discontinue his beloved comic strip, visions of Spaceman Spiff, Calvin's diabolical snowman creations, or Miss Wormwood can instantly bring a smile to my face. The same holds true for images of Opus the Penguin, Bill the Cat, Gary Larson's demented animals, and other figments of a cartoonist's imagination that became cultural landmarks for so many of us.
All of these, however, reflect American culture. Most of us know very little about the history of cartoon art in the Soviet Union -- especially political cartoons.
During interviews with Boris Efimov (who died in 2008 at the age of 109), viewers of Stalin Thought of You will be astounded by how spry and alert the artist was at 104. Whether having his picture taken flanked by two statuesque blondes or examining a fellow artist's renditions of Stalin and other famous Russians, Efimov enjoyed a long life. He offers viewers a remarkable perspective on Russian politics throughout the course of the 20th century.
Efimov's political cartoons depicted Soviet politicians and their henchman from Stalin through Brezhnev, with plenty of drawings depicting Americans like Franklin Delano Roosevelt and George W. Bush. Sketches of controversial figures like Adolf Hitler and Leon Trotsky flowed freely from Efimov's fingers.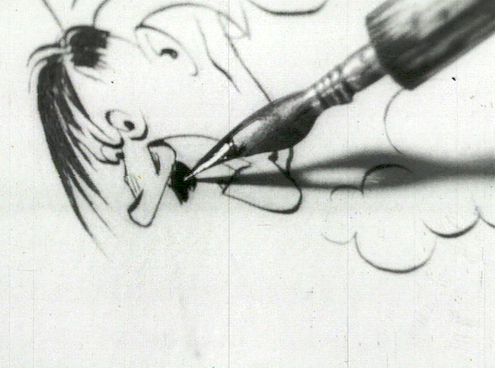 Using rarely seen footage from the Russian State Film Archives, documentarian Kevin McNeer (with help from the Soyuz Multifilm Animation Studio) has produced a fascinating documentary. What makes it even more interesting is that, during his interviews with Efimov, McNeer doesn't quite seem to grasp how oppressive life really was under Stalin.
Efimov's older brother, Mikhail Koltsov, was a Soviet spy and journalist who was much admired by Ernest Hemingway for his work in Spain (Koltsov inspired the character of Karkov in Hemingway's novel.For Whom The Bell Tolls). While Koltsov's ambition eventually led to his execution under Stalin's regime, Efimov was allowed to live.
When the Nazis invaded Russia, Efimov was one of the Russians that Hitler's troops had orders to hang upon capture. Although he had been blacklisted as the relative of a dissident, Efimov was spared exile in a Gulag and was eventually reinstated as Pravda's top political cartoonist. Stalin was such a big fan of Efimov's work that he would even make suggestions on how Efimov should draw certain characters like Dwight D. Eisenhower.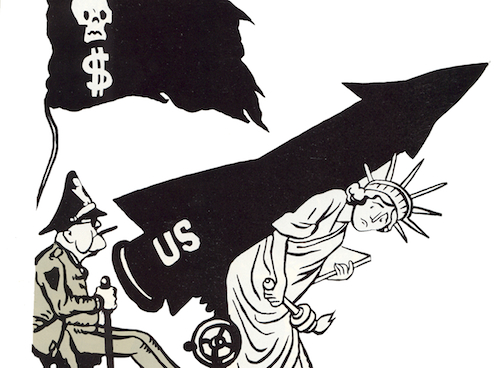 Like the best political cartoonists, Efimov mocked authority in the Russian press during a lengthy career that spanned most of the 20th century. He was lampooning events during World War II as well as during the Cold War. Although his cartoon work for Russia's state-owned media helped keep him alive, he never recovered from the emotional wound of his brother's murder. As a result, Efimov's descriptions of the power struggles within the Kremlin bear personal witness to many of the changes that occurred within its walls.
The film's trailer gives an insight into Efimov's mental acuity late in life, the mischievous nature of his art, as well as a backstage tour of Russian politics under Stalin's reign:
Before discussing A Room And A Half, a 130-minute film written and directed by Andrey Khrzhanovskiy (an award-winning animator and documentarian), it's necessary to establish a timeline in the life of Joseph Brodsky:
Born in 1940 in Leningrad (St. Petersburg), Brodsky's family nearly starved to death during the Siege of Leningrad (1941-1944).
In 1964 he was charged with social parasitism and sentenced to five years of exile in a labor camp (he served 18th months of his sentence in the Archangelsk region of Russia).
His sentence was commuted in 1965 after protests from cultural figures like Dmitri Shostakovich and Jean-Paul Sartre.
Brodsky was expelled from Russia on June 4, 1972 and relocated to the United States, where he became a naturalized citizen in 1977.
In 1979 he was inducted into the American Academy and Institute of Arts and Letters.
In 1981 he received a MacArthur Foundation "Genius" Grant
In 1987 he won the Nobel prize for literature.
He was named America's poet laureate in 1991
Brodsky died in 1996 at the age of 55.
With these facts in mind, try to imagine what it would have been like to give a filmmaker and animator access to the memories, dreams, and youthful thoughts of a Jewish poet who, after growing up in poverty, went on to become a celebrated international literary figure with plenty of money. At a certain point, the fiction that can be created from the man's life becomes more interesting than the real facts.
The result? A Fellini-like meditation on what it was like to grow up in St. Petersburg instead of Rome. Brodsky's fictionalized life is seen through dramatic reenactments, archival news footage, and scenes in which the Americanized Brodsky is seen in a Russian social club in New York, during a return to Russia aboard a cruise ship (which never happened), and as he tours the city in which he was born.
Memories of his youth include scenes in which he tried to sneak young girls into his bedroom or when young Brodsky and his father would imitate hungry cats at the dinner table. His chain-smoking mother is always ready to pour him some more "fungus drink." His father (a former seaman) delights in showing the young Brodsky the glories of St. Peterburg's architecture. In one delightful memory sequence, a butcher shows him how to choose between different types of sausage.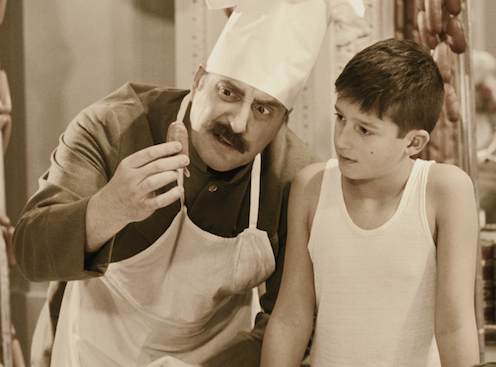 Brodsky's parents are depicted by two actors who age through approximately five decades until, at the end of the film, the adult Brodsky is reunited with their ghosts in the ruins of the 1-1/2 room apartment in which he was raised.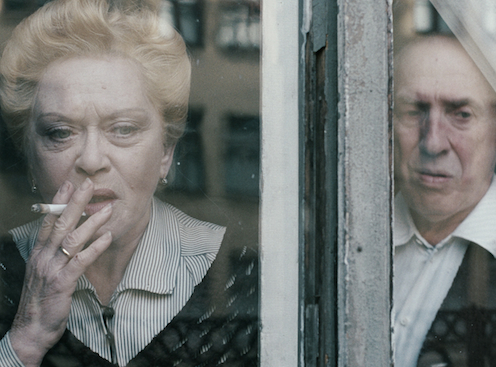 Alisa Frejndlikh and Sergei Yursky in A Room and a Half

While the film benefits from Vladimir Brylyahkov's evocative cinematography, its greatest assets are the animated sequences which capture the young Brodsky's fantasies. Whether standing in awe as pianos, trombones, and other instruments float through the imaginary air -- or questioning the identities of the black crows that Brodsky later realizes symbolize his parents -- Khrzhanovskiy's vivid imagination brings some much needed levity to his often ponderous film.
Although A Room and a Half could easily be cut by 30 minutes, it includes many moments of deep lyricism, superb whimsy, and breathtaking footage of "the Venice of the North." Here's the trailer:
REAL LIFE. REAL NEWS. REAL VOICES.
Help us tell more of the stories that matter from voices that too often remain unheard.