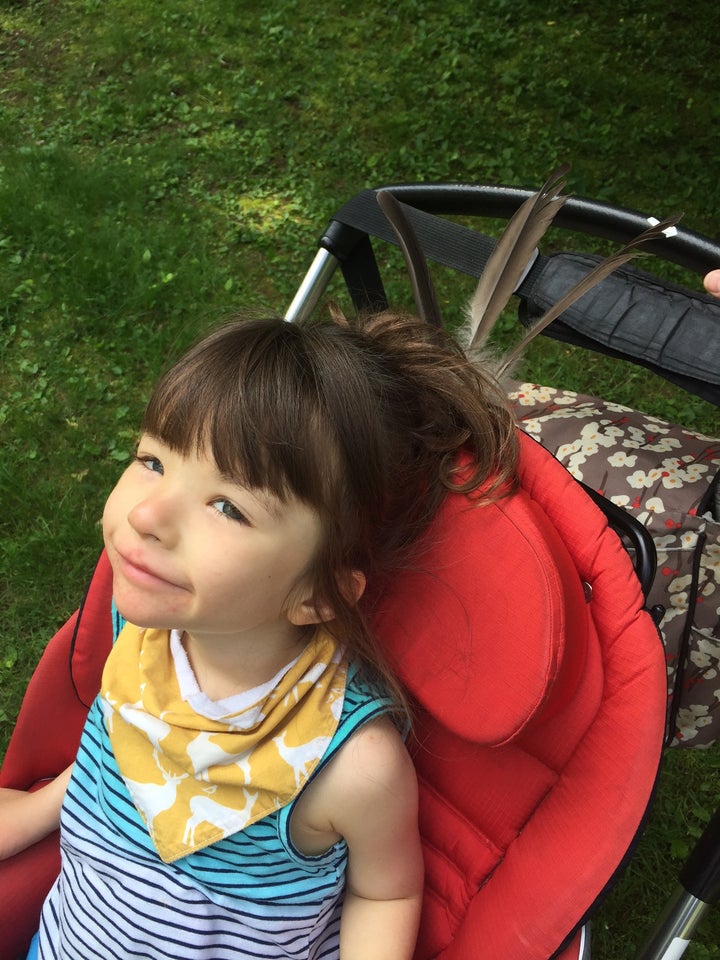 It is a beautiful Thursday afternoon. We pull into a tiny little road off of Route 44 in Ashford Connecticut. We drive over a one lane bridge, a large still pond stretching out to our left. Then we move slowly upward and into the woods, passing between two large piles of boulders.
At that place everything changes. I am smiling, but my eyes begin to tear up.
We stop a little booth where a young man pokes his head in the car. He is careful to look directly at my five-year-old daughter Esmé, flashing one of the most earnest smiles I've ever seen. He says, "Welcome to Camp!"
I glance over at Esmé. She is silently playing with one of her feet, her tiny, toddler-sized body cradled in her carseat. She doesn't look back at the man but I see a little smile of excitement flash across her face. I say, my voice shaking a little bit with emotion, "Esmé, we're at camp! A camp for big kids! We are going to meet so many friends!"
My wordless daughter looks up at me, a bit of saliva collected between her pursed lips. She pushes her tongue out, so the saliva drips down her chin. She smiles and then returns her focus to her shoe.
Hole in the Wall Gang Camp
Last weekend, somewhat unbelievably, we found ourselves at the Hole in the Wall Gang Camp for a Family Weekend for Children with rare diseases. Hole in the Wall Gang Camp (HITWGC) was established in 1988 by the actor (and maker of awesome lemonade, among other things) Paul Newman as a summer camp for children with cancer. Over the years the camp has expanded its mission to support children with a number of medical challenges, including sickle cell, HIV/AIDS, metabolic disorders, and other life-threatening illnesses. HITWGC is now in the process of expanding into other populations with rare disorders.
And if Esmé, with her four separate rare genetic mutations, isn't rare, I don't know who is.
We've known about HITWGC for years because we have very dear cousins, Ray, Monica, and their children, that have been involved with the camp since it started in 1988. Also my step-father has taught adaptive skiing at Double H--a sister camp in New York State--for over a decade. As Esmé's disabilities became clear over the years our family members told us that Esmé would have a place at camp. They told us that she would be welcomed. That she would be able to do things we couldn't have imagined. They said she would perform on stage. Make friends. Fly.
I was worried about what activities she'd be able to do. How she would deal with the sensory overload of other excited children. I was worried that she'd not sleep and have seizures--like she did during other limited attempts at traveling. I thought about her food and meds. Her overnight nursing. But the camp doctor, Dr. Space, found wonderful ways to address every single medical concern. And, so, it seemed, it was time to just try and see what would happen.
Rare Magic
The hard part comes in explaining what exactly happened, because in some ways what happened seems so tiny: Esmé had so much fun that she slept through the night in grand form. We trusted her camp pal enough to leave Esmé alone with someone new for an hour and a half...something that never, ever, ever happens even when she's in the hospital. Esmé clapped along with songs in the dining hall. She played music in the recording studio. We helped her play ski ball. She got up on stage in front of an audience and played a drum to her favorite song: Life's a Happy Song. Everyone clapped for her.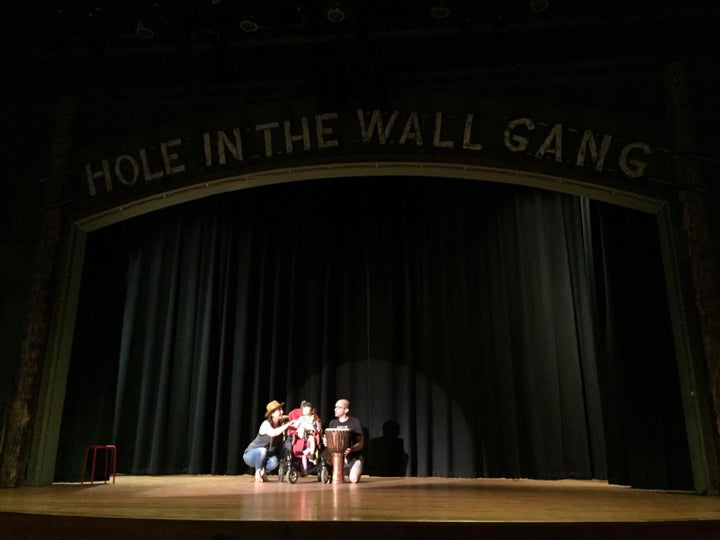 But, for a kid like Esmé none of this is tiny. It is all magic.
The exceptionally rare nature of Esmé's disorders has made it so that I've never felt like we really fit anywhere. In fact, it has made participation in activities for children with special needs somewhat difficult...because we never seem to fit in. We are rare even among the rare. Unusual even among the unusual. But this weekend...this weekend I felt like we belonged. We belonged at camp. It wasn't because Esmé could do all the activities, because she couldn't. It wasn't because the staff had seen other kids like her, because they hadn't--no one has. It wasn't because the other kids were so much like her, because they weren't. It was because everybody there decided she belonged--and then they went about making it all work with some outstanding combination of love, compassion, fun, and creativity. Just like they did for every other kid there.
But most importantly? I know Esmé had fun and embraced some new found sense of independence. How do I know this? I know it because on the first full day there, after spending rest time alone with her camp pal, Maria, Esmé showed us. We told Esmé it would be just a few more minutes and then we would head down to the dock to see friends and catch fish. Ez had been playing in a common area near our bedrooms, and I was washing her bottles a few feet away. Esmé started crawling, first toward me, and then beyond--toward the infirmary hallway, covering about 20 feet in a matter of seconds. At the hallway Esmé turned right, confidently following the route we'd pushed her chair along that morning. We all went to the hallway and watched as she crawled assertively down the perhaps 100 feet corridor. She fell to her side only once.
She was crawling toward the action. She was crawling toward the fun. She was ready. And she didn't look back.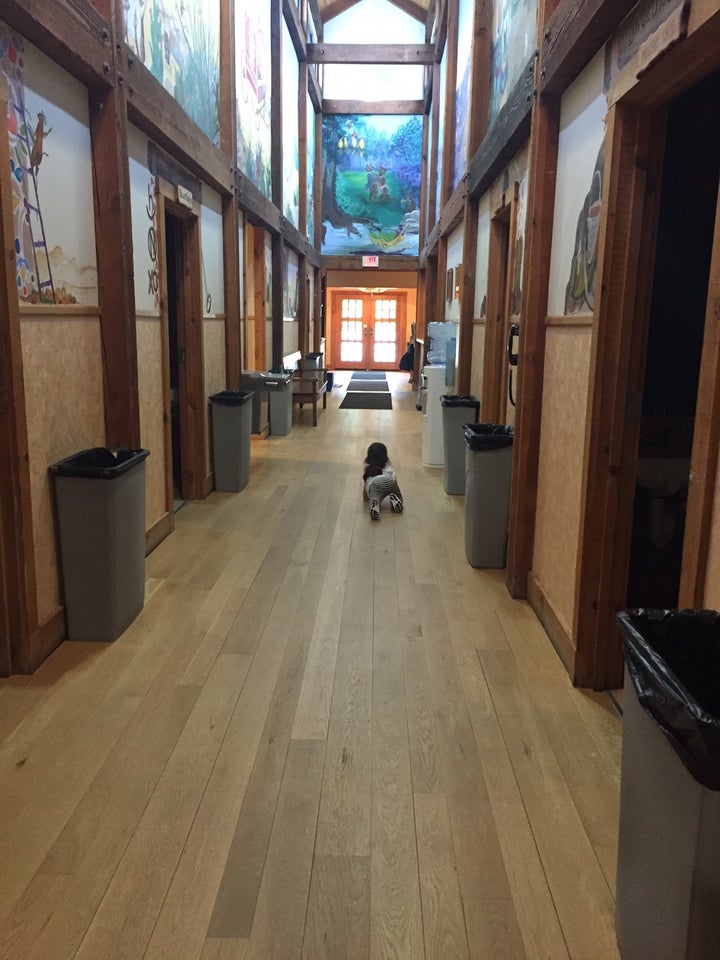 Related
Popular in the Community