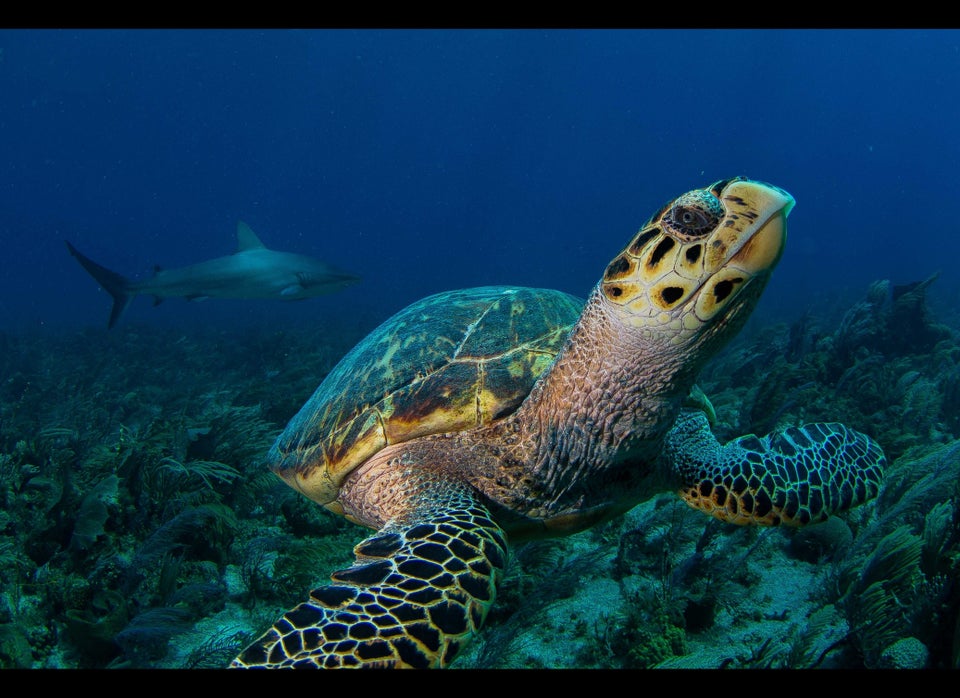 Jardines de la Reina, Cuba
Imagine being able to go back in time and see what the world looked like before humans came to dominate the planet. Opportunities to do this are increasingly rare, even in the world's vast oceans, due to widespread human activities; however, there are still a few places that have been fairly untouched that offer a glimpse of what the past might have looked like. Cuba's Jardines de la Reina (Gardens of the Queen) National Park is one of those places.
I've been scuba diving in the Caribbean and the Bahamas for 25 years. During that time, I've grown accustomed to seeing relatively tame reefs that have lots of pretty little fish, but not many big, toothy animals that might raise the hair on the back of your neck. But for years, I've heard stories about Jardines de la Reina, a vast refuge where sharks, groupers, and crocodiles are said to still abound.
As a marine biologist and conservation professional, I wanted to see if these tales were true. I also wanted to know if there were any lessons we could learn and apply elsewhere. So I decided to take some time off of work, secure the appropriate travel documents, and plan a trip to Cuba that included a visit to Jardines de la Reina.
For a country that's so close to Florida, it takes a while to reach this particular set of reefs. Even from Havana, it's a 7-hour bus ride followed by a 5-hour boat ride. We arrived just as it was getting dark. So I was eager with anticipation to see the reefs the following day.
The next morning we headed out in a skiff to a nearby dive site. As soon as we arrived, Caribbean reef sharks began to circle the boat. I dropped in to see about a half dozen sharks and several large black groupers that swam up to the boat to greet us. This in-your-face wildlife was everwhere. In addition to the sharks and groupers, the reefs were covered with snappers, tarpon, huge schools of grunts, and sea turtles. Any one of these sightings might be the highlight of a typical Caribbean dive. At Jardines de la Reina, these sightings are so commonplace that it was hard to take a picture that wasn't photo-bombed by some shark or grouper.
The boundaries of the park do not end at the reef. Huge areas of adjacent seagrass and mangrove ecosystems are also included. By linking these ecosystems together in a single park, Cuba is protecting a greater diversity of species. For example, many of the large fishes found on the reef lived in the mangrove or seagrass when they were young. The mangroves are also home to American crocodiles, a formidable predator that can grow to 20 feet long.
When we visited the mangrove, we were delighted to see a couple of juvenile crocodiles swimming at the surface. I asked the divemaster if it was safe to slip into the water to get a closer look. He said yes, but gave me the questionable advice that I should keep my camera between me and the crocs. I am so glad that I chose to take the risk. The crocodiles were not aggressive and tended to retreat when approached. They were also unexpectedly graceful as they glided through the water. For me, these crocodiles symbolize the fiercely beautiful wildness that emerges when nature is truly protected.
Cuba is making a tremendous commitment by conserving such a large area: Jardines de la Reina covers more than 800 square miles, and it is just one part of a network of marine protected areas that cover roughly 25% of Cuba's coastal waters. Many countries in the Caribbean and around the world are looking for ways to conserve their coral reefs while also being sensitive to their economic needs. Leaders like Bonaire and Belize have shown reef conservation can be good for business; however, Cuba shows us something more. If people are willing to set aside large areas of the ocean and truly protect them, much of the wildlife of the past can return in spectacular ways.
Kudos to Cuba for their leadership in Jardines de la Reina. I hope that other countries can make similar commitments to the future of their reefs and the extraordinary wildlife that would gladly call them home.