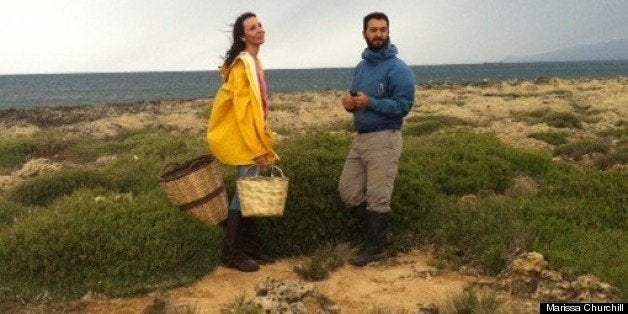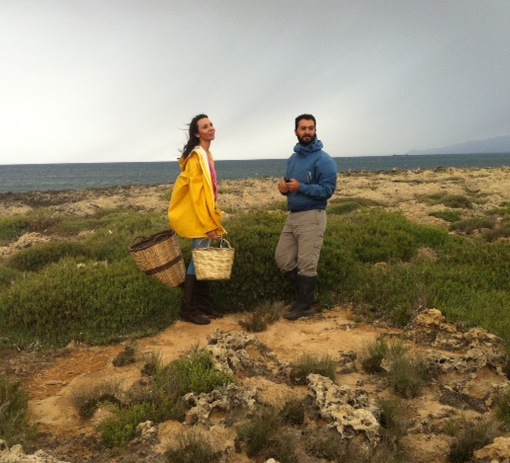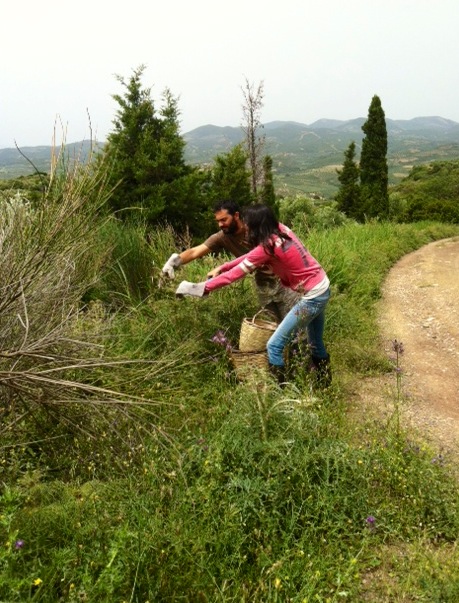 It was on a flight about six months ago that I first read about Sotiris Lumberopoulos, a forager who had left his London based job in statistical analysis, exchanging it for a life of foraging in Kyparissia. His company, Radiki (which is Greek for dandelion), was now supplying some of Greece's top restaurants with everything from sea snails to wild artichokes. I clipped the article from the magazine with the intention of connecting with him. As months passed by I forgot about Sotiris. But as luck would have it our paths would end up crossing.
Samphire, also known as sea asparagus, grows in tidal zones and on sandy flats. It's a succulent plant of the Salicornia species, and looks a bit like a miniature version of asparagus. It has a satisfying crunch and imparts the salty flavor of its natural habitat. It's a fearsomely trendy and unique vegetable that many restaurants pay top dollar to put on their menu when it's in season.
The late arrival of Greek Easter this year meant that my trip to Greece in May would coincide with the start of samphire season. With 8,498 miles of coastline, Greece is a perfect location to search for samphire. Suddenly my trip had turned into a Jacques Cousteau expedition. I began calling friends, family, and fellow chefs in Greece. Did anyone know where I could find samphire growing or how to pick it? My mind traveled back to the article I had clipped on a flight half a year earlier. Surely the forager would know! The problem was I couldn't find the article or remember the guy's name. Google searches for "crazy guy leaves London career for foraging in Greece" pulled up all sorts of results but nothing that came even close to getting me the name I was looking for. I had all but given up on my chances of finding the forager when I sent an email to a friend. I emailed Niko to break the bad news. The man and the succulent I was looking for were nowhere to be found. Niko had wanted to document my search for samphire. His aim in documenting my hunt was to highlight the unique foods and regions of Greece, showing the "real" Greece that most visitors never get to see. His response to my defeated email was short; reminding me that half the battle isn't in what you know, but in who you know.

Marisa, the man you are looking for is Sotiris Lumberopoulos of Radiki. I think I have his number. I'll send it to you shortly.
And just like that my expedition was back on!
Sotiris Lumberopoulos is a young 20-something guy with a mischievous grin usually spread across his face. Once a week he begrudgingly leaves the verdant seaside village of Kyparissia and heads into Athens to make his deliveries. As he discovered living in London, city life is not for him. He likes to be near nature and is passionate about foraging. Ironically, Greeks have been foraging for a millennium. But as a profession it's still very rare. In the beginning of his career no one in the Greek culinary world would give Sotiris the time of day. The idea of foraging seemed crazy to them. Undeterred, Sotiris flew to Paris, showing up in the restaurants of some of Paris' top chefs. The chefs loved his products. He knew he was on to something, and slowly but surely chefs in Greece began to take notice.
I met up with Sotiris early one morning in Kyparissia, completely unprepared for the rain and wind that awaited us. Mother Nature had her own agenda that day and we were at her mercy. Unphased by the sudden change in weather, Sotiris handed me a rain coat, a basket and what looked like a small pair of weed clippers. We headed down to the windswept beach to fill our baskets with samphire. Bushes of sea asparagus littered the beach, as ubiquitous as sunbathers in the month of July. Salicornia, to the untrained eye, does not look like a plant that is meant to be eaten. The pre-historic plant has no leaves. It's just a series of jointed fingers pointed up towards the sun, like so many little green spears. "The most important thing to remember when picking samphire," Sotiris explained to me "is to snip the tops of the plant. Never pull it from the roots or tug at it with your hands. It can cause damage to the plant and will take years to grow back." Even in the downpour of rain, I was happy to be out there, plucking my food from nature rather than trekking through the sterile aisles of a supermarket. I happily munched on a freshly picked piece of samphire, enjoying its briny flavor. I ran through all the dishes in my mind that I wanted to prepare with it.
By afternoon the rain clouds began to part. I was energized for more foraging. Moving away from the sea, we headed up into the mountains overlooking Kyparissia. I was curious to see the wild artichokes that he said grew in abundance there. "If we are going to pick wild artichokes we must stop to pick up a pair of special gloves and scissors," he explained. "These artichokes can be dangerous." I had seen artichokes growing in fields in California before, and while they did have a few stickers I would hardly have called them "dangerous." How different could these artichokes be? I kept my mouth shut, and smiled politely in agreement.
I was in sensory overload as we made our way up the mountain path. Colorful butterflies floated past. The scent of wild oregano hung in the air and birds were chirping. Below us lay a green valley full of vineyards and olive groves, with the sparkling Ionian Sea glistening in the background. It was from this scenic perch that I first spotted the thorny plant. Like an evil witch darkening a lovely fairytale, copious barbs jutted out in every direction, blemishing an otherwise perfect scene. Closer to this armament is where Sotiris seemed to be taking me. Pointing towards the small roundish bulbs that were hidden beneath layers of thorns, he cheerfully pulled out his gloves and prepared to step into the bush. I suddenly understood why he had used the word "dangerous" to describe these artichokes. They looked more like medieval weapons rather than something you'd put on your dinner plate.
As he headed into the bushes I put on a pair of gloves and cautiously followed suit. The gloves and boots I was wearing helped to buffer the blows from the thorns. Yet despite my precautions I was repeatedly stuck, in clear protest to my breach of their environment. The key to picking wild artichokes without feeling the sting of their needles is not to squeeze them (or so I was told). Once clipped, you should allow them to simply fall into your hand. After a half dozen attempts at this method, only one attempt prick free, I decided I wasn't liking my odds. I stepped back outside of the bush, allowing Sotiris to attend to the rest. How, I wondered, was I going to manage to cook these suckers? As if reading my mind, Sotiris explained to me that in most kitchens a blowtorch is used to burn off the wooden spikes that surround the artichoke. "However," he said, pulling out a pocket knife "in the villages they simply smash them against a rock to crush the thorns and then carefully peel off the rest with a knife."
Finding a near-by rock he demonstrated this technique, cautiously whacking the little bulb against the stone until the thorns began to crumble. He carefully peeled the artichoke, unveiling the tiny heart that was no larger than a quarter; so much effort for such a tiny morsel. But as I tasted the artichoke heart, sweet and full of sunshine, I understood why one would go to such lengths to pick them. In that bite I understood why you might leave London for a life of peaceful isolation. I understood what Niko had meant when he spoke to me about "The Real Greece." This was a land beyond deadlines and traffic jams, untouched by tourists and time. You could see it in the landscape and taste it in even the simplest of foods. This was real, this was life, and this was Greece.
For more information about Sotiris and his foraging visit www.radiki.com
Below is the recipe I prepared using the items we foraged for that day. Enjoy!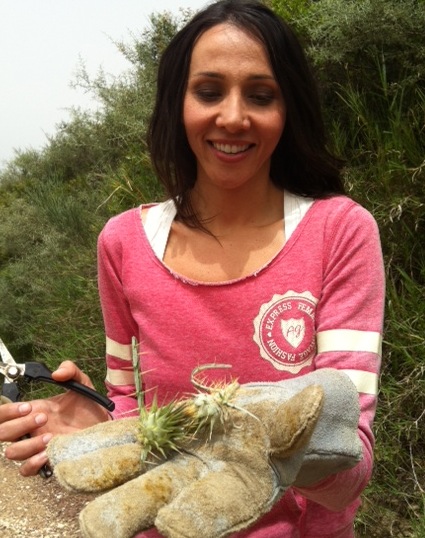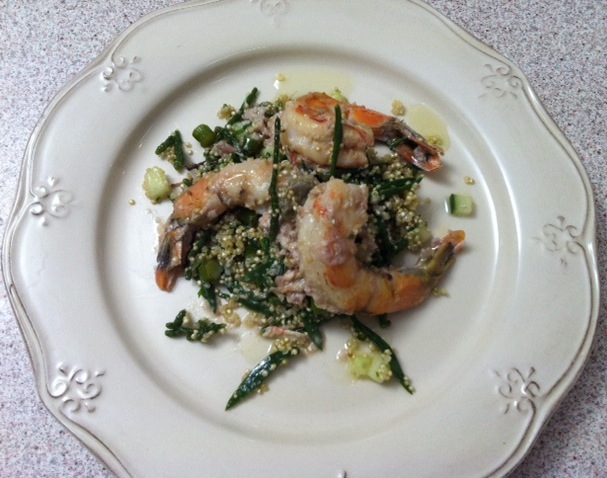 Main Dish - Warm Quinoa Salad with Samphire, Wild Artichokes and Jumbo Prawns
6 ounces jumbo prawns
2 tablespoons olive oil
Scant 1/3 cup yellow onion, finely chopped
½ bay leaf
Salt & pepper, to taste
¼ cup dry white wine, such as Assyrtiko
2 tablespoons ouzo
3 tablespoons heavy cream
2 tablespoons unsalted butter
1 tablespoon lemon juice
(Quinoa)
12fl ounces fish stock or low sodium chicken broth
1 tablespoon fish sauce
2/3 cup quinoa
1/2 tablespoon anise seeds
2 tablespoons olive oil
2 ounces wild greens
1/2 lemon peeled, segmented and finely chopped
2 tablespoons chopped parsley
¼ cup wild garlic
2 ounces samphire
2 ounces wild artichoke hearts
To make the sauce place a frying pan over a medium heat. Add the olive oil and the onion, sauté for several minutes. Add the bay leaf, salt and pepper. Cook for 2-3 minutes, add the white wine, ouzo and a tablespoon of the fish stock. Simmer until the liquid has reduced by three-quarters.
Stir in the cream, and slowly incorporate the butter. Add the lemon juice. Add the prawns and cook for several minutes. Season to taste with additional salt and freshly ground black pepper if needed.
For the warm quinoa and samphire salad, in a pan bring the stock and fish sauce to a boil. Add the quinoa and cook until the grains are al dente and the stock has evaporated. Remove and place in a bowl.
In a pan of boiling water, cook the wild greens and samphire for two minutes. Transfer to a bowl of iced water to refresh. Remove the thorns and outer layers of the artichokes to access the hearts. Slice the hearts in half.
In a dry frying pan, lightly toast the fennel seeds, add them to the quinoa. Add the lemon, and parsley to the quinoa. Add the oil to the frying pan and sauté the wild garlic. Toss in the wild greens, artichoke hearts and then the samphire. Cook for 1 minute, just to reheat and coat with the olive oil. Mix in the quinoa and season to taste with salt and freshly ground black pepper.
To serve, place a pile of the quinoa salad on the plate and top with the shrimp and sauce.