In life, the recipe for success can sound very simple - finding what it is that makes you happy. Finding your happiness can unlock many things, but it's different for everyone. For some it's finding the job that doesn't quite feel like work, or having children who show you new ways to look at the world and for others it can even be facing a challenge head on and searching for solutions that haven't yet been found. For me, it's all of these things that bring me the most fulfillment, and I'm reminded of this every year as we approach the summer and "lemonade" season.
As we have done every year since my daughter Alexandra "Alex" Scott held her very first front yard lemonade stand, volunteers across the country will host over 2,000 lemonade stands and events to raise funds for the fight against kids' cancer during National Lemonade Days. This 3 day event holds a great deal of significance for Alex's Lemonade Stand Foundation, but it holds even more for me; falling the weekend before Father's Day. I am the proud parent of four wonderful children, all of whom have exhibited their own unique characters, and achieved their own dreams - including Alex, who dreamt of making a difference for all kids with cancer. She surely did that, and though we no longer have the opportunity to spend Father's Day together, each June, that feeling of togetherness returns as we continue what she started. This is what makes me happy, this is what makes me tick, a job that is more of a passion, my children who have taught me so much about life, and continuing the work to unlock childhood cancer cures, which are so desperately needed.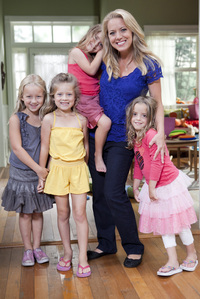 While this might be what makes me tick, I'm only one person, and this is my specific "recipe" for feeling fulfilled. For others, there are different ingredients, but for two chefs (and moms!), I have discovered that we have similar make up. Though this sounds philosophical, it is actually quite literal, Melissa d'Arabian and Alex Guarnaschelli, who you may recognize from the Food Network, are extremely successful in their worlds. They have jobs that are passions, they are both parents to young daughters, and they have proven they are focused on giving back too as they are showing their support for National Lemonade Days in 2013.
Melissa and Alex are lending their culinary expertise to the Foundation as we gear up for what we hope to be our most successful year yet. They have each provided kid-friendly lemonade recipes, as well as some helpful tips to make lemonade stands successful. So, how do you get these physical recipes? It's easy, all you have to do is sign up to host a stand during National Lemonade Days (June 7-9), and along with the support materials that you are sent, will be special recipe cards from these very talented ladies.
I'll end by saying this, we all have our own goals, and our own ways of getting there - sometimes it can take a long time to realize what it is that makes you the most happy. However, for this year, and for this effort, the recipe for successful fundraising and making a difference in the lives of kids with cancer is a simple one: Mix. Pour. Find A Cure.
Calling all HuffPost superfans!
Sign up for membership to become a founding member and help shape HuffPost's next chapter