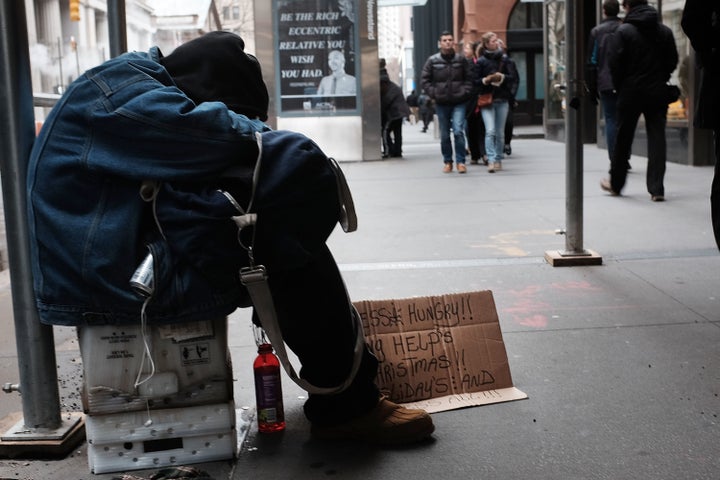 A record number of single adults are homeless in New York City.
On a given night, 14,222 single adults ― meaning they are not part of a family ― seek out homeless shelters in NYC, Giselle Routhier, policy director for the Coalition for the Homeless, told The Huffington Post via email. That's a 95 percent increase from a decade ago. At the end of 2006, there were 7,282 homeless adults in New York City.
To effectively tackle homelessness, the Coalition for the Homeless called for a number of measures in its annual report. It pushed for an improvement in prevention efforts, an increase in subsidized and supportive housing and also urged the city and state to more effectively collaborate.
"The most important thing is that our elected officials embrace housing-based solutions to homelessness: funding and allocating truly affordable housing and supportive housing for the lowest income and homeless New Yorkers," Routhier said.
Steven Banks, commissioner for the Department of Social Services, agreed that homelessness has "steadily" increased over the past 30 years, but said that the city has taken notable steps to tackle the issue.
After conducting a 90-day review of homeless services earlier this year, the city is moving forward with recommendations to increase prevention, better connect individuals with services, and improve policies and support for homeless families.
Banks told HuffPost he's eager to work together with the state.
"We can achieve so much more for homeless New Yorkers together," Banks said.
While the Coalition for the Homeless' report sounded the alarm on the problem, it also pointed to one area where New York City has seen some improvement.
The number of family members in homeless shelters dropped by 5 percent over the last year.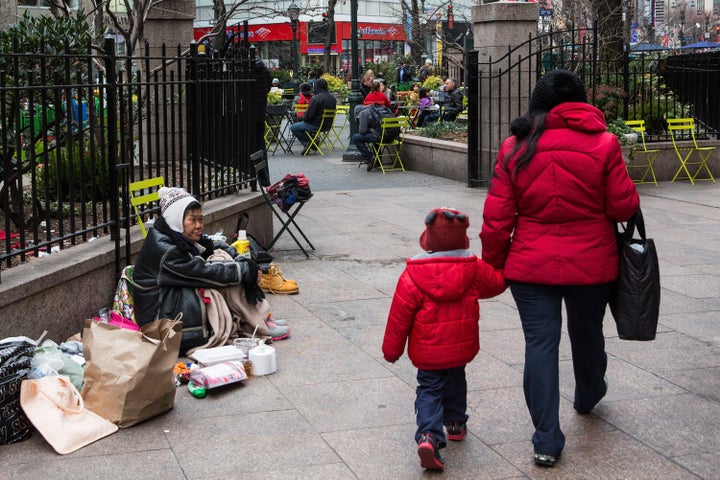 That was mostly due to the fact that there was an increase in permanent housing placements for homeless families and the city has made significant investments in homelessness prevention for that demographic.
There was a slight drop in overall homeless figures, but the Coalition for the Homeless said it will take far more aggressive measures to see those numbers decline significantly.
De Blasio's administration came under fire when the number of people spending the night in shelters hit an unprecedented 60,939 in 2014. That figure has dropped to 60,067 individuals, which includes single adults, adults who are part of families and children.
The report singled out New York Gov. Andrew Cuomo (D) for his elusive commitment to providing housing to homeless people.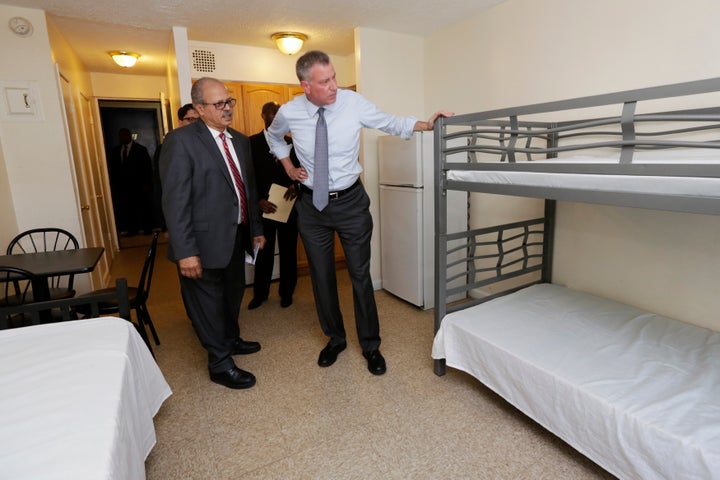 During his State of the State address, Cuomo pledged to fund 20,000 units of supportive housing, but there is no definite timeline for implementing the goal, the Coalition said. There are also no details on the revenue plan to support the first 6,000 of those units in this year's budget, according to the report.
The organization's analysis of the governor's budget states that it will take at least three years before a single unit of additional state-funded supportive housing to open.
But Cuomo's office said the program is moving along.
Of the $20 billion Cuomo pledged in January to address homelessness and a lack of affordable housing, $150 million has been "released," Richard Azzopardi, senior deputy communications director for Cuomo, told HuffPost. The administration is eager to strike an agreement on the balance, he added.
"We urge the legislature to join us in keeping these projects moving and helping to ensure every New Yorker has a safe, decent and affordable place to call home," Azzopardi said.
While the Coalition would also like to see the city and state acting in concert, de Blasio has struck out on his own in order to take swifter action.
In November, the mayor announced an investment of $2.6 billion in housing for homeless people and said he wouldn't wait for New York state's help in addressing the crisis, The Associated Press reported.
Over the next 15 years, the city will fund 15,000 supportive housing units, which will come with on-site social services, for domestic abuse victims, veterans, drug addicts and people living on the street.
"We are acting decisively. We are not waiting on Albany," de Blasio said, according to the AP. "It was time for New York City to act. It was a simple as that."
Support HuffPost
The Stakes Have Never Been Higher
Related
Popular in the Community