Mother's Day is a special time for all of us to reflect on and give thanks for the wonderful women in our lives. My own mother passed away a few years ago, and she's never far from my mind. I'll always remain incredibly grateful for her love, guidance and the many lessons she taught me.
Mother's Day is also a time for mothers to reflect on their children. I'm delighted to share the inspirational story of one of our own Red Cross mothers, who embarked on a remarkable journey - moving across the world to start a new job, in a new field - because of the incredible love she has for her son.
Phyllis Cohn was a successful writer and public relations professional with the Red Cross in Los Angeles. When her son, Drew, enlisted in the United States Navy, Phyllis had mixed emotions. She was, of course, extremely proud of his choice to serve and defend our country. But naturally, she also was worried at the prospect of him potentially being thrust in harm's way at a moment's notice.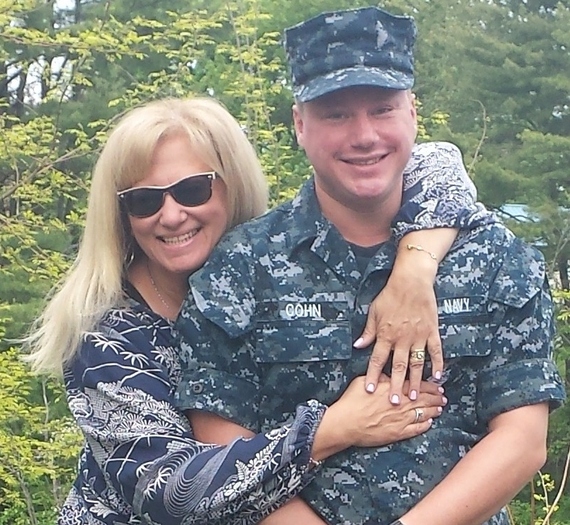 After Drew enlisted, Phyllis was able to stay in contact with him through regular email exchanges and phone calls. Yet while she communicated with him often, Phyllis worried that she would lose touch with what her son was experiencing on a day-to-day basis. Drew's service made Phyllis personally aware of the challenges that military families often face, ultimately inspiring her to refocus her career. Phyllis left her position at the Red Cross chapter in Los Angeles, and moved to Europe to work with the American Red Cross Service to the Armed Forces (SAF) program at Ramstein Air Force Base in Germany.
The mission of Red Cross SAF is to help members of the military, veterans and their families prepare for, cope with, and respond to the challenges of military service. While Phyllis is now physically further away from Drew - who is stationed at Joint Base Pearl Harbor - she feels more connected to him them ever before. For Phyllis, each day is an opportunity to provide Red Cross programs and services, trainings, education, emergency communications information and a host of other spirit lifting activities to our service members. She strives to be the kind of person she hopes her son will encounter in his travels away from his own family.
While the 12,010 miles between Phyllis and her son can sometimes be tough on her, she feels a great sense of satisfaction because she believes that she and Drew now share something greater. They both wake up every day with a connected mission: his to support his country, and hers to support her son and other courageous service men and women like him. And for Phyllis, that is the best Mother's Day present she could ever ask for.
Calling all HuffPost superfans!
Sign up for membership to become a founding member and help shape HuffPost's next chapter