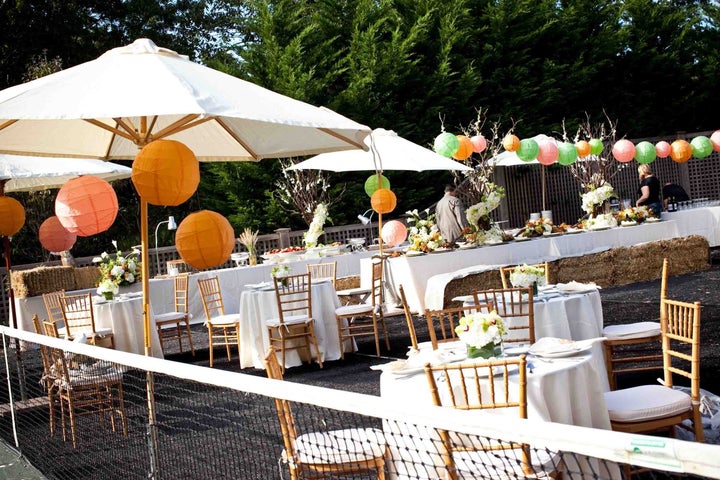 It is a commonly held belief that experiencing different cultures can be an enlightening and enriching experience. Hence, when I found out that I would be planning a wedding as part of CMT's "My Big Redneck Vacation" series, I was excited for sure, but -- in the interest of full disclosure -- a little nervous at the prospect. After all, throughout my career as an event planner, I've had the pleasure and fortune of working with some of the most luxurious, magnificent venues and vendors in creating events for my high-profile clientele. Furthermore, as a native New Yorker, the Hamptons have always been right at my fingertips, no more than a short drive away; this was certainly not the case for the Clampet clan, who had rarely, if ever, crossed the Louisiana state border. Knowing that there would most likely be a bit of a culture shock for the Clampets to overcome, I went into the process with an open mind.
Upon meeting Michelle and Jared, the bride- and groom-to-be, I knew that I was in for an unforgettable experience (chalk it up, perhaps, to their "exotic" culinary requests of alligator and squirrel, among other things). My goal was to deliver a wedding that was fit for the chic yet conservative East Hampton locale but also stayed true to the couple's Southern roots. This was achieved by integrating countrified staples, like deer heads (with hanging crystals for a touch of sophistication), into the décor, as well as compromising on the menu, which included braised lamb chops, black bass, red snapper ... and yes, alligator served on a stick. Even the ice luge, which has become an increasingly popular attraction at many a wedding, reflected Jared and Michelle's Shreveport upbringing, as it was carved into the shape of a deer head as well, in keeping with the aforementioned cervine motif.
Once the wedding was officially under way, I felt confident that the reception would be a lovely, harmonious representation of the couple's Southern background, as well as a reflection of their experience in the hoity-toity Hamptons. Throughout their stay in their surfside summer home, the Clampets learned a great deal about a culture that was unfamiliar to them; I can certainly say the same for myself, as spending time with Michelle, Jared and the rest of the Clampet family opened my eyes to a way of life that was different than my own. It was an incomparable experience to behold the closeness and warmth that the Clampets shared with one another, as well as their northern neighbors and friends, myself included. It also became quickly apparent that this family sure knew how to have fun and throw a party! Their carefree attitude and surprising willingness to embrace their new surroundings, all while staying entirely true to themselves, are attributes that are incredibly endearing and inspirational. I'm thankful for the time that I spent with Michelle and Jared, and I think that the fun that we had throughout the wedding planning process is perfectly captured in the actual ceremony; the entire experience is one that I won't soon forget. I can't, however, give all of the details away -- you'll have to tune in this Saturday (March 24) to see the end result!
"My Big Redneck Vacation," featuring Jared and Michelle's wedding, premieres this Saturday, March 24 at 9:30 p.m., ET/PT on CMT.
Related