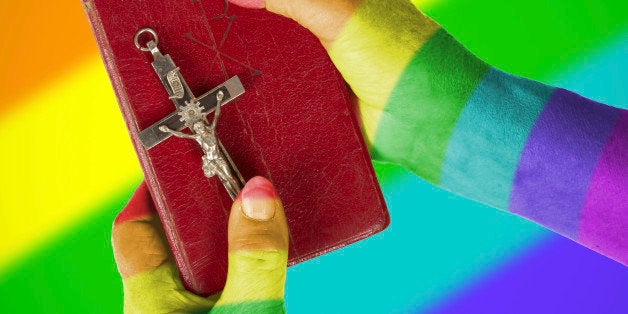 It's 7:57pm and I lay in my bed. I told my mom I was feeling sick. And I am. I have been unable to move all day. The names of the Orlando shooting victims ring in my head, replaying ceaselessly, violently, haunting my every move. The result of my grief is catatonia. And yet, my personal paralysis pales in comparison to the trauma that the victims, their families, and their friends are feeling in this moment.
It is a strange feeling when you wake up knowing 50 lives no longer walk this Earth. It is even more peculiar, painful, and devastating, when you know that those lives all shared one component: they were all members of the LGBTQIA community. A community for which my love has no bounds, a community that raised me during my college years and continues to nurture my socio-emotional growth post-graduation.
I grew up in a church that was on Side B of the Christian equality debate. Side B Christians believe that same-sex attraction is a result of the "fall of man" and is a repercussion of human sin, thus should be resisted. Whereas Side A Christians believe one can both experience intimacy with God and enter into same-sex relationships and marriages.
Growing up in a Side B Religious community was ultimately stifling. The ideas of Side B made me feel as if God hierarchized our lives based off of our sexuality.
I found myself drowning in hyper-religiosity that made me constantly question: Does God grieve for Queer lives? Does God's heart sing for Queer bodies in the same way that His heart irrevocably loves straight ones?
Last year at this same time, the Queer community found itself overjoyed by the SCOTUS ruling on marriage equality. I too, celebrated with excited facebook posts, and happy tweets. Many men and women from my church contacted me, admonishing my religious views. They claimed that I was sullying the gospel by supporting marriage equality. They said I had lost my way, I needed to be shepherded back into the arms of the "true" gospel. A gospel wherein sexuality has strict boundaries, a gospel that only has the capacity to welcome heteronormativity as holy.
These same voices, these same Christian men and women, fall silent today. Their Facebook newsfeeds are vacant, and their twitter feeds hollow. Yet my phone has been buzzing all day and night, from my Queer friends and family checking in on me, making sure that I am okay, making sure that I know my life matters, making sure that I know that I am loved. Within Queer communities I have found an acceptance that I could not quantify or qualify, I have found a love that only God could manifest, that only God could breathe into existence.
So as I sit, with tears streaking down my face, in the presence of a God who I have loved since I was twelve years old, with an indescribable pain weighing on my heart, I am sure now, more than ever, that God grieves for Queer lives. He laments their mistreatment, He desires their freedom from stigma and oppression, and He is begging Christian people to stand in the gap for those that are subjugated for choosing to love freely in a world that constantly tells them to cage themselves.
REAL LIFE. REAL NEWS. REAL VOICES.
Help us tell more of the stories that matter from voices that too often remain unheard.