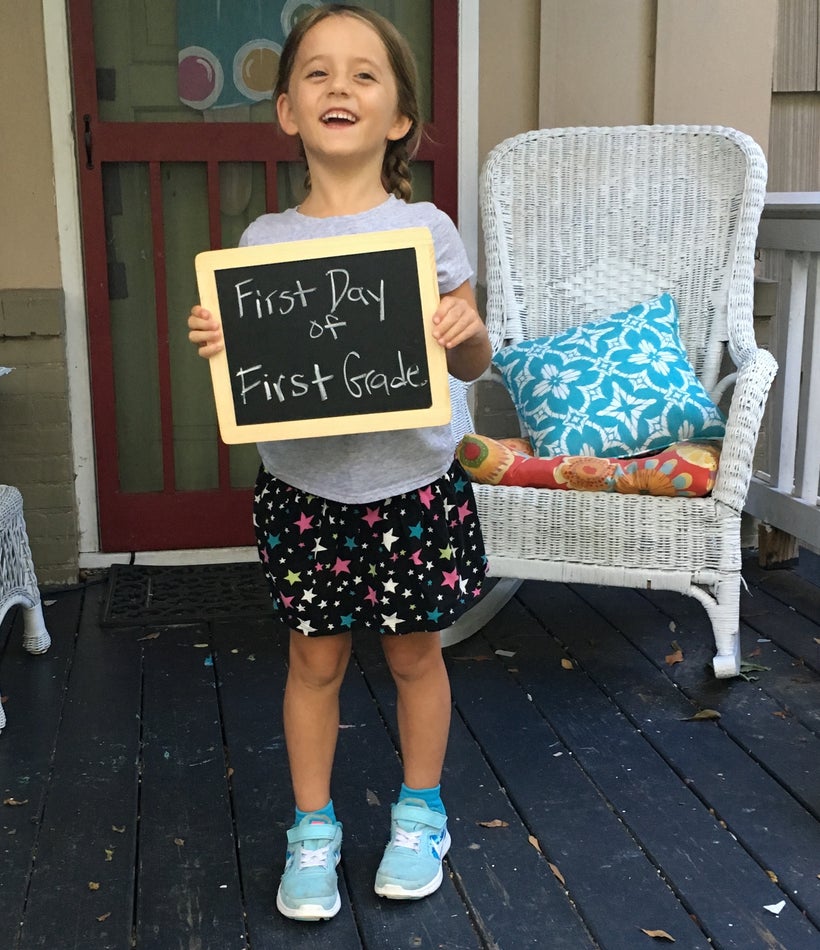 Today you took your shiny red apple to your shiny new teacher.
This time, I didn't make choices for you about the first-day-of-school outfit. I didn't force you into apple-appliqued rompers and big bows. I let you choose: gray t-shirt, black skirt, new blue kicks, and simple braided pigtails. "I'm too big for those baby clothes," you said, as you attempted to brush the tangles from your hair.
"Your first day of school—your choice!" I replied.
We walked you to school this morning, holding your hand as you chatted nervously about what the day may bring. "What if I can't find my way to the classroom? What if I don't know where to sit? What if I get cold in there?"
Question after question after question.
"If you are unsure of anything, just ask for help," we told you, squeezing your hand tight. I saw some strands of hair falling from your pigtails, so I tucked them behind your ear.
This morning feels so different to me. I don't feel sad. I do feel the immense pressure of the passage of time. I do feel an awareness of how quickly children grow and change, how their personalities, their likes and dislikes, their big imaginations and big fears grow and change. I think of who you were last year, when I dropped you at kindergarten, and the years before that, when you were a little girl in preschool, and the years before that, when you were a little baby in a big world. So many changes…all of them held in my memory.
This was a summer of firsts for you. The week after school let out, you learned how to blow a bubble out of bubble gum for the first time. This was an earth-shattering accomplishment for you. It had been a goal for so so long. I'll never forget that you learned this new skill on the drive down to the beach. I gave you gum to occupy you, and six hours later, you were a bubble-blowing expert.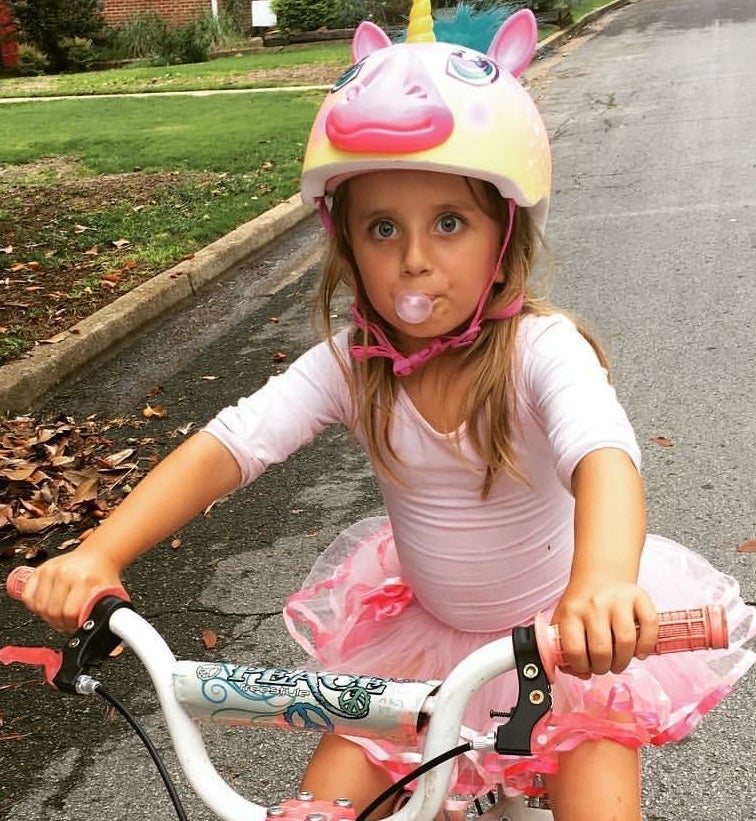 This was the first summer you went to camp. We dropped you off in a terrible thunderstorm. You looked at me, tears forming, and whispered, "Take me home." When we picked you up days later, you ran to us, shouting, "Can I come back next week?" So many emotions. So many changes.
This was the first summer that you successfully skipped a rock. It happened in a creek near a waterfall in Tennessee. I will never forget your face—the fierce pride in watching that rock skip a beat. We searched and searched for that rock—its smooth face and triangular shape. It is now safe in your rock collection—so many rocks, many of them marking the big firsts of childhood.
I am not a very religious person. But the closest I've felt to the divine has been in your presence. When you were an infant, one of my favorite times was rocking you in the middle of the night. You would sleep, milk-drunk, and the whole house was alive with stillness and darkness. I would gaze at your round face, I would smell the scent of your fine hair, and I would tell myself, Do not forget this.
"Why do students bring teachers apples on the first day of school?" you asked, as we walked this morning.
"It's the fruit of knowledge," I replied, remembering my own mother's response to my question when I was her age too. All of these memories swirl around me.
Here is my promise to you on your first day of first grade—just as my mother holds the firsts of my childhood in her heart, I promise to hold yours in mine. From all the firsts that ever were to all of the firsts that will be, I promise to be your memory-keeper.
Calling all HuffPost superfans!
Sign up for membership to become a founding member and help shape HuffPost's next chapter
This post was published on the now-closed HuffPost Contributor platform. Contributors control their own work and posted freely to our site. If you need to flag this entry as abusive,
send us an email
.