The epigraph of A Discovery of Witches--"It begins with absence and desire. It begins with blood and fear. It begins with a discovery of witches."--immediately warns you're about to encounter a book out of the ordinary. The story lives up to its promise. The first book in the All Souls trilogy by Deborah Harkness tells the story of Diana Bishop, a young witch who has forsaken her magical abilities so she can live a normal life.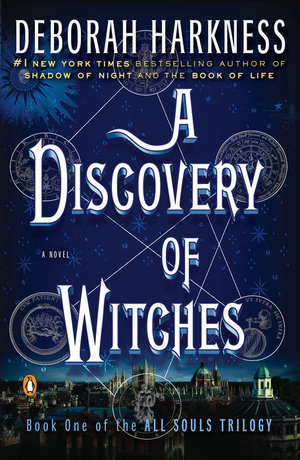 But Diana is anything but ordinary. A preeminent alchemy scholar, she is at Oxford University, working in the Bodleian Library. Diana loves her work, and her passion bleeds through the page (and truly, it is so refreshing to have an intellectual woman to read about; there is no simpering or mincing, no apologizing for the fact that Diana is a genius). When she accidentally calls up a lost manuscript known as Ashmole 782, a bevy of creatures comes with it.
One of those creatures is the coolly enigmatic Matthew Clairmont. An esteemed geneticist, he is also a very handsome, very old, very brilliant vampire. His relationship with Diana is that of equals, complementary geniuses, both leaders in their fields.
Passion simmers, but Diana is a witch and Matthew a vampire, and cross-species dating is prohibited in their worlds. While their forbidden love story is the foundation for the All Souls trilogy, the reader gets so much more--a history of witchcraft, vampirism, and daemons, scientific discoveries, a journey through time, even an education in wine.
I came to the All Souls trilogy through author Ariel Lawhon (Flight of Dreams), who knew I adored the iconic heroes of Diana Gabaldon's Outlander series and insisted I'd love Harkness's books, too. She was right. When I started A Discovery of Witches, I was instantly hooked.
Deborah Harkness is a literary and literal alchemist. I was lucky enough to interview her for A Word on Words; she was funny, erudite, and utterly charming. A lauded expert in the field of alchemy, she is one of a handful of people worldwide who actively teaches the history of science and turned her unique career choice into a hugely successful job as an author.
With history, science, and an epic love story, A Discovery of Witches does duty in multiple genres: romance, fantasy, thriller, and mystery. If you're looking for a simple yet challenging escape, this is the book for you.
More Recommendations from Off the Shelf:
Related
Popular in the Community